Fill form to unlock content
Error - something went wrong!
Get the latest updates on IoT for retail.
You are following this topic.
The Future of Retail? Great Customer Experiences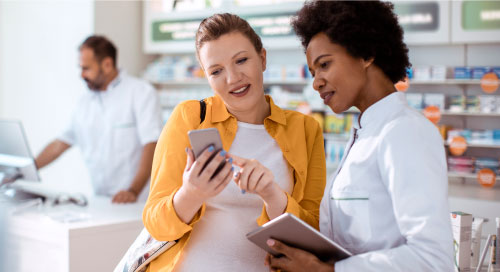 Today's shoppers want more than choices; they want experiences. In New York, Nike is delivering just that with a basketball court inside its 55,000-square-foot SoHo store. Coming in for new shoes or a jersey? Stick around and shoot some hoops.
Like Nike, other retailers focus on delivering experiences, not just transactions. Dick's Sporting Goods' House of Sport includes a climbing wall and wellness services. Lowe's plans to provide services such as windshield cleaning and air stations to contractors. In-store innovations elsewhere include vaccination stations and community meetups.
Customer experience reigns supreme, and retailers know it. After two years of a pandemic during which shoppers got used to ordering online, retailers are getting creative about drawing people back into stores with a combination of experience and technology.
"You're going in and you're not just shopping. You're trying things. You're tasting; you're sampling the product," says Andy Szanger, Director of Strategic Industries at CDW, a multi-brand provider of technology solutions. "You're seeing retailers start to have different events within the store, whether that's a happy hour, musical performance, or spoken word."
Part of the in-store attraction is providing a digital-like experience to expedite shopping. So retailers are investing in fast checkouts, inventory management systems, and seamless online/in-person shopping.
"If you truly want to be a tier-one retailer, you're going to need both e-commerce and physical bricks because your shoppers want to shop with you in both ways," says David Dobson, Industry Director, Retail and Hospitality, at Intel.
But as they try to strike a balance between digital and in-store experiences, retailers are still coping with pandemic-related challenges and an acute labor shortage.
After two years of a pandemic, #retailers are getting creative about drawing #shoppers back to stores with a combination of experience and #technology. @CDWCorp via @insightdottech
Digital Transformation Trends in Retail
The pandemic taught retailers to be more agile and adaptable as shoppers embraced habit-forming practices such as BOPIS (buy online, pick up in store) and curbside pickup.
To support those practices and survive temporary shutdowns and reduced hours, many retailers accelerated their digital journeys. They invested in seamless integration between online, mobile and physical channels, contactless payments, and tighter integration between POS, inventory, and ordering systems.
"There was about 10 years of innovation in about six months," Szanger says.
Digital transformation trends still drive a lot of investment, but drawing customers back to stores is a priority. Shipping orders is costly, cutting into profits. More important, customers buy more when they can see, touch, and smell products. This leads to unplanned purchases.
"Some of the most profitable purchases that are made for a retailer are often through impulse buys," says Szanger.
CDW is helping its retail business customers with solutions for POS modernization. They include automated inventory management, smart shelves, and AI-driven analytics to capture online and in-store data to drive supply chain decisions.
"Retailers are looking for customers to want to go to the store instead of need to go to the store," says Szanger. "Although it's a subtle difference, it's an important one because it's about that shopping experience."
Coping with Labor Shortages
Running stores is no easy task during the "Great Resignation." To make up for staff shortages, retailers are investing in automation and modernization with a focus on employee productivity, Szanger says.
For example, handheld devices enable checkouts anywhere in a store. Handhelds also allow associates to answer customer inquiries, access inventory, and manage curbside pickup in an efficient manner.
So-called microservices can play a key role. Microservices give users access to in-store functions through mobile apps. For instance, shoppers can download an app that replicates checkout screens so they don't have to stand in line to make purchases.
Retailers can also use microservices for omnichannel marketing. If a retailer launches a new promotion, it appears on the POS screen. At the same time, the promotion appears in multiple other places, such as self-checkouts, smartphone shopping basket icons, and curbside pickup messages.
Partnerships Prevail
To help retailers with technology decisions, CDW provides a consultative approach.
"We help our customers with full-stack solutions throughout every step of their technology journey, whether it's figuring out what to buy, procuring the gear, setting it up, and ultimately managing the system as-a-service," says Szanger. "We have fully hosted solutions that we offer to our clients as well."
What makes all of this possible is a combination of CDW's fulfillment and service capabilities and partnerships with industry leaders such as Intel®.
Addressing customer needs takes an ecosystem of technology and service partners that can step in when needed. "The real magic happens when we're working with our partners to consult with our clients and help them look at technology and their business in new ways," Szanger says. "Intel has always been an extremely strategic partner for us."
With ongoing innovations and partnerships, CDW facilitates success. Whether through in-store mini tradeshows, community gatherings, happy hours, or vaccination drives, retailers are finding various ways to bring people into their stores.
So if all customers want is to grab a couple of items and leave, new technologies can usher them through quickly. If they want to hang out and play for a while, meet people, or learn about new offerings, increasingly they have that choice as well.
This article was edited by Georganne Benesch, Associate Content Director for insight.tech.