Fill form to unlock content
Error - something went wrong!
Your content is just a step away. Please submit below.
Crowd Behavior Analytics Revolutionize the Guest Experience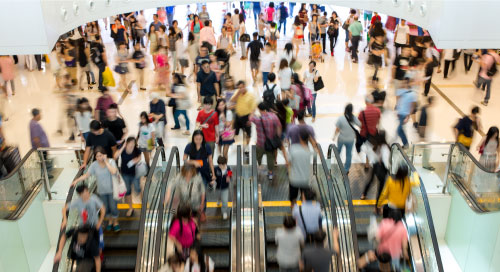 If you are at a concert or sporting event, you don't want to miss a single thing. But sometimes nature calls or hunger strikes, and you must leave your seat and risk missing something important. Zack Klima, now the Founder and CEO of WaitTime, knows this struggle all too well. He will never forget the time he missed the Detroit Red Wings superstar Henrik Zetterberg score the winning goal for the team—all because Klima was in line to buy a few beers.
His first thought was, "This is ridiculous. There's got to be a better way. It would've been great to know how long the line was before I left my seat." That experience sparked the idea that eventually would become WaitTime, a company that uses AI and state-of-the-art imaging techniques to monitor and analyze crowd behavior.
Fast-forward nine years and the company's AI- and computer vision-powered WaitTime Crowd Intelligence platform is in use at some of the largest sports stadiums, shopping malls, entertainment venues, and airports. Owners, operators, and tenants benefit in a variety of ways, from crowd management to outstanding guest experiences, streamlined operations, lower costs, new revenue opportunities, and more.
The Mall of America in Bloomington, Minnesota is the ultimate example of WaitTime behavior analytics at work. The venue is so much more than a shopping center; it's a pioneer in deploying innovative technologies to change the game of physical retail—for visitors, retailers, restaurants, and even the environment. This is extremely important when you are a top tourist destination with tens of millions of visitors coming each year. And at 5.6 million square feet, more than 500 stores and restaurants, and the nation's largest indoor theme park, there's a lot of ground to cover.
WaitTime #EdgeAI software—in combination with 700 cameras deployed in ceilings throughout the mall—can provide real-time capacity, crowd density, and shopper insights. @TheWaitTimes via @insightdottech
Crowd Behavior Analytics Deliver High-Value Business Benefits
A recent Intel event at the Mall of America highlighted the unexpected benefits of crowd behavior analytics and how transformative solutions can be possible with the right partnership.
To start, it's clear to see how WaitTime edge AI software—in combination with 700 cameras deployed in ceilings throughout the mall—can provide real-time capacity, crowd density, and shopper insights. This data helps remove the guesswork of how and where shoppers spend their time. And with the data at their fingertips, Patrick Wand, Sr. Manager – PMO at Mall of America, and his team can make more-informed decisions on advancing the visitor experience.
"We take all of these different disparate datasets and combine them into a model dashboard that helps us understand financially how we're doing, and how efficient we could be moving forward," says Wand.
Real-time information can also help mall operations take pre-emptive actions. For example, there is daily security presence at every one of the 47 entrances, but sometimes one officer isn't enough. A predictably busy entrance may not always be the busiest. "Through WaitTime we're able to create a dashboard and redeploy security officers to areas more proactively," says Wand.
"And we know with greater than 95% accuracy how many people are in the mall, at any point in time, and which entryway they're coming in from," adds Klima.
Factors like weather can have a direct impact on mall traffic. Wand points out that two inches of rain on a Saturday, combined with big store sales and other events, generate almost as many visitors as Black Friday. "If we know an upcoming Saturday will bring in more than usual visitors, we can communicate to our tenants through an app so they can proactively staff their stores," he says.
Edge AI Powers Crowd Management
The brainpower behind WaitTime crowd analytics includes four algorithms that support different use cases—with greater than 95% accuracy:
The queuing algorithm was designed around the company's initial solution idea to measure unstructured queues. It tracks the speed and direction of each moving object—information that helps vendors add staff or add checkout options.
Conversely, the stanchion algorithm is for structured queues like you might find at a Starbucks. The software draws a perimeter around the area and excludes anything outside of it. This information also helps determine where best to add staff.
The entry/exit algorithm is the one of most highly leveraged at the mall. It monitors with precision and in massively high volumes how many people are entering and exiting simultaneously in real time.
Unlike the others, the massing algorithm uses a side view to monitor how full an area is becoming. For example, WaitTime deployed this algorithm at the US Open Tennis Championships—pointing the cameras at the grandstand to track seating capacity—making it easier and faster for people to find seats.
But real-time analytics require performant edge computing, and WaitTime is optimized to run on Intel hardware. And using the Intel® oneAPI programming model helps WaitTime develop more efficiently while elevating its heterogeneous workloads to achieve the highest possible performance.
"We try to make our software as efficient as possible where we can run most of the cameras just using a single thread," says John Mars, WaitTime CTO. "So, as the processors get more powerful, they get faster, and have more cores to handle more cameras with basically no changes to our initial architecture. If we can make it as fast as possible, then everything else happens for us automatically."
It Takes a Village
The technology leadership and business innovations you see at Mall of America can happen only through partnerships like those between Mall of America and its solution providers. They're the key to making deployments successful.
Along with Intel and WaitTime, Cisco and its broad range of solutions are also essential to successful Mall of America solution deployments. "We're a Cisco shop as it relates to compute," says Wand. "That goes from the edge all the way to the core: our wireless access points, our network backbone, and all of our switches."
"When Mall of America forms a partnership, the goal and objectives must be aligned," says Wand. "How do we stretch the limits on how we use our technology, how do we find a goal, and how do we find an objective mutually so that we're achieving great things together?" This goes for Cisco, Intel, and WaitTime.
From Wand's perspective, it's not just about having partnerships with one given company. It's about how together, they help Mall of America operate the business to deliver on its overall goals—today and into the future.

This article was edited by Christina Cardoza, Associate Editorial Director for insight.tech.