Fill form to unlock content
Error - something went wrong!
Get the latest updates on IoT for retail.
You are following this topic.
AI Self-Checkout Serves Up Food Service Efficiencies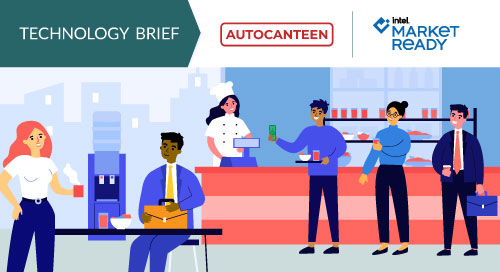 More often than not, lunch hour has been an unappetizing adrenaline rush for food service operators.
A large crush of customers arrives for a meal at the same time. Everyone is hungry. Everyone is rushed, demanding prompt service. Customers want to grab and go, not waste precious break minutes in long lines. Traditionally, cafeteria managers simply threw more resources at the problem, staffing and opening more checkout lanes to accommodate long lines.
But the rules have changed. And food service operators cannot afford to dish out the same old formula in this new landscape.
The Smart-Retail Challenge
"There is a severe shortage of workers," says Sergii Khomenko, Co-Founder of Autocanteen, a provider of AI-driven self-checkout solutions. "And the rise of hybrid work has led to unpredictable foot traffic. Food service operators are left guessing as to how many customers will show up—when. Amid such uncertainties, staffing five registers all afternoon might be overkill."
The Autocanteen Self Service solution helps operators solve these challenges by delivering speedy self-checkout solutions. A customer brings a tray of food—for example, a tuna sandwich, an apple, and a glass of lemonade—to the register and pays for it in seconds. Computer vision identifies each item, and a scale helps estimate costs for food sold by weight, like salads.
Each transaction takes about 10 seconds on average. Faster checkout leads to time saved and more revenue. One employee can supervise many stations at a time, leading to decreased labor costs as well.
@autocanteen expands on barcode solutions, enabling #SelfCheckOut where labeling isn't possible. via @insightdottech
Computer Vision Replaces Barcodes
Self-checkout lanes are not necessarily a new concept, especially in retail, and have proven efficient in most supermarkets. But they have traditionally leaned on barcode scanners and customers having to search for the right products from a screen at the point-of-sale. Autocanteen expands on barcode solutions, enabling self-checkout where labeling isn't possible.
"Using computer vision and machine learning, Autocanteen has a 97% accuracy rate, and we're working toward moving it to 99%," Khomenko says.
"Barcodes are efficient for self-checkout and customers are familiar with them, but they are difficult to implement for environments such as canteens. Plated foods on trays do not lend themselves to barcodes," Khomenko says. "It might be easy to slap a label onto a takeout sandwich box, but getting one on a plate of lasagna is not so elegant."
A simpler solution is for the point-of-sale system to recognize a standard serving of lasagna and charge the customer accordingly (Video 1).
AI Self-Checkout Increases Efficiencies and Lowers Costs
Autocanteen automation drives machine learning algorithms. Operators train the models to recognize the products the food service station sells through a combination of computer vision and image recognition.
Because the training models live on, and are accessed through the shared cloud, operators do not have to train every register to recognize what's on the tray. One station covers all. As the program learns, that new data routes to the cloud, and in turn, channels to every checkout terminal.
In addition to saving money on the customer end of things, operators can harvest efficiencies at the back end. Centralizing all product information and scanning sold products through one program allows food service operators to slice and dice the data. They can find out which dishes are more popular and adjust inventory and orders accordingly. Pictures of the food being sold can also serve as data points for quality control.
Intel® technology is fundamental to making these capabilities a reality. "Among other great Intel products, we use the Intel® OpenVINO™ Toolkit to boost our deep-learning performance," Khomenko says. "We can boldly confirm that this is the best solution in its class."
AI Checkout Solutions Serve Many Markets
In the two years since its launch, Autocanteen has seen use in a variety of environments: schools, universities, office canteens, and micro-markets. "Our solution is modular and both software and hardware can be configured to fit well into most environments," Khomenko says. "Smaller cafeterias and mini-markets benefit from a standalone terminal while large-footfall canteens will see self-checkout sections, similar to supermarkets."
The COVID-19 pandemic might have accelerated the adoption of contactless checkout solutions like Autocanteen, but we were already headed there. Services such as Amazon Go have demonstrated how sensors and computer vision can dramatically reshape the checkout experience.
"The future of food service checkout is frictionless and touchless," Khomenko says, "Our key differentiator is that we make this frictionless technology affordable to smaller players and for a wider market."
And that is good news all food service operators can savor.
This article was edited by Georganne Benesch, Associate Editorial Director for insight.tech.