Fill form to unlock content
Error - something went wrong!
Get the latest updates on IoT for retail.
You are following this topic.
AI Robots Transform E-Commerce Fulfillment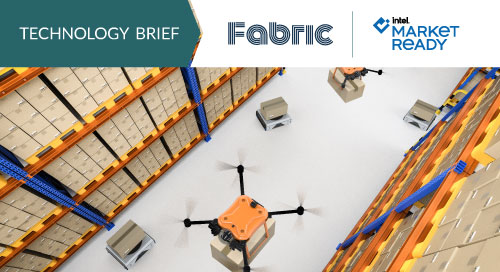 The Enlightenment marked a transition to intellect, rather than intuition, folklore, or cultural beliefs in understanding natural phenomena. At the time, noted chemist Antoine-Laurent de Lavoisier described the principles of physics as follows: "Nothing is created, nothing is destroyed, everything is transformed." While his observation was documented in the 18th century, it well describes our modern hyper-connectedness and the draw of e-commerce.
The appeal of purchasing something from the comfort of your couch and having it delivered to your door lies not only in its convenience; it is often more affordable then shopping in a big-box store. And it's better for public health as we have navigated an ongoing global pandemic.
To meet the growing demand of e-commerce, large online marketplaces continue to spring up, and tend to focus on streamlining their warehouse operations and delivery services to remain competitive and cater to customers' expectations for same-day delivery.
But despite the many advantages of e-commerce, there are also drawbacks – from job loss and environmental impacts, to questioning the continued existence of brick and mortar. We have seen store closures, and a devaluation in commercial real estate among both temporary tenants and anchor stores alike.
Yet when viewed through another lens, job and real estate values have shifted across industries and sectors to meet growing demands. Above all, e-commerce has created countless opportunities for technology experts, has resulted in large spaces being rented to support business operations and logistics, and has fomented long-term partnerships with delivery companies.
Although times have certainly changed, Lavoisier's insights remain constant and relevant; namely, that nothing is created, nothing is destroyed, and everything is transformed. I would simply add that transformations are always underway.
AI Robots Power the Future of Retail
I have been collaborating with Intel® for more than four years, which has enabled me to get to know their Intel® Partner Alliance program. Essentially, its goal is to help innovative companies refine their inventions via strategic partnerships and state-of-the-art technology. Through this ecosystem, I discovered Fabric, a company making profitable on-demand e-commerce a reality. Their aim is to transform the sector into local e-commerce, using a technique that they refer to as "micro-fulfillment".
Fabric's proprietary solution is poised to shift e-commerce toward a model that is not only efficient but also inclusive and sustainable. Leveraging advanced Intel® technology, Fabric's team of experts has created a highly automated proximity logistics model. Combining robotics and AI has allowed them to set up sorting centers within city centers. All warehouse operations are executed by AI-controlled robots, limiting the need for human involvement to the final phase of the delivery process (Video 1).
Thanks to this advanced automation, customers can benefit from deliveries within an hour and a guarantee that their items will be available in-store at the designated time. The space required to install the system depends on the product catalog and numbers, and it can accommodate virtually any business model. With careful planning, it is possible to achieve retail goals that were previously unthinkable.
One of the Fabric's designing principles is that micro-fulfilment must be easy to scale. To that end, the company monitor's each fulfillment center from its support center in Tel Aviv. Centralized support means most issues can be solved by Fabric personnel before the local operation even notices that something has gone wrong.
"Our technology is set up so that service personnel can see a 3D map. They see where every robot is moving and what tasks it's doing," says Phil Godden, Fabric's Director of Sales Engineering. "They can see every sensor, every solenoid. And they have full control, even though it could be a problem taking place in Brooklyn and the person fixing it is in Tel Aviv."
Thanks to this advanced #automation, customers can benefit from deliveries within an hour and a guarantee that their items will be available in-store at the designated time. via @insightdottech
Micro-Fulfillment Transforms Business
In fact, Fabric's solution is already being used by multinational corporations and franchises with great success. Since 2018, Super-Pharm—the largest health and beauty retailer in Israel—has benefited from the pioneering micro-fulfillment process. To date, the business has migrated 90% of its home deliveries to micro-fulfillment, with exceptional results, including:
Same-day delivery
A 250% increase in fulfillments
Auto-adjusting to peak demand or low demand times, with minimal labor costs
Optimizing inventory and stock, and allowing for predictive planning
Unmatched customer experience
"The 660-square-meter site can currently do there more than a thousand orders per day, which is amazing from that space," says Shirley Bachar, Commercial Director at Fabric. "As it ramped really quickly when COVID started, we were able to add more robots and increase the capacity."
On a deeper level, by challenging the concept of "centralization," businesses can exploit unused real estate assets within cities and create jobs. Without the need to compromise on operational independence, this decentralized approach increases the benefits of e-commerce by mitigating its impact on local communities and the environment.
After having worked in the tech industry for almost 40 years, this is the kind of transformation that I like to see—a transformation that does not involve trade-offs but rather fosters sustainability and inclusion. Through Fabric and Intel®, retail business operations have been reconceptualized with an eye to affordability, enhanced customer experience, and respect for the environment and workers.
This article was edited by Georganne Benesch, Associate Content Director for insight.tech.