Fill form to unlock content
Error - something went wrong!
Your content is just a step away. Please submit below.
AI in Hospitality Delivers Business Outcomes at Scale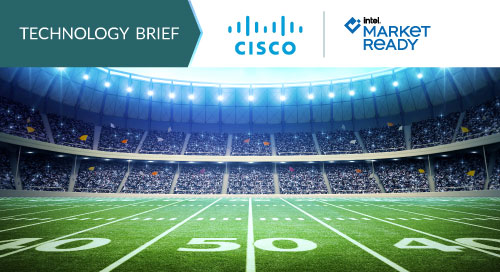 AIoT platforms—all-in-one solutions that leverage AI at the edge and IoT technologies—are helping the hospitality industry reimagine the guest experience. Powered by next-generation processors, computer vision, video cameras, and sensors, these tools are becoming available at just the right time.
Hospitality has been hit hard over the past several years, and businesses are under growing pressure to improve efficiency and find new ways to boost sales. Perhaps just as important, customers expect frictionless technology due to their familiarity with modern IoT products at home. Guests today have no patience for cumbersome digital experiences at hotels, event centers, and other venues.
But there can be serious implementation barriers for hospitality businesses interested in transforming their products and services—mostly due to complexity and cost.
"Consider something as basic as an IoT camera system," says Joe Weiss, Worldwide Leader for IoT at Cisco Systems, a software-defined networking, cloud, and security solutions company, and maker of the Meraki Wireless Solution. "You need Internet connectivity, power distribution, network infrastructure, cameras, severs, software for video management and analytics, and storage for all of that HD video data. For a business to assemble that technology stack independently is complex, expensive, and very difficult to scale."
The Meraki platform overcomes these obstacles by providing a unified, plug-and-play system that helps end users solve business problems without getting bogged down in disparate technologies. That simplicity is revolutionizing the hospitality industry—not just for guests and businesses but systems integrators (SIs) and solutions providers as well.
Supporting Workloads of All Sizes
Meraki integrates Cisco networking devices, IoT cameras, and sensor hardware—supporting complex vision-at-the-edge workloads. The result is a stable, high-performance AIoT wired and wireless platform that works well for organizations of any size.
Basic use cases are appropriate for smaller businesses: for example, a small hotel that wants stable, easy-to-configure Wi-Fi for its guests. At the other end of the spectrum, Meraki can help the hospitality sector solve extraordinarily complex problems in the largest venues.
In this regard, Cisco's partnership with Intel has been crucial:
"Some workloads are far too complex to process in a camera—there just isn't enough compute power," says Weiss. "But Intel builds great processors that are ideal for computer vision and video analytics at the edge. By combining Intel processors with our technology, we're able to say 'yes' to any of our customers, no matter how complex their needs are."
Reimagining the Stadium Experience
The flagship example is SoFi Stadium, a state-of-the-art multiuse sports and entertainment venue in Los Angeles. From the outset, stakeholders designed the entire venue around advanced digital technology to create an extraordinary spectator experience.
In partnership with Cisco, SoFi built a smart stadium with a broad spectrum of guest services—from locating parking, concession stands, and bathrooms to cashless ticketing and other purchases. And it created a rich, immersive digital experience with 4K video on more than 2,600 VisionEdge screens, powered by Wipro and the Cisco IP Fabric for Media solution. The solution also helps transform broadcast operations and content delivery, leverages broadcast solutions, and much more.
Working with the stadium's designers and builders, the Meraki Wireless Solution was an essential element of the groundbreaking deployment—including the ability to securely provide connectivity to 70,000 fans. The versatility and comprehensiveness of the platform was essential. It meant shorter development and setup times. And it meant everything could be integrated seamlessly and run on a single unified network (Video 1).
Cisco's work on SoFi Stadium exemplifies the true significance of seamless connectivity, #ComputerVision, and #AI in hospitality: Using powerful technology to deliver business outcomes. @Cisco via @insightdottech
Cisco's work on SoFi Stadium exemplifies the true significance of seamless connectivity, computer vision, and AI in hospitality: using powerful technology to deliver business outcomes.
Moreover, the flexibility of AI platforms means they have use cases that go well beyond any single vertical or sector—which Weiss says is part of the strategy: "We aim to build rock-solid, enterprise-grade hardware that lets our ecosystem of partners develop custom applications to run on our servers, cameras, and appliances—delivering value bespoke to the industries they serve."
New Opportunities for Partners and SIs
The partner ecosystem that Weiss emphasizes is marked, above all, by reciprocity. Solutions providers and systems integrators add massive value to AI platforms. But the converse is also true, because these solutions are rapidly transforming the marketplace that technology partners and SIs operate.
For AI specialists, there is the opportunity to design custom software that runs on solutions like Meraki. For example, WaitTime, a provider of real-time crowd intelligence software, has built an entire business around AI crowd data analytics—an accomplishment that simply wouldn't be possible without a robust, underlying foundation.
For systems integrators, the situation is perhaps more complex but no less exciting. "Instead of worrying about how to connect the bits, SIs can work on solving problems by bringing computer vision outcomes to their customers," says Weiss. "Vision-as-a-service is hot because it solves real business problems. SIs today can say, 'How are you counting guests in your venue? How are you optimizing your uniform compliance? These problems can be solved with smart cameras and we, as an integrator, can help you do that.'"
The ecosystem of hardware manufacturers, platform providers, software developers, and SIs represents a kind of positive feedback loop where innovation begets more innovation. The next five years should be a tremendous time for everyone in the industry.
"I'm very excited to see this technology mature," says Weiss. "As edge-based smart devices become even more capable, it's going to be easier to deliver AI outcomes at scale—and to have performant, complex solutions stitched together to where it just feels like magic."

Edited by Georganne Benesch, Associate Editorial Director for insight.tech.