Fill form to unlock content
Error - something went wrong!
Get the latest updates on IoT for retail.
You are following this topic.
Innovative AI Solutions Unlock Retail Transformations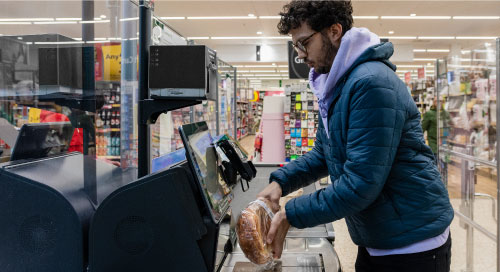 The past couple of years have brought many challenges to online retailers, delivery services, restaurants, and brick-and-mortar stores—from labor shortages to higher expectations from customers and more. But a wide range of innovative AI capabilities solutions now available across the industry eases some of these pain points for business owners.
With new and advanced capabilities at their hands, in-store and online sales are increasing, customer experience is being enhanced, and operations overall are improving.
Retailers and restaurants alike are embracing technologies to change the way they operate their businesses. For example, you can now walk into a store and not only use self-checkout but have the option of ordering everything from a digital screen and getting it delivered to you at the front of the store. And that's just the start of it.
CV and AI Speed Up Food Delivery
With the new influx of takeout and delivery orders that restaurants now face today, traditional methods of placing orders is no longer enough. That's why companies like UdyogYantra Technologies work hard to transform the food delivery space with AI and IoT technologies. For instance, by offering solutions like cloud kitchens, businesses owners can create takeout-only restaurants that automatically do everything from processing the order to preparing each meal with high-quality ingredients. The solution uses multiple cameras, thermal imaging, label scanners, and other sensors, and operates with deep-learning computer vision algorithms developed using the Intel® Distribution of OpenVINO™ Toolkit.
Ghost and cloud kitchens help ease delivery demand and decrease wait times for customers. And with the new technologies, ghost kitchen operations are streamlined from sanitation to food preparation.
With these automated processes in place, restaurant owners can see benefit from reduction of costs by minimizing overfilled dishes, food waste in preparation, and customer order rejections.
#Retailers and restaurants alike are embracing #technologies to change the way they operate their businesses. @intel via @insightdottech
In-Store Shopping Made Easier with Omnichannel Experiences
To enhance the customer experience and sales in stores, companies like Screenvend apply digital touchscreens and stockroom robotics solutions designed to modernize traditional brick-and-mortar stores. The need for in-store shopping to parallel the speed and convenience of online shopping has become increasingly evident, but what is the best way to incorporate the digital experience in brick-and-mortar locations? One answer is to replace shelves with interactive displays in conjunction with instant robotic delivery in-store.
Shoppers have the option of filling their virtual shopping carts in stores and then tapping a prompt to complete the transaction. Once payment is complete, the transaction is fulfilled by retail robots and dispensed through a conveyance at the POS. This process facilitates the in-store shopping experience for the customer, while boosting sales and reducing shrinkage for stores.
Skipping the Checkout Line at AI Smart Stores
And with customer convivence at the top of mind for implementing new technologies, companies like Cloudpick are creating a seamless checkout process with no lines. With labor shortages becoming increasingly evident, some companies are looking to extend businesses hours without solely relying on staffing.
Enter the AI-powered smart store. With a simple download of a mobile application, customers can reap the many benefits of an AI smart store, including fully stocked shelves, flexible hours, and—perhaps best of all—no lines.
AI technology is helping retail fix so many long-standing operational kinks. Moving toward partial or full AI, smart stores will help streamline in-store inventory systems, ultimately flowing through the supply chain more smoothly and eliminating delays and stock shortages. Additionally, these types of stores will help move toward a future retail ecosystem that is fully automated and sustainable.
AI and ML Boost Fashion Fulfillment Speed
AI and CV are even playing a role in the fashion industry, thanks to companies like Aotu.ai, which automate quality inspection to streamline clothing production. The pressures of the fashion industry include precise color matching, flawless fabric, and consistent sizing, but faster order-to-ship times as well.
In such a quick-moving industry, advanced AI is helping speed up the production process with fewer manufacturing errors and faster shipping speeds. And with automated quality inspection enabled by computer vision (CV) and machine learning (ML) technologies, apparel suppliers can offset delays in the fabrication process and increase transparency for all stakeholders.
AI across the retail sector is only beginning. One day we might see retail stores order something for us that we wanted to buy that they were out of stock at one location from another location, and have it sent to our home the same day.
To be part of the change, and start creating innovative AI solutions for the retail industry, check out the Intel® Edge AI Certification Program or take the 30-Day Dev Challenge.
This article was edited by Christina Cardoza, Associate Editorial Director for insight.tech.