Fill form to unlock content
Error - something went wrong!
Your content is just a step away. Please submit below.
Video Conferencing in the Modern Workplace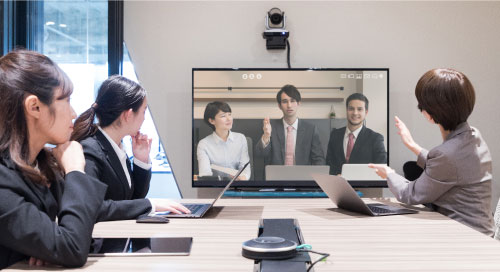 Video conferencing is more than a ubiquitous feature of the modern workplace. It's the future of work.
Adoption of video conferencing equipment and technology was accelerated by the events of the past two years, but now the trend has a momentum of its own. The global web conferencing market, valued at $12.58 billion in 2020, is now projected to grow to over $19 billion by 2025.
Yet as with any emerging technology, growth brings increased expectations—and new challenges.
Today's enterprise users no longer tolerate lags or mediocre audiovisual quality. At the same time, they're demanding higher video resolution than ever before: from 2K at a minimum all the way up to 8K in some cases.
In addition, as video conferences become more prevalent, they're growing more complex. For example, aside from traditional cameras, microphones and large screens, conference rooms today often have access to work PCs, electronic whiteboards, and other devices.
Businesses also want to use advances in AI to make their virtual meetings smarter. Once a novelty, AI-enabled video conferencing features like speech recognition, automatic video and audio upscaling, audio-to-text transcription, and simultaneous translation are now expected.
"A modern, intelligent meeting requires a huge amount of parallel #ProcessingPower and integrated support for #AI applications in order for everything to run smoothly." – Kevin Peng, Shenzhen Decenta Technology Co., LTD, via @insightdottech
Why Better Solutions Are Needed
These developments in the market represent a serious technical challenge for video conferencing system manufacturers, according to Kevin Peng, Deputy General Manager of Shenzhen Decenta Technology Co., LTD, an original design manufacturer (ODM) specializing in custom motherboards and hardware reference designs for intelligent video conferencing solutions:
"A modern, intelligent meeting requires a huge amount of parallel processing power and integrated support for AI applications in order for everything to run smoothly."
In addition, the increasing complexity and diversity of conference scenarios in the modern workplace demand a more integrated approach than in the past. "The old way of doing things—configuring each desired functionality separately based on what the customer asks for—simply isn't feasible anymore," says Peng.
To meet these challenges, ODMs like Decenta, an embedded hardware solutions company, have turned to next-generation CPUs and software development suites that support AI applications. These technologies are helping ODMs develop reference designs and custom hardware that allow video conferencing manufacturers to innovate the powerful, integrated solutions that today's enterprises want.
Technology Engineered for the Modern Workplace
To address the needs of enterprises and video conferencing system manufacturers, Decenta decided to partner with Intel®.
"Our technology partnership with Intel was a natural fit," Peng explains, "since Intel processors excel at computing and processing under high workloads and because they offer excellent support for AI applications as well."
Decenta uses Intel processors and software development tools to address the special challenges of video conferencing in the modern workplace:
11th Generation Intel® Core™ processors have a robust graphics architecture and powerful multi-threaded processing capabilities—ideal for use in high-performance video conferencing solutions.
The integrated Intel® Iris® Xegraphics card enables ultra-high-definition video up to 8K.
The built-in Intel® Gaussian Neural Accelerator 2.0 supports AI applications (especially those related to audio and video quality).
Intel's OpenVINO™ toolkit serves as a development framework to address the increasing demand for AI applications in video conferencing scenarios.
The Intel® Media SDK includes software development tools for improving audiovisual performance.
Using these resources, Decenta has developed a line of custom motherboards, video conferencing terminals and docks, and reference designs that can be used by video conferencing manufacturers to build high-performance, all-in-one solutions for their enterprise end users.
From LED Displays to Integrated Solutions: A Case Study
Case in point is Decenta's collaboration with Leyard, an LED manufacturer that leads the market in small-pitch LED displays.
Leyard had the know-how and the existing product line to produce high-resolution video conferencing displays. But turning that promising start into a complete video conferencing solution was a challenge.
Working with Decenta, Leyard was able to combine their own LED displays with Decenta's multimedia and expansion terminals. This resulted in a complete intelligent video conferencing system ideal for small and medium-sized conference rooms.
The solution enables high-quality audiovisual transmission over long distances efficiently and cost effectively. It also enriches the meeting experience for participants by facilitating connections with their PCs and mobile devices—a functionality that allows for real-time sharing of relevant documents and simultaneous translation.
"This technology is an innovation engine," says Peng, "because it allows manufacturers to develop intelligent video conferencing products and bring them to market quickly and efficiently."
Benefits for End Users Now and in the Future
Aside from solutions manufacturers and systems integrators, there is one other group that benefits from the work of ODMs like Decenta: the end users themselves.
In terms of user experience, advanced video conferencing solutions provide smoother, clearer, higher-definition audio and video during meetings. They also support AI-enabled smart meeting applications like intelligent meeting minutes, interactive whiteboards, two-way annotation, and so forth.
These systems also offer flexibility. They can be used "plug and play" with a wide range of third-party cameras, speakers, and other AV equipment. They also work with many different cloud-based video conferencing software solutions.
And on a very practical level, they're just easier to deploy. A unified dock, for example, greatly simplifies the work of wiring up various devices ahead of a meeting. All-in-one solutions are compact, allowing enterprise users to deploy them in out-of-the-way areas of conference rooms.
All of this adds up to a better user experience and improved productivity without the headaches of legacy systems: the seamless solution that the video conferencing market has been asking for.
"Better video conferencing solutions will drive the digital transformation of the office," says Peng, "and open up possibilities in other fields too, for example smart education and telehealth applications."
The mass adoption of video conferencing has had its share of hiccups and frustrations. But what started off as a necessity in the darkest days of the pandemic has evolved into a better way for people to work together. The future looks bright for advanced video conferencing solutions, both in the enterprise and beyond.
This article was edited by Georganne Benesch, Associate Editorial Director for insight.tech.