Fill form to unlock content
Error - something went wrong!
Get the latest updates on IoT for retail.
You are following this topic.
Omnichannel Shopping Twist: Bringing Online In-Store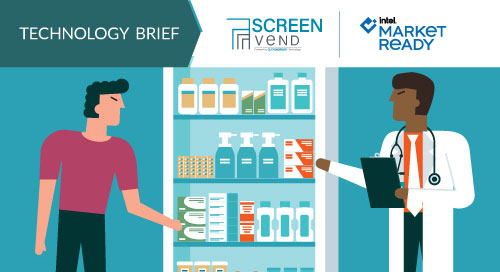 Sometimes you just want to walk into a pharmacy, grab what you need and leave. That's not always possible when you have to rummage through shelves or stand in long lines at the counter. But thanks to digital innovation, a trip to the pharmacy has become a more satisfying, novel experience.
That's just the case at CarePlus Pharmacies in Ireland, where a new digital retail solution combines interactive screens and backroom robotics to enhance the shopping experience while helping stores grow sales, minimize shrinkage, and optimize staff.
The solution, developed by ScreenVend, a global software and technology company, offers an omnichannel twist. It brings the online shopping model to physical stores. Instead of searching for products on the shelves, shoppers find what they need on interactive touchscreens. A retail robotics system picks the items and dispenses them at the POS station.
"What you would normally do at home, you can now do in-store," says Simon Healy, chairman of ScreenVend. "Customers can use technology in an immersive way and have the benefit of instant fulfillment. The company calls this hybrid approach of combining digital with physical shopping 'ClicksiNBricks'."
Digital Retail Delivers Personalized Service
Unlike many technology solutions, ScreenVend was the brainchild of non-tech people. Healy, a retail veteran, saw a specific need in pharmacies to offer customers the speed and convenience of online shopping while freeing up pharmacists and associates to provide personalized services. He studied the pharmacy ecosystem to figure out how to improve it. Healy noticed they are highly transactional environments, but at times customers need individual assistance.
Retailers were using digital screens in-store, but mostly for signage. Then it occurred to him to replace shelves with interactive displays in conjunction with instant robotic delivery instore. The displays don't replace staff, but rather make pharmacists and associates more available to help customers. "What pharmacists all over the world are very good at is patient interaction and positioning themselves in the community as professional health advisors," Healy says.
As doctors have gotten busier over the years, people rely more on pharmacists. "In our particular business, what we want to do is make greater use of consultation rooms to assure that pharmacist's knowledge or the technician's knowledge is used to its best."
ScreenVend displays don't replace staff, but rather make #pharmacists and associates more available to help #customers. ScreenVend via @insightdottech
Interactive Digital Displays Inform and Upsell
Now, when shoppers walk into a ScreenVend-equipped pharmacy, they come face to face with the digital displays. For the uninitiated, help is available from an associate. Otherwise, shoppers head to the screens to make their purchases with taps and swipes (Video 1).
They fill their virtual shopping carts and then tap a prompt to complete the transaction. A paper slip with a QR code comes out of a slot by the digital display. The QR code instructs the POS system to complete the order, which is pulled and fulfilled behind the scenes by a robot with capacity for 25,000 boxes.
As shoppers pay for their purchases, the items are automatically dispensed through a conveyance at the POS. "We managed to create a complete new retail experience for the customer and for our pharmacists," says Healy.
In the process of improving the shopping experience, the solution also helps pharmacies boost sales and reduce shrinkage. "Within the software itself, there are numerous upselling and cross-selling opportunities. The customer can see what products are complementary, and that is very important."
The unique use of robot technology helps address shrinkage, a nagging problem in retail caused by theft and errors. In addition, centralized software management cuts down on errors when setting and updating prices.
ScreenVend can also add an element of theater. In store environments where the robots are visible behind glass, customers can enjoy watching their orders fulfilled. The solution makes it possible to operate in a smaller footprint than in a traditional store, but it can scale. More screens can be added as traffic increases in a store, Healy says.
Digital Retail Delivers New Opportunities
Although ScreenVend was developed for pharmacies, it is suited to other retail environments. For example, at shopping centers, the solution can enable popup stores. "With the flick of a button, the software can turn a gadget store in the morning to a bookstore in the afternoon," Healy says. "ScreenVend would also work in small spaces within box stores in a store-within-a-store approach."
ScreenVend platform uses the Intel® NUC, a rugged PC with a small footprint to power the digital displays and Intel® processors for the dispensing robots, touchscreens, and POS stations, and tablets.
The relationship with Intel is key. "We're effectively a technology startup and I think we've been very well treated by Intel in a very personalized way," says Healy.
That level of attention should prove valuable as ScreenVend expands into other areas of retail. As part of its pitch to retailers, ScreenVend will offer services around the technical aspects of implementing and running the retail robotics.
"We will also offer design consultation and customization of digital displays to ensure that each brand has a unique look and feel," Healy says.
He hopes retailers will grasp the value of the solution, which lets customers still have that brand relationship through physical in-store experiences while using all the digital tools that are available online. That's certainly a goal of ScreenVend, and that should be the goal of many retailers that act in the online and retail space.
This article was edited by Georganne Benesch, Associate Editorial Director for insight.tech.