Fill form to unlock content
Error - something went wrong!
Get the latest updates on IoT for retail.
You are following this topic.
Untangling the Full Lifecycle of Digital Signage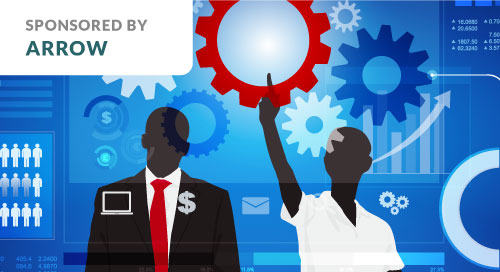 Digital signage has become so popular that it throws people off when they pull up to a drive-through and find a static menu. Or when they enter a store or restaurant and don't see any digital engagement. Whether it is a simple web or mobile service, consumers expect some level of digital interaction.
Digital signage gives brands and retailers a way to represent themselves and engage with customers in public, digital form. But keeping digital signage up and running across multiple locations—anywhere from 5 to 5,000 sites—can be an IT nightmare. And technicians can't exactly run from store to store every time there is a problem to fix.
"Signage is not hard—but it's extremely complex. It's more than simply installing a screen and throwing some content on it," says IV Dickson, Vice President of Digital Signage and Digital Experience at SageNet, a leader in digital signage and retail IoT services. "A screen on a wall playing content is not really difficult."
What becomes difficult is building architecture around that screen, connecting to hundreds and thousands of other screens, and communicating to different data points. In addition, there are the monitoring, management, and maintenance aspects of all those screens to consider. That's when it becomes very complex, very fast, Dickson explains.
Retailers need to make sure they have all the moving pieces in place—and a way to keep it all up and running, 24x7x365. But if done incorrectly, signage can have negative effects on a brand. Nothing is more frustrating to a customer than engaging with a piece of technology that doesn't work.
Uncovering Digital-Signage Complications
A case in point is financial institution Tulsa Federal Credit Union (TulsaFCU), which turned to digital-signage displays across its 17 locations as part of its modernization efforts. While it was the right approach to keep it competitive in the financial services industry, making it work long term was a big challenge.
The goal was to provide more than 56,000 members with financial services and timely information such as loan and interest rates. But anytime the credit union's digital displays stopped working, it had no visibility into the causes, making it nearly impossible to address the situation.
Thinking and designing upfront is crucial. #DigitalSignage doesn't start to become valuable until you have a network built out over a digital-signage ecosystem. @Arrow_dot_com @SageNetLLC via @insightdottech
As problems progressed, TulsaFCU finally reached out to SageNet for outside help. SageNet was able to quickly pinpoint the issue to the software and media player operations.
"It quickly became clear that the credit union's signage network had taken a backseat to more pressing operational IT challenges," says Dickson. "They simply didn't have the resources to support their digital signage at the appropriate level."
Creating Visibility into Digital-Signage Displays
Armed with this information, TulsaFCU revamped its underlying digital-signage infrastructure and replaced many system components with media players from Seneca, an Arrow Electronics, Inc. company.
TulsaFCU's digital signage network now runs at nearly 100% uptime, allowing it to create new digital environments at new locations with the confidence it is working properly.
As part of its solution, Seneca offers the remote management platform xConnect to allow users to scale, monitor, manage, and maintain their digital-signage solutions. xConnect comes equipped with powerful remote management capabilities from Intel vPro® to provide a deep view into what's happening within a system and the ability to access the telemetry and data to report upstream.
"The ability to marry xConnect capabilities with vPro allows us to understand all the way down to the board level what the device is doing: Is it overheating, are we having network and communication issues, or is there a problem with the OS?" says Dickson.
The Value Proposition for Digital Signage
The credit union is just one example of how organizations can overcome problems when looking at the whole picture. According to Dickson, it is not typically the technology that gets in the way of digital signage; it's the lack of a clear business objective.
Organizations will often start thinking about the types of content and how they want to display it. Instead, they need to start by identifying the goals they want to achieve from their digital-signage solution and where the organization is going. For instance, how many touchpoints, displays, and sites will they have or build up to in the future?
"When you focus on speeds, feeds, or otherwise, a project doesn't always get accomplished because you're usually thinking about the wrong stuff. But suppose you're focusing on business objectives and outcomes and allow the technology to play along with that. In that case, those are usually the projects that win," says Kevin Cosbey, Business Development Manager for Arrow Electronics, an Intel® Solutions Aggregator.
All that thinking and designing upfront is crucial because digital signage doesn't start to become valuable until you have a network built out over a digital-signage ecosystem, Cosbey explains.
"If you want the life of that network to be valuable to your organization over time, then you have to put all the pieces together days and months before day one to get to day 1,000," he says. "The purpose and management of the technology after installation are key to the value proposition."
Working with Seneca, SageNet, and Intel® from the beginning enables customers to identify and address all their gaps up front and create a solution tailored to their specific needs.
"Digital signage is such a unique architecture in that it's relatively new for many folks. That is why it's so important to make sure you pick the right partners that will be there for the long term and look out for you," says Cosbey.
Related Content
Listen to what else Cosbey has to say about the future of digital signage on the IoT Chat podcast.
This article was edited by Georganne Benesch, Associate Content Director for insight.tech.