Fill form to unlock content
Error - something went wrong!
Get the latest updates on IoT for retail.
You are following this topic.
Edge + Cloud = Advanced Retail Operations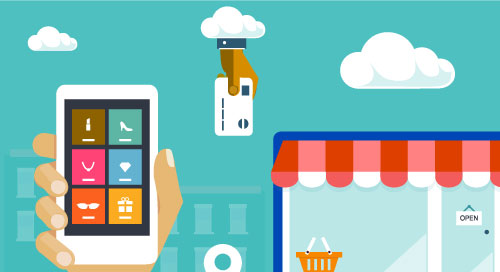 It's time for retailers and restaurant operators to get their heads out of the clouds and start living on the edge. Edge computing has many different meanings to many different people. But for businesses, it means being able to transform the customer experience at lower costs, higher overall operational reliability, and significantly better agility.
There is no more obvious place for edge computing than in stores and in restaurants, according to Richard Newman, CTO and Co-founder of edge computing platform provider Reliant. Because of their physical nature, network bandwidth, and latency concerns, the restaurant and retail experience cannot entirely be in the cloud. It requires physical deployments on local devices directly servicing customers and staff. For instance, something like a point-of-sale (POS) system can run partly in the cloud, but other parts of it must be present nearby. This is where the edge comes into play.
"What you're really doing in edge computing is providing an option to be able to extend functionality that might ordinarily just be in the cloud closer down to application users and consumers, whether those are people or machines," says Newman. "Edge computing in and of itself is not the answer. It's really IoT plus edge plus cloud. Those three things work together to create an immersive digital experience."
A New Era for IT Infrastructure
A perfect example of this is DTLR, a leading retailer in the urban fashion segment. The company recently underwent a significant technology reappraisal and system upgrade to support its ongoing expansion and investment into next-generation stores.
DTLR has more than 100 stores across the United States servicing a 13-30 age demographic with footwear, apparel, video gaming, and music services. Its strategic initiative included updating its POS hardware and software, rearchitecting the company network, and adding a PCI DSS compliant wireless network to its stores.
Other requirements included an open, secure, and frictionless single platform deployment solution that wouldn't require unnecessary attention from its IT staff during the deployment. A central cloud-managed, in-store platform for all locations was also a high priority. The goal was to maximize operational performance, agility, and reliability.
DTLR turned to Reliant because of its knowledge of building PCI-compliant systems and expertise in the retail industry. Reliant's Edge Computing Platform was deployed across all stores in less than one month with minimal issues. To simplify the management of the new in-store platform, all changes to the PCI DSS compliance environment are now centrally controlled at DTLR's headquarters.
The IoT-Edge-Cloud platform provides an "abstraction layer" for the core tools, technologies, and best practices that characterize the new era of information technology infrastructure. Reliant delivers edge computing-enabled solutions through powerful and flexible in-store modern technology instantiations backed by the cloud (Video 1).
With Intel® small-core and low-wattage CPUs, Reliant can deliver industrial automation at scale. The partnership also allows Reliant to meet strict business case ROI requirements while handling GPU and machine vision workloads at an affordable cost. This enabled Reliant to meet DTLP's minimal IT staff requirements with data center-grade redundancy and resilience.
By having partners like Intel and Reliant, system integrators can now take advantage of a proven turnkey edge platform that extends cloud infrastructure while managing and supporting clients' digital initiatives.
The Power of IoT, Edge, and Cloud Combined
Edge computing is different from the now-familiar cloud computing model in that it brings computation and data storage closer to the data source.
The cloud has been great at enabling IT infrastructure to scale without extensive hardware, configuration, or management, and has enabled remote IoT device lifecycle management. But in the retail industry, they need to deliver immersive experiences, high performance, and data-intensive applications to both staff and customers. This requires local power, connectivity, and security control that the cloud cannot offer.
By taking an Edge-based approach like @Reliantio, #retailers and #hospitality operators can connect to the #cloud of their choosing and provide a framework that supports next-generation applications. via @insightdottech
"There's entirely new opportunities to create new functionality that didn't exist before," says Newman. "But if you want the market to understand the importance of what Intel is doing with IoT and what Reliant is doing with edge computing, you need to get them to understand what's going on, why this paradigm shift is happening, what it means, and how it will impact them."
No two stores or restaurants are the same, even if they fall under the same brand. They could be carrying different products and using different systems. The more heterogeneous the system set is, the more difficult it is to manage and maintain, Newman explains.
On top of that, there are still many legacy systems and applications with aging client-server architecture operating in silos. According to Newman, a cloud-based approach doesn't really support legacy applications, and these solutions aren't going anywhere anytime soon. This complexity leads to a management nightmare of different implementation choices and management strategies at each location.
By taking an edge-based approach like Reliant, retailers and hospitality operators can connect to the cloud of their choosing, address requirements, run legacy infrastructure, and provide a framework that supports next-generation applications.
"Where IoT and edge suddenly steps in is the opportunity to collect this data efficiently. And to be able to start to normalize it, filter it, and run correlation or event operations at a point of collection," says Newman. "This is great for delivering a consistent employee experience, collecting data, modernizing, and being able to manage it all in a big data approach."
Edge computing is operationalized by executing selected application components and associated services on local devices. Reliant is also unique in that it offers a powerful instantiation of modern technology as a single platform solution, making it an advanced in-store application delivery and infrastructure management system.
"It is time to get smart about the edge," says Newman. "Start thinking about: How does edge computing apply to me and my environment? What can I expect to gain through edge computing? And how does it fit into what I'm doing today, and what I want to do tomorrow."
This article was edited by Georganne Benesch, Associate Content Director for insight.tech.