Transforming Customer Service Through the Power of Voice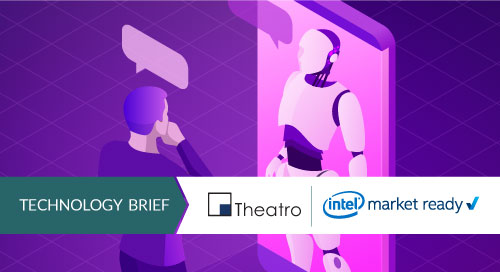 More than 2,000 years ago, the ancient Greek sophist Gorgias of Leontini attested to the power of communication, the importance of connectedness, and the weightiness of a single word. A word, he explained, "is a great ruler. With a small and invisible body, he knows how to do divine things."
More than a tool for communication, words bind us in our humanity insofar as they enable us to share our opinions, show care, and even communicate with and influence objects.
In our modern times, designers try to simulate and engage the senses with each passing technological innovation. Instead of having to interface with a keyboard or touchscreen, artificial intelligence is being applied to everyday objects and activated through words. A computer simulation—or "edge intelligence"—enables an object to understand a given language and respond in kind.
Without delving into the more technical details, I want to share how mere words can significantly impact business processes, daily operations, and customer service in retail stores.
No doubt, we've all experienced the frustration of trying to get information about a product from a new hire or a temporary worker. From the endless chain of phone calls to the "one more minute" refrain, the entire interaction can be unnerving and time-consuming.
Now, imagine that same operator is wearing a small device—one that's connected with colleagues, the company's database, and is capable of extracting every piece of information on a product. This interaction would take an entirely different form. You'd have all of the answers to your questions in a matter of seconds. Quite simply, this subtle—almost invisible—device would allow retailers to be the next best thing to omniscient.
A device like that exists and has a name: Theatro.
A New Approach to Retail Communications
Theatro connects each member of a team to another and to critical enterprise apps through the power of their voices. Even though it's as simple to use as a two-way radio, a retail communications device harnesses the power of both human and cybernetic knowledge to understand the operator's voice and immediately deliver the required information to the ear.
Depending on the scenario, it might direct them to a colleague, or provide the answer in real time through the enterprise resource planning system. Best of all, the employee does not need to know the store's organizational structure or their colleagues' areas of expertise to get help. Instead, the device can connect them through requests as general as: "Contact the small-appliance expert in small appliances."
What can retail staff do with an intelligent voice assistant? @TheatroSolution sees enterprise-wide benefits.
via @insightdottech
The same principles apply to machine-generated responses. When a customer asks how many blenders are left, for example, the employee can simply state the product number, ask for its availability, and the device will interrogate the central computer system in real time.
Making Retail Communication Seamless
The beauty of this invisible assistant is that it's always available and leverages scientific discoveries that are revolutionizing how we live, work, and interact. As an industry leader in the Intel® Internet of Things (IoT) Solutions Alliance, Theatro allows users to leverage IoT and artificial intelligence within the retail sector and beyond. Given the platform's flexible infrastructure, it can be introduced into any setting, and operate efficiently and transparently for staff and customers alike (Video 1).
Highly synergistic, deployment of this retail communication solution is simple, fast, and harmonizes with existing systems. Customers get the sense that they're speaking to an expert operator who knows all of the store's products by heart and each staff member's area of expertise. The new hire feels capable of satisfying the customer's requests without looking like a rookie, and adds value to the entire organization.
More than a technological innovation, Theatro accelerates business outcomes. Take a look at the facts below for a high-level overview of the numbers:
Drive productivity – Conversional interfaces are 3X more productive than visual. Employees saved 12 percent time, with improved communications and reduced 83 percent of ear chatter.
Elevate employees – 91 percent of employees agree that Theatro helps them serve customers better, and 53 percent strongly agree.
Improves service – Employee response time improved 77 percent. Faster response, including at the cash register, leads to less abandonment and happier customers.
Increase sales – Happy employees and improved service lead to sales. Theatro drove a 7 percent lift in loyalty registration for a leading home goods retailer and an incremental gain of $87mm annually.
Despite its wide applicability, Theatro is easy to adopt, and brings the power of voice to each retail store team member's fingertips. Thanks to its seamless integration, it enables frictionless internal management—no matter how complex the corporate information system. What's more, Theatro can manage an institution's entire top-down communications with simplicity and efficiency.
Blending ancient Greek wisdom with modern technology, this imperceptible device knows how to use the power of the word to do divine things.
To learn more about the power of voice, listen to our podcast Keeping Retail Workers Safe & Connected.