Fill form to unlock content
Error - something went wrong!
Get the latest updates on IoT for retail.
You are following this topic.
The Future of Retail? Self-Service Kiosks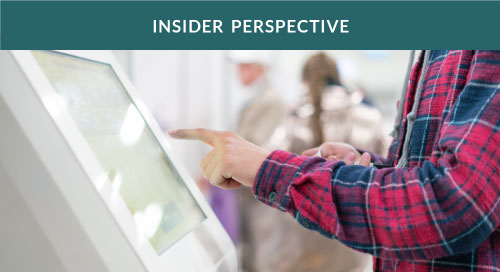 What exactly is driving the emergence of self-service kiosks, and why are they so popular? They have been critical in the retail sector during the pandemic, but that's not the only use case. And kiosks can provide more than an alternative to face-to-face interactions.
But there are important questions to consider: How do you incorporate them into your establishment without compromising data security? And where does the kiosk reside within the larger IT infrastructure? We explore the answers to these questions, and more, with Dylan Waddle, Chief Operating Officer for global provider of kiosk solutions M3 Technology Solutions (M3t).
How do you see the self-service kiosk trend continuing as we move now into something that resembles normalcy?
We've been talking with senior executives from retailers around the country, and one of the things they're heavily focused on is what the in-store experience feels like post-COVID. They're thinking about inventory levels. What the consumer experience looks like? What happens from the time the consumer walks in the door to the time they leave? How many employees can they have in-store? What's going to be safe for the consumer?
Pre-COVID, kiosks were seen as more of a convenience, but not necessarily something that every store had. And now, post-COVID, we feel like the retailers, banks, et cetera, are heavily focused on kiosks and the role that they will play for the consumer.
They're thinking a lot about what a consumer-service representative does when you're in-store. Do they help you with your transaction initially on a kiosk? And then there's other functions like wayfinding, purchase, and paying for things right there on the terminal.
It's really a complete refresh around the consumer experience in a retail establishment.
And banks, retailers—pretty much any kind of experience—is going to begin with a kiosk. People are a lot more comfortable with interacting with a kiosk—as long as the flow is simplified and they feel like it's an easy way to conduct business.
"Post-COVID, we feel like the retailers, #banks, et cetera, are heavily focused on #kiosks and the role that they will play for the consumer." —Dylan Waddle, COO of M3t via @insightdottech
How has the financial services sector coped with the changing environment?
When I think about financial services, I always think two steps behind. I definitely believe that touchless is the future for these types of services; however, banks and financial credit unions are just much slower to move to the latest and greatest technology.
What we see from our perspective is more of a limited-touch version. So we reduce the number of touches per use. We are also focused heavily on identity authentication through the use of face- and voice-recognition technology. That's including a one-time use code that's sent to your cell phone. We truly believe that, once we authenticate your identity as part of the initial financial services transaction, we can reduce the number of touches.
The other hurdle that comes into play is data storage. Certain governments restrict the amount of data that can be stored, and then consumers have to be given the ability to decide if they want their personal data stored for use of more advanced technology. So we've got to give the consumer the flexibility to decide that.
We also have to deal with things like ADA compliance. So, Braille and things of that sort must be included, either on the physical PIN pad or on-screen. We've seen some new technologies around that—where they actually print the Braille on the screen so you can feel it when you're entering your PIN code.
So there are a lot of different pieces that come into play when you think about how financial services takes the next step. How do they move down the road? They are anxious to advance, but at the same time they're also extremely conservative.
One interesting financial application is converting cashless payments into cash payments via a kiosk. Can you give us a little more detail about that?
That's a unique feature that M3t offers, and it is really allowing consumers to insert cash. We live in a world where we're moving from a cash society to a more digital payment–type society. So M3t lives right in that space.
And one of the things we really specialize in is accepting cash and loading those cash funds to a digital wallet—whether it be on your phone or a physical card. We actually have the capability to issue the physical card right at the kiosk so you can load that card. You can also issue change, if you want to give someone change from a transaction, by loading the physical card.
We see that in open-loop use cases, as well as closed loop—such as public transit, where the card is only used for that one specific purpose. Open loop being more like a branded card—a branded MasterCard that can be taken anywhere and used.
Our kiosks have the flexibility to allow you to return to the terminal, stick the card in, and remove your cash funds from that card as well. It's all about flexibility and driving that consumer experience for the future.
When you think cash, once it's inserted in the kiosk it's almost like the sky's the limit to the functionality. But we're also doing things like bill payment for cities. In the city of Austin you can insert cash in the kiosk and you can pay for a permit. If you're going to build a deck on your house, or something: insert cash, pay for that permit. So that's really where those kiosks live, and that market for us is growing significantly.
There's a huge trend with kiosks being able to recognize repeat visitors in a way that is anonymous and without storing personal data. How do you see this playing out in financial services?
Absolutely. I would say this is one of the very first industries to move toward tokenization. And the level of compliance they're required to maintain on an ongoing basis—tokenizing the data is really the only ultra-secure way to do it. Encrypting the data was sort of like step one, storing a token, or even using a third-party tokenization service is the next.
A good example of that would be Trustly, where they provide a token so that you're not actually storing that data. We heavily believe in that, because we're trying to provide, in essence, another level of security for personal data.
I think the consumer is still a bit behind. They're still trying to understand whether their data being stored securely. And then they see on television that there's been a data breach and people's information has been stolen. So they're are nervous, and rightfully so. It's always a grind between: Do you want the technology to provide you ultra-convenience and let it store your data? Or do you want to go through a more manual process?
From a financial services perspective, we're pushing heavily in that direction. But we're also mindful that some consumers are ultra-conservative about letting technology store data. And we certainly understand that. I think that from a financial services perspective, it touches every single person's life as we go forward.
What do you think are some of the most critical considerations in how kiosks reside within the larger IT infrastructure?
When you really think about how a kiosk lives in a corporate IT infrastructure, most of that discussion is around monitoring, maintaining, applying patches correctly. Intel® vPro® is a pretty amazing tool for supplementing a remote-connection tool—allowing access to the BIOS and giving you the complete flexibility to even restart the computer when it's down.
vPro is amazing for that purpose. We do that in concert with what we call our kiosk-management system, or route-management system—providing a real-time view of all the terminals deployed in your network.
It really comes down to the merging of IT initiatives with these terminals, and how that gets maintained and handled correctly. The other piece that goes in concert with that is the encryption of the data and then the tokenization of that data. So that you're completely securing the data all the way from the terminal through the network to the processor and back.
Is there anything you would like to leave with our audience as a key takeaway?
I would just like to say that, as people consider the future for their establishments—whether it be retail, banking, gaming, hospitality—to please consider the crucial role that kiosks play in supplementing an organization.
And also, think about melding with the online digital experience that consumers are having on their phones—how these two things come together as they enter your store or your establishment of almost any type. And these things play a big part in reducing inventory and providing overall greater satisfaction when customers are in the store.
We believe the kiosk plays a major role as we go forward. So we would encourage people to take a look at them, consider them, think about how it could work in their environment. We're happy to help in any way we can.
Related Content
To learn more about the role of machine vision in self-service kiosks, listen to our podcast on Self-Service Tech Trends in Retail, Banking, and Hospitality.