Self-Serve Shopping with Frictionless Point-of-Sale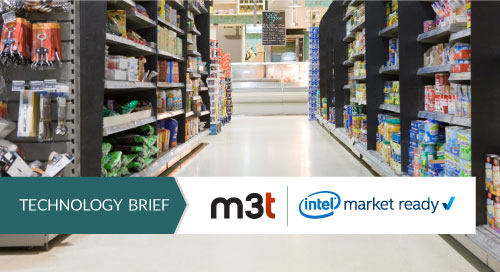 Imagine walking into a store and doing all of your shopping without heading down a single aisle. Or picture being immediately directed to the exact lawnmower you're looking for without having to flag down a sales associate. And what if you could check out simply by looking at a screen—no wallet, phone, or finger required—and have that lawnmower shipped to your home, all without waiting in a long line?
This personalized, streamlined, touchless experience may be coming to a store near you sooner than you think. And leading the way will be smart kiosk terminals.
While customers have already embraced self-service stations as a convenient way to facilitate their transactions, innovative technologies will soon make them capable of doing much more. Computer vision, AI, and cloud services are enabling new features that create superior self-serve options, helping retailers improve the customer experience and reduce operational costs in the process.
"The future is going to be touchless," says Dylan Waddle, chief operating officer for M3 Technology Solutions, (M3t), a global provider of kiosk solutions. "Customers will be able to interact and make payments without ever inserting a card or even touching the screen. Smart terminal innovations are focused on improving the guest experience while keeping the transaction secure."
More Convenient Point of Sale
Partnerships will be essential in developing and deploying the next generation of self-serve solutions. For example, M3t is working with UST Global, a major systems integrator, to roll out smart terminal systems at convenience store chains across U.S. and Europe. Similar to the Amazon Go concept, customers can shop, go, with payment automatically occurring through an app.
"We live at the intersection between a cash and digital society," says Waddle. "Our kiosks offer flexibility for guests that want to also pay by card, cash, or smart phone. While it's diminishing in population, convenience stores still run as a huge cash business. We're helping to bridge the gap between the cash society and what's moving toward a digital, card-based, or phone-based payment solution."
And M3t technology for convenience stores is just the start.
COVID-19 accelerated use of digital tools for shopping and financial transactions. A survey by McKinsey Digital found that 75 percent of people who used these channels for the first time during the pandemic said they'll continue to use them when things return to "normal." Couple the more widespread adoption of digital tools with improved voice and biometrics technology, and terminals have the potential to transform the retail industry, especially in big-box stores.
Eighty-seven percent of shoppers start their buying journey online, yet 46 percent prefer to buy in a physical location. Customers can start the experience at home and scan a QR code from their phone when they get to the store to continue the transaction. The new retail kiosks will feature large 22- to 27-inch screens that provide capabilities such as wayfinding, inventory status, product information, and browsing an online catalog that offers an endless aisle of available items (Figure 1).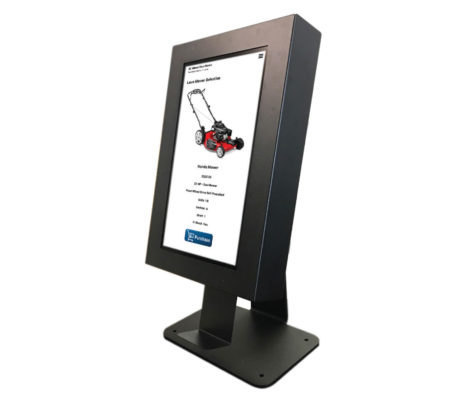 With voice and biometrics technology kiosk terminals have the potential to transform the retail industry.
"We're streamlining the guest experience, driving people away from checkout lines," says Waddle. "We envision these terminals at the end of every aisle, such as in big-box home improvement stores."
Interactive terminals also have the potential to reduce operational costs. In addition to lowering personnel expenses, they can impact the amount of inventory retailers need to carry in stores. "Big-box stores are sitting on a lot of inventory, but people aren't getting out as much," says Waddle. "Kiosks allow them to reduce inventory as well as their store size, all while improving the customer experience."
Vision and AI Technologies That Make It Happen
Intel® plays a key part in self-serve innovation, with both the technology and the ability to drive the market.
"One of the biggest technologies that is changing the game is Intel processors," says Waddle. "Because they're so powerful, it allows us to have a much smaller-footprint PC in our terminals."
The smaller PCs also leverage smaller peripherals, including receipt printers and barcode scanners. These streamlined, attractive terminals take up less space and can replace big, bulky checkout areas that consume a large portion of store space.
M3t also leverages the Intel® 3D RealSense™ camera solution along with the Intel® OpenVINO™ Toolkit to facilitate capabilities that allow customers frictionless payment.
"In biometric transactions, the customer is informed and grants permission for ID verification purposes only," says Waddle. "We store that data in an encrypted or hashed format to protect the customer and their identity. It allows customers to feel confident in conducting a touchless interaction."
Retailers that fully leverage all the efficiencies that could be gained from a terminal could get a return on investment sooner than they may imagine.
"Smart kiosks can pay for themselves within the first three to six months," says Waddle. "It's a very aggressive number, and most stores could get close if they leverage the ability to reduce floor space and re-focus personnel. The focus is on making sure the guest experience is what it should be. I'm excited to see what the future holds for retail technology."