Fill form to unlock content
Error - something went wrong!
Get the latest updates on IoT for retail.
You are following this topic.
Visibility Pilots Supply Chain Automation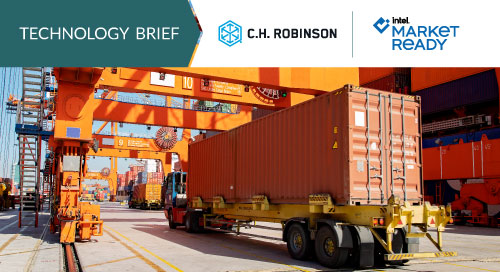 If you want to understand the importance of an efficient supply chain, two words sum it up: toilet paper. At the beginning of the pandemic, panicked consumers stockpiled the bathroom staple, creating shortages. With limited visibility, retailers couldn't predict when inventory would be replenished, and "where to buy toilet paper" became one of the top Google searches of 2020.
COVID-19 intensified inefficiencies in the industry that has been slow to digitize operations. While consumer demand and expectations created added pressure, the biggest problem is that the supply chain—typically considered a back-office operation—was running on siloed platforms.
"The traditional supply chain has multiple global parties and processes that rely on manual documentation and communication," says Chris Cutshaw, director of commercial and product strategy for C.H. Robinson, a global logistics solutions provider. "Each party has its own system, and they're not talking to each other very well. This results in companies reacting to problems when they happen, instead of anticipating and avoiding them."
AI Transforms the Process
Fortunately, the siloes are coming down as organizations accelerate end-to-end supply chain automation. The combination of AI, IoT sensors, and cloud technology take visibility to the next level, collecting and analyzing "in transport" data that can forecast and automate responses in real time.
For example, Navisphere Vision combines real-time orders and shipments with updates on transportation and external factors like weather that can disrupt the supply chain. Delivered as a software as a service (SaaS), the solution uses the Intel® Connected Logistics Platform—with sensors and gateways placed in containers—to integrate data points and glean insights.
AI-driven software analyzes and collects information such as GPS location, shock and vibration, temperature, and humidity at macro intervals, and transmits the data through the integrated Microsoft Azure IoT Central cloud platform. As items go from point A to point B, machine learning algorithms compare this data to the shipper's original plan, predicting disruption based on specified criteria.
Customers can track shipments in real time via the Navisphere Vision platform. Before deploying the solution, a C.H. Robinson team performs a gap analysis with customers to identify the company's current operations. "We offer configurable solutions, whether it be our technology or just overall process change that can help them get to best-in-class supply chain management," says Cutshaw.
The future is a self-healing, self-realizing supply chain that can make decisions based on algorithms and AI models to achieve an outcome that a human doesn't have to drive. @CHRobinson
Visibility for Launch Logistics
Launching new products demands precise orchestration of inventory as it travels from the factory to the customer warehouse and everywhere in between. Microsoft uses Navisphere Vision to manage distribution of its devices, including Xbox game consoles. Predictability on deliveries is essential, especially during the much-anticipated Xbox Series X and Xbox Series S launches, in the middle of the pandemic. After building anticipation for a new product, it's costly when demand can't be met as planned.
"Microsoft needs to know with certainty where their containers are at any given time, anywhere in the world," says Cutshaw. "They also need to know exactly when each container is going to arrive to its destination, because that's inventory they can plan their demand against."
With an accurate ETA, a company can constrain the amount of inventory in its inbound channel, reducing costs, improving margin, and meeting customer demand.
While deadlines are key, damage in the supply chain can also impact a launch. Navisphere Vision monitors Xbox and Surface device shipments for shock abrasion, such as a tilt or shift in a pallet that may cause the product to become damaged. And the packages are tracked to avoid theft. If a container is opened before reaching its destination, the solution records and identifies where it happened and alerts the proper stakeholders so they can take immediate action.
Predictive analytics can also solve problems as they're happening. With congestion due to a flood of products from Asian factories, COVID-19-related worker shortages, and a lack of warehouse space, ports around the world are facing a logjam of container ships.
A company with a time-specific shipment may need to enact a different plan. Based on preset thresholds, the system could automatically create an air shipment, process, pick, pack, and ship without customers ever realizing there could have been a problem.
"Right now, someone would need to submit an order, contact the manufacturer, plan an air shipment, contact a carrier, schedule an appointment, and schedule a delivery," says Cutshaw. "Eventually, all of that is going to happen based on the information that's coming from IoT sensors and other sources of information into a central system that can plan and optimize."
The Future of Supply Chain Management
While the supply chain could never have planned for COVID, it's served as a catalyst for accelerated digital transformation of the industry.
Companies need to be ready for the next disruption. Investing in complete supply chain orchestration is a multi-year journey. The industry is in the very early stages right now, and the end goal is to automate action based on supply and demand and disruptions as they occur.
"The future is a self-healing, self-realizing supply chain that can make decisions based on algorithms and AI models to achieve an outcome that a human doesn't have to drive," says Cutshaw. "It's very visionary work, and we are looking forward to being part of that journey for companies."