Fill form to unlock content
Error - something went wrong!
Get the latest updates on IoT for retail.
You are following this topic.
Unified Retail Digital Signage Gets Business Results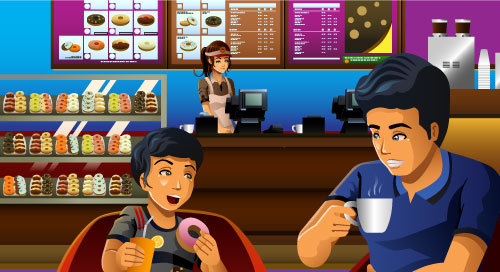 As consumers, we like to believe our purchasing decisions are entirely of our own volition. We don't think about how a vibrant in-store ad entices us to make an impromptu purchase. Like when a display of glazed donuts hit with the perfect amber lighting propels us to buy the sugary confection along with the cup of coffee we intended.
But that's the power of effective digital signage. It can seamlessly create immersive customer experiences that drive greater engagement and sales growth. Embed signage, a digital-signage software platform provider, delivers these experiences for leading brands.
The company's powerful tools help businesses create engrossing content to get their message across loud and clear.
New Opportunities with Retail Digital Signage
Digital signage can engage customers, but many companies face challenges with managing content and devices.
Drew Harding, Sales and Marketing Lead for embed signage, says retailers often find it difficult to centrally manage digital-signage networks for many reasons. For example, different departments may embark on campaigns without engaging with the wider business. Or they may contract out to a variety of external agencies to create one-off campaigns—deploying bespoke software onto specific hardware.
Many companies have already experimented with different systems and low-cost, DIY solutions with limited success. They need a unified platform to bring all their devices together and control what content customers see and experience.
"A lot of the challenges are about bringing do-it-yourself scenarios into one centralized platform that provides a level of granularity and control while offering the ability to create those "wow" experiences easily," Harding says.
Another challenge is the need to control multiple endpoints or locations, from a central location. And retailers need a solution that provides both technical and creative flexibility to bring on almost any resolution or type of screen technology. Embed facilitates the cloud-based management of an expanse of endpoints, allowing companies the flexibility to choose the right hardware for the desired experience.
@embedsignage facilitates the #cloud-based management of an expanse of endpoints, allowing companies the flexibility to choose the right hardware for the desired experience. via @insightdottech
Empowering Companies to Create Dynamic Content
The embed platform offers robust integration of data sources (JSON, XML, Excel for example), analytics, rule-based content playback, localized messaging, advanced content scheduling, and WYSIWYG layout design.
Customers also can access a range of analytics in the platform, such as stats for network downtime, status logs, content playback/proof of play and data related to each customer session for their interactive touchscreen experiences.
The solution has built-in security, with single sign-on, user provisioning, and two-factor authentication. Administrators can add custom user roles, create user groups and assign different levels of access. For example, they can give content creators access to media and layouts but designate device access only to their IT team for network management.
The embed platform relies on robust hardware for content playback including powerful Intel® processors to run high-resolution displays and multi-output players—seamlessly delivering content. But the company isn't innovating just on the technology front—it also has some of the best customer support scores in the industry.
The company's digital-signage software offers a layout builder packed with tools to create beautiful digital signage paired with advanced features like geofencing capabilities and conditional rules-based content. Companies can establish different rules to play certain content based on conditions such as weather or location, among many others through an intuitive user interface.
Engaging Digital Experiences at Krispy Kreme
Krispy Kreme is a prime example of how innovative digital-signage technology combined with great service can transform business results.
The company needed a single solution that was flexible enough to manage different devices, screen types, and customer experiences. With multiple store locations, diverse layouts, and different screens, it needed to deploy content for a variety of use cases.
"There were many different menu board configurations. There were LED screens going in," Harding says. "And then there was the ambition for the future to create very unique cabinets and experiences related to presence detection, and LED lighting for a bit of theater around the production of donuts."
Since 2018, embed has worked with Krispy Kreme to deploy digital signage across its UK and Ireland stores. The platform powers its entire digital screen estate, including digital menu boards, outdoor high bright screens in drive-throughs, and donut kiosk sales cabinets with presence detection capabilities.
Many stores also feature curved LED screens, LED banners, and an LED donut hole in the wall that helps Krispy Kreme share brand heritage stories and elevate its in-store experience. With these capabilities, and more, the company has been able to significantly increase like-for-like sales on some of its product lines, increase average order values, improve "brand love" scores, and efficiently manage and distribute content in-house (Video 1).
Powering the Future of Digital Signage
This versatile solution is not only for retail. It can be deployed across different markets. Wembley Park in London is a great example. Wembley has used the platform to display digital art and wayfinding for major sporting events, so visitors can easily make their way around the park.
Embed signage can be used across other touchpoints and industries, as well. It can deliver health and safety information on factory floors and support wayfinding at corporate office campuses. The platform includes integration with Microsoft's Power BI offering businesses a secure way to display their data visualizations.
While the company is helping customers reduce printing costs, improve operational efficiencies, and deliver incredible digital experiences, it's also well aware that its digital installations all need power. Embed has focused on sustainability, carbon reduction projects, and funds the planting of new trees for every license it sells, while working toward a carbon-neutral future.
"We are constantly trying to use the sales revenue of digital signage to actually make the planet a better place," Harding says.
As touchless experiences become more prevalent, especially in a post-pandemic world, more companies likely will turn to digital signage to engage customers, get their message across, and deliver an immersive experience. With its innovative digital-signage software, embed signage will be there to support them every step of the way.
This article was edited by Georganne Benesch, Associate Editorial Director for insight.tech.