Fill form to unlock content
Error - something went wrong!
Get the latest updates on IoT for retail.
You are following this topic.
The Future of Work Is Hybrid, Digital, and More Personal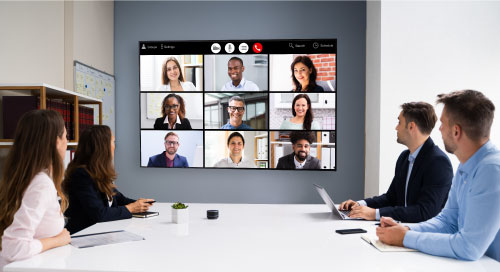 As businesses prepare to return to work post-COVID, they will have to consider their employees' new work expectations. After working from home for more than a year, employees have gotten used to not having to commute, working independently, and having more time to spend with their families. While some people are excited to get back into the office, others want to continue to have remote work as an option.
Businesses are also seeing the benefit of having employees work from home, having to spend less on overhead and seeing an increase in employee productivity.
"Over the past year, organizations of any size have seen the benefits of how a remote workforce can maintain business, but also have a better work-life balance. As such, most organizations are seeking ways to continue to embrace this new norm in an attempt to both retain and recruit talent," says Bob Bavolacco, Director of Technology Partners Programs at Crestron, a global leader in workplace technologies.
It's becoming increasingly clear that the future of work will be hybrid, with businesses offering employees the option to return to the office, work remotely, or a mix of the two (Figure 1).

Enabling Employees to Work from Anywhere
One of the biggest challenges for businesses and employees when the pandemic first hit was trying to adapt to a remote world. Businesses needed to figure out how to get employees the right tools and technology necessary to do their work, collaborate, and communicate—all while ensuring security. Employees needed to adapt to a new workspace, mindset, and set of responsibilities.
With a portion of employees now headed back to the office, the new challenge will be ensuring that everyone gets the same work experience no matter where they are working from.
"While almost all organizations immediately needed to go remote at the beginning of last year, we did what we needed to do to sustain how we conducted business in a fully remote workplace. I think the theme during that period was focused on remaining as productive as possible remotely, while doing that 'transparently' to all of our internal and external constituents" says Bavolacco. "Now that the world is opening up again, we still don't quite know what that means, but realize in this new hybrid workplace, wherever we choose to work on a given day needs to provide the same professional, connected experience regardless of location."
One thing is certain, according to Bavolacco: Businesses will need to adjust budgets and resources to give employees access to tools and ensure those who are working remotely feel connected.
"If businesses don't provide the tools or platforms, you're not going to see productivity. It's going to fall. That's essentially what we're up against," he says. "How do you allow collaboration across platforms, across demographics, or geographically dispersed locations without seeming like that's the case?"
Employees need to be able to access team channels, project directories, emails, and be able to instantly communicate with one another without having to schedule a meeting.
The cloud will be paramount to providing a reliable, scalable, and secure way to keep distributed team members together and on the same page when a secure VPN is not available. "Without a cloud-based infrastructure, the maximization of employee productivity and the total efficiency of the systems that support the various organizational needs could never be realized," says Bavolacco.
"Organizations that are adapting to the new [work] norm need to provide the tools for collaboration to continue, both in-person and remotely." –Bob Bavolacco, @Crestron via @insightdottech
A standardized and unified communications tool and platform also needs to be implemented across the organization to ensure team members stay connected and can retrieve and share information in this new hybrid work world. In addition, the platform should be able to support other platforms so employees can connect and communicate with people outside of their organization who might be using different collaboration platforms.
For instance, the Crestron Flex platform is a unified communications solution that provides native support for Microsoft Teams, Zoom, and other popular conferencing platforms, as well as support for a BYOD conference solution. This provides employees consistent call, presentation, and video conference experiences on all these devices, no matter where they are, what platform they chose to use, or who they are talking to. The platform can connect with advanced native room systems such as digital displays and high-quality audio technologies so conference members can clearly see and hear one another.
Organizations can also implement a variety of Crestron Flex devices, or allow employees to use devices that they are more comfortable and familiar with Flex. And with Crestron's XiO Cloud, organizations can deploy, manage, and monitor thousands of devices remotely through a single dashboard.
Redefining and Redesigning Workspaces
Beyond connecting and providing a consistent at-home and in-office work experience, businesses will have to rethink how employees work, engage, and interact when they do come into the building. There are now social distancing, occupancy limits, infrastructure, and health considerations to think about.
Organizations realize they have an opportunity to reduce their office footprint and are starting to investigate new ways to optimize the space. Crestron provides hardware and cloud services that handle remote operations as well as room monitoring. Crestron also provides a home-version of their unified communications solutions called HomeTime.
Through Crestron's services, employees can see room availability, book a room, or schedule a cleaning service remotely. This will allow organizations to set up temporary workspaces for their employees and keep track of cleaning schedules. Bavolacco describes it as creating a temporary hotel environment in place of traditional offices.
Crestron's suite of in-room conferencing and control solutions also includes occupancy sensors that integrate into Crestron building and environmental systems, as well as third-party partner room scheduling applications, which combine to keep track of how many people are in a room to comply with social distancing and room occupancy guidelines. If a space is over capacity, through XiO Cloud, the system will alert facility managers or IT leaders to rectify the situation. And while on the theme of integration, XiO Cloud also integrates to ServiceNow so that trouble tickets can be created and managed to ensure rooms are always 100% online and securely managed.
In closing, Bavolacco states: "The new work norm is most definitely one of a hybrid nature. Organizations that are adapting to the new norm need to provide the tools for collaboration to continue—both in-person and remotely—while maintaining a safe environment to work when in-person."
Going forward, Bavolacco says this will be a learning experience, and organizations and employees will have to continuously learn and adapt to what works best for everyone.