Fill form to unlock content
Error - something went wrong!
Get the latest updates on IoT for retail.
You are following this topic.
The Future of Retail? Supply Chain Visibility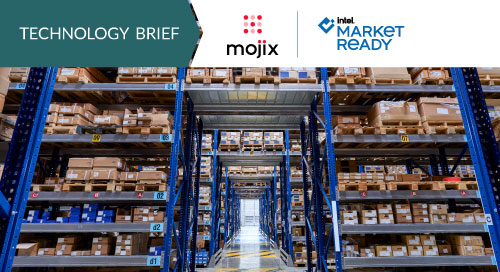 When you're in retail, the supply chain can make or break your business. While waiting on shipments can hinder sales, it's even more frustrating when you can't locate what's already in stock. Not only does this represent lost revenue; it wastes human resources tracking misplaced items and negatively impacts the customer experience.
Fortunately, the fix is straightforward. Retailers can implement edge-to-cloud technology that provides visibility across the product lifecycle, streamlining operations and improving customer-focused strategies. One solution is ytem™—from Mojix, a leader in item-level intelligence solutions—connecting a system of sensors to a cloud-based computing platform.
The company has deep domain expertise in technologies such as RFID, NFC, and print-based marking systems. Mojix builds business intelligence from event-triggered actions tracking billions of unique identities, following item lifecycles from source to shelf.
Edge-to-cloud technology can transform supply chain and inventory management. Retailers can know exactly how much stock they have and where it is, for greater confidence. "You have what is called a unified inventory," says Helene de Lailhacar, Marketing Director for Mojix. "You can therefore engage into eCommerce with more freedom, efficiency, and accuracy."
In addition to accuracy and transparency, the benefits of #edge intelligence also include brand protection through traceability. @MojixInc via @insightdottech
Retail Analytics Automates Supply Chain Management
The results can be dramatic. For example, a leading athletic gear retailer implemented the Mojix ytem SaaS platform to improve its inventory accuracy. Before deploying the system, the company contracted an external supplier to manually count items using a barcode scanner. It took 10 people at least eight hours per store. The cumbersome and costly process was completed three times a year, and resulted in an accuracy of only 75%.
After installing ytem, the company needed just two people to perform stock counts, reducing the time required from eight hours to just two hours, while increasing the counting speed from 8.3 to 125 items per minute. Because each item has a unique code, the risk of human error, such as scanning something twice, was eliminated. Inventory accuracy reached 99% and productivity grew by an astonishing 2,000%. Plus, the company was able to reduce safety stock while increasing revenue by 10%.
"When it says on a retailer's website they have zero items left, technically they still have three or four elements in stock," says de Lailhacar. "Retailers will not go below this because they can risk being out of inventory due to time lapses in information. That would be horrible for brand image and represent loss of business. Once accuracy is improved, they can reduce that safety stock."
Gathering Retail Data with Edge Technology
To create ytem for retail, Mojix partnered with Zebra, manufacturer of data collection equipment, such as RFID and barcode scanners (Video 1). "It's a marriage made in heaven because we need their data capture to get the information, and they need a SaaS platform to make their data capture useful," says de Lailhacar.
The system aggregates items and contextual data from sensors. It also collects data from warehouse management and ERP systems. The information is processed on the cloud-based SaaS platform, which is available to view via an app. The technical architecture is powered by Intel® processors, which speed up the transfer—key to real-time information.
"Processing speed can be very important in stores that have a lot of items and need a lot of people informed at all times of the state of the inventory, or the location of the items," says de Lailhacar.
In addition to accuracy and transparency, the benefits of edge intelligence also include brand protection through traceability.
"We make the item smart because we create an identity for each individual product," says de Lailhacar. "We track the left shoe and the right shoe and can even track all the way to the leather, ensuring a pair of shoes comes from the same piece. That's very important for luxury brands because the leather's dye baths may result in slightly different colors."
When you know your item individually, you can also protect sales. "For example, you can certify and authenticate it if you're a luxury brand," says de Lailhacar. "And you can fight the gray market because you know if someone's taking advantage of a difference in prices on the global market. You know where that item is supposed to be sold."
The Future of Supply Chain Management
As the marketplace evolves and more regulations are put in place, greater inventory transparency will be key for retailers to stay relevant and thrive.
"Right now, retailers are asking for transparency in the movements of their goods and transparency from their suppliers as to as where they had their products made, for child labor and other issues," says de Lailhacar. "Laws are soon coming out in Europe that are going to make any brand accountable for their suppliers' production methods."
Transparency will also be increasingly important for booming secondhand markets. "Companies that are not making their brands available to the secondhand market could be missing out," says de Lailhacar. "It's a strategic stance. You can either buy up all of the articles that you find on the secondhand market to protect your brand, or you can decide that you will control the secondhand market. The only way to do it correctly is to be able to authenticate that those products are yours and control it."
In a global market with so many moving parts, having a traceable, unified inventory is key to succeed in the future of retail.
This article was edited by Georganne Benesch, Associate Editorial Director for insight.tech.