Fill form to unlock content
Error - something went wrong!
Your content is just a step away. Please submit below.
Sustainability Initiatives Fuel EV-Charging Infrastructure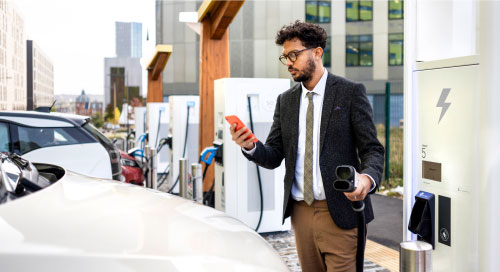 Think about the last time you filled your car with gas: you pulled into a station, likely entered your credit card into a self-checkout terminal, topped off the tank, and drove away. Fueling a gas vehicle on the road has followed such well-oiled rules with infrastructure that has been in place for decades.
Electric vehicle (EV) owners are looking for the same level of convenience: easy-to-use options that are safe and always available. At the same time, businesses and communities are looking for ways to offer this convenience to create new service and revenue opportunities. But that's easier said than done.
The Road to Sustainability Initiatives and EV Charging
Thus far, the EV market has been chugging along only in fits and starts. Mass adoption depends in part on a robust EV-charging network. EOS Linx, an EV-charging company, promises to deliver that network through its EOS Charge solution, a series of well-lit charging stations, integrated with a Digital-Out-Of-Home (DOOH) advertising display.
EOS addresses many of the challenges in today's EV infrastructure. The company is working to build an intelligent network of EV-charging locations that seamlessly integrate with the EV driver's lifestyle while easing range anxiety. By installing and managing the charging infrastructure at a location, EOS mitigates the roadblocks of cost, expertise, and business distraction for location operators. "Customers will find themselves at a safe and easy-to-use solution for an overall better experience," says Jeff Hutchins, President and CTO at EOS.
The company's approach is based on the knowledge and expertise earned through a long history of deployments, plus the expertise of our partnership ecosystem. "We can acquire the real estate, we can build the network, and we can design a flexible architecture that really enhances the customer experience," Hutchins says. "We wanted to offer a more comprehensive and intelligent approach rather than simply build a better widget."
Charge units can integrate power delivery and management, digital advertising, #AI analytics, and proactive troubleshooting into one fix-it-and-forget-it #EV charging solution. EOS Linx via @insightdottech
Opportunities for Retailers and Communities
EOS bakes its all-things-considered approach into what is essentially an edge infrastructure instrument. EOS Charge units can integrate power delivery and management, digital advertising, AI analytics, and proactive troubleshooting into one fix-it-and-forget-it EV-charging solution.
The company's revenue comes from a percentage of the fee for every vehicle charge, and from DOOH advertising that runs on the digital display integrated into the charging station.
Consumers benefit from accessible, clean, and well-lit facilities on the road. Residential installations from EOS are also available, and customers can schedule charging windows during off-peak hours—helping them lower net costs by aligning with their utility provider programs.
The EOS charging stations benefit retailers in many ways, Hutchins points out. They can channel targeted advertising through the digital display, and drive traffic to their primary points of business. The location owner can also sell the digital advertising inventory to their partners and vendors. "I'm excited about the potential for cross-pollination of marketing messages between the driver and our commercial loyalty-program participants, such as 'dine at a restaurant, get a free charge.'"
In addition, location operators appreciate the hands-off nature of the setup. "We bring our own power, which means we're not going to impact your operational infrastructure," Hutchins explains. "We bring our own network-connected infrastructure, our own hardware. We own, we operate, and we maintain."
Such an arrangement is music to the ears of operators, who are only too happy to have EOS do all the heavy lifting. As mandates for EV-charging stations in communities increase, governments and property owners are eager to have an expert attend to the details, while leaving the road open for recognizing the additional benefits of EV adoption.
The company is an active supporter of communities, including a partnership with the National Center for Missing & Exploited Children. Through the displays, EOS brings added functionality like weather warnings, community messaging, and alerts for missing children.
Edge Data Analytics Add Value
The EOS solution has the capacity to implement AI visual analytics, which can deliver anonymous insights about how long customers linger at the charging station. "This dwell time and demographic data is extremely valuable information for location owners," Hutchins states.
As public safety is also vital, AI video analytics and safety integration can help prevent potential issues. For example, the system can follow suspicious activity patterns and identify when someone is going to the back of the shop. This is still being better understood, and must be done in conjunction with public entities in a way that ensures safety while respecting individual privacy rights.
Because the EOS solution is modular, it will adapt to changing market needs and supply chain constraints, Hutchins ensures. "Architecting with Intel compute at the edge has allowed us to efficiently manage content and enable programmatic advertising. And the remotely managed system makes maintenance a lot easier and less expensive, while providing remote survivability features that would otherwise be impossible."
Intel's edge computing capabilities have helped EOS comply with data-handling requirements. "It allows us to keep that arm's-length relationship from personally identifiable information," Hutchins says. "All data is processed anonymously. EOS does not store or transmit images, video, or violate existing privacy protocols."
On the Road to a Sustainable Future
According to Hutchins, EVs are going to become ubiquitous and for everybody. And when they do, consumers will expect charging on the road as a given. "There was a time when you couldn't charge your phone on the plane, but now consumers get mad when there's no plug-in onboard," he says. "That will become the charging behavior for vehicles."
"Certainly, on the interstates, and if you're a business that profits from traffic, you'll be expected to have a charging station," says Hutchins. "Having a partner like EOS to pave the way for easier adoption makes it a smoother ride."
"EV is more than a cool new thing. It's about infrastructure with a point," Hutchins says. "It's meant to be something that brings us to a better state, as people doing better things for the planet."

Edited by Georganne Benesch, Associate Editorial Director for insight.tech.