Fill form to unlock content
Error - something went wrong!
Get the latest updates on IoT for retail.
You are following this topic.
Software-Defined AV Facilitates Hybrid Learning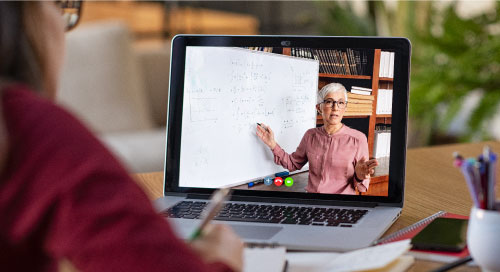 Higher education institutions are forever grappling with how to best reach and educate their students. Never has this been truer than in recent years when hybrid learning surged forward as a viable and often necessary means of instruction. Bentley University in Waltham, Massachusetts recognized the need for advanced infrastructure capable of supporting both on-campus and remote instruction—and decided to scale their hybrid classroom environment.
Expanding from 15 to 69 classrooms required a flexible, scalable, and reliable solution. Not only did the university require readiness for a future of in-person education, remote learning, or both, they also set a high standard. Joe Jackson, Business Development Manager at QSC an AV connectivity solutions provider and manufacturer, explains: "Immersive remote learning is quickly becoming the new standard for classrooms."
"To make this possible there are two cameras in the room, one in the front and another in the back," Jackson continues. "The one in the back of the room captures the presentation and the presenter, and the one in the front of the room captures the audience. There's usually a ceiling array microphone for audio capture, which can also be used as a proximity trigger for camera presets from around the room. A display at the back of the room or a confidence monitor up front allows professors to see people who are joining by Zoom. This gives everyone, whether they're remote or in-person, a solid learning experience."
From this foundation, QSC and the Bentley University team began building a networked solution for hybrid learning. The vision was based on three principles: minimize hardware, stay informed of system health, and enable instructors to get right to the lesson.
Integrated Design on a Software-Based Foundation
With the typical classroom design established, the team set out to create a scalable foundation for the university. A total of 18 Q-SYS Core processors were leveraged, each managing audio, visual, and control across multiple classrooms.
With their integrated Intel® processors driven by the Q-SYS OS, the Q-SYS Core 510i, and Q-SYS Core 110f processors act as the backbone of the university's initiative to scale with the solution's significant computing power.
The processors can also receive firmware updates that deliver new features, patches, and security upgrades. This software-based approach also provides acoustic echo cancellation, gating auto mixers, and other multimedia processing options for an optimized sound experience.
The initiative to scale extends beyond the Core processors themselves. "Maybe you want to add a second PTZ conference camera in 50 rooms next year," Jackson explains. "You don't have to buy 50 rooms' worth of systems, you just buy 50 cameras and plug them into the existing system. Q-SYS grows as your requirements evolve so you can easily adjust and add only what's needed."
Support Is Always Present, No Matter the Distance
Traveling across campus for technical problems is a task system admins are keenly familiar with. But with remote-work culture in full swing, physical presence for issue diagnosis and troubleshooting is challenging at best. The Q-SYS Reflect Enterprise Manager—a web-based remote monitoring and management solution—provides Bentley with real-time status and event logs of every Q-SYS system and connected third-party devices (Figure 1).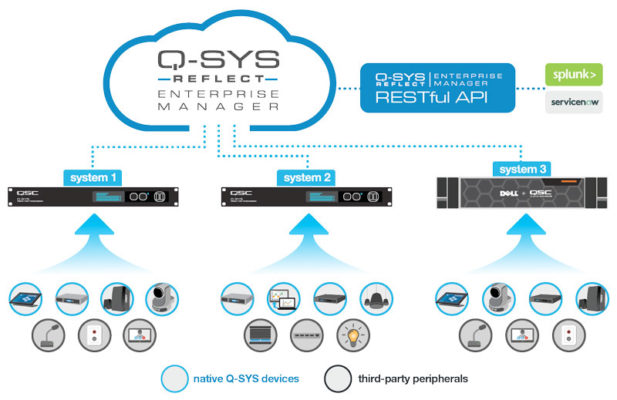 Enterprise Manager is already paying dividends at Bentley, where system admins are diagnosing and solving issues—sometimes before anyone in the classroom knows something is wrong.
"Bentley University is running with system redundancies in place, so if there's a failure, the end users won't know it happened. If the system's Core goes into fault, you get a notification from Enterprise Manager, but the class is not interrupted," Jackson says. "That backup Core often takes over before the professor ever knows there has been an issue. Crisis averted."
"Immersive #RemoteLearning is quickly becoming the new standard for #classrooms." –Joe Jackson, Business Development Manager, @QSC via @insightdottech
Support for Instructor Success
Bentley University developed several methods to overcome technical issues.
First, they it developed two room modes: 'Local Presentation' and 'Extended'. Local Presentation mode starts the projector, turns on the confidence monitor, and mutes the ceiling microphones. Extended mode for distance learning unmutes a classroom's ceiling microphones, turns on the conference cameras, and shows the Zoom extended desktop on the confidence monitor. This displays the remote students at the back of the room.
The second method allows the instructor to connect their laptop and share content to any HDMI destination in the room. This is achieved via a Q-SYS NV Series network video endpoint (set as an encoder) at each classroom podium. It encodes up to three HDMI sources over the network: the smartboard, the projector, and the confidence monitor. These are also connected to a Q-SYS NV Series network video endpoint (set as a decoder).
With this system, a professor can enter their classroom, connect to their class, and quickly share their lecture information.
Scholastic Software Scaling for the Future
Innovating toward the future of education is an act that contains an element of uncertainty. Classroom dynamics are constantly changing, so with an ambition to scale must come agility. This pairing of priorities allows for the highest return of investment, and ability to adjust. Future-ready isn't a one-time investment, and Bentley University is laying the groundwork for a bright tomorrow.