Fill form to unlock content
Error - something went wrong!
Your content is just a step away. Please submit below.
Smart Restaurant Technologies Optimize QSR Operations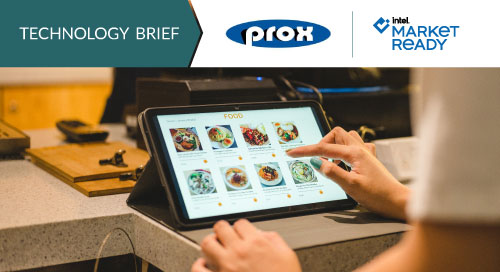 Faced with rising labor costs and an acute shortage of workers, today's quick-serve restaurants are struggling to maintain their legendary efficiency. Challenges are exacerbated as orders flow in from new mobile apps and delivery services, making kitchen operations more complex. There is little time to train staff or monitor equipment, and service delays risk alienating customers in a highly competitive market.
To alleviate some of the pressure and improve customer satisfaction, many restaurants are adding self-service kiosks and digital platforms connecting front-end ordering with back-end operations. Lightning-fast order transmission and automated sorting can save workers time and help them avoid mistakes. And by collecting and analyzing restaurant information, managers can gain a better understanding of customer preferences, helping them create more effective promotions and make better stocking decisions.
QSR Automation Boosts Self Service and Lowers Costs
Quick-serve restaurants have experimented with self-service kiosks for years, but they gained traction during the pandemic, when customers displayed a preference for fast, contactless ordering and payments.
"In the past two or three years, we've seen a huge move to kiosks and digital platforms," says Terry Wu, Senior Sales Director, of Prox Systems Co., Ltd., a division of Protech Systems Group that provides hardware, software, and servicing solutions for the restaurant and hospitality industry.
Kiosks display menu items on a digital touchscreen, giving customers a variety of contactless payment options, including merchant loyalty cards and third-party systems like Apple Pay and Venmo, as well as credit cards, debit cards, and cash.
With the Prox Restaurant Smart Service Solution, all orders—whether they're from a kiosk, the service counter, the drive-through, a restaurant or delivery company app—are routed to a single digital platform. They are quickly analyzed by an Intel processor-based computing platform and sent to a digital screen in the kitchen. Automated order transmission and sorting avoids errors and gives staff instant instructions for achieving maximum preparation efficiency. When orders for in-store pick up are ready, employees place them in digital lockers, where customers can retrieve them by scanning a QR code (Video 1).
The Secret Sauce: Quick-Service Restaurant Software
Information about transactions and menu selections is sent to the cloud, where managers can analyze it to discover trends. Restaurants can also install computer vision cameras at the kiosks to learn more about customer demographics, Wu says. All sensitive information, including facial images, is removed before data is transferred to the cloud.
By analyzing customer food selections, managers can make better menu decisions, culling unpopular items and stocking more ingredients for the food people want. A dashboard can integrate information about holidays and weather forecasts to help stores predict demand and better allocate staff.
Analytics can also help stores fine-tune promotions, which can be displayed across customer touch points, including the kiosk screens. Screens alone increase the chances for upselling success, Wu says.
"In our experience, #kiosks generate 20% more upselling revenue than counter sales." – Terry Wu, Prox Systems Co. Ltd. via @insightdottech
"Customers feel less pressure standing in front of a sign than responding to someone at the counter. In our experience, kiosks generate 20% more upselling revenue than counter sales."
To relieve busy employees from the burden of managing equipment such as kiosks, printers, and digital signs, restaurants can connect it to Prox Eye, a cloud-based monitoring software platform.
"Midsize and small restaurants usually don't have technical staff. Prox Eye acts as their IT department," Wu says. Prox technicians can fix machines remotely and install updates after hours. Using predictive analytics, they can often anticipate and solve problems before a disruptive breakdown occurs.
Customizing Smart Restaurant Technology
Restaurants, coffee shops, and teashops use kiosks and digital systems in different ways. Prox can help them decide which technology to upgrade and where to position kiosks for best efficiency. For example, the company worked with a popular fried chicken chain in Taiwan to install kiosks and add an online ordering option. Even with more orders coming in, the restaurant was able to provide faster service with fewer counter staffers—reducing labor by 20 to 30%, Wu says.
Managers can respond faster to changing customer preferences more easily, updating menus on digital screens at dozens of stores with a click. Digital screens also eliminate printing costs and make menu management easier for employees.
They can even help restaurants introduce new products. For example, the chicken restaurant chain operates a separate network of bubble tea shops. Managers wanted to sell teas at the restaurants as well, but efforts faltered when kitchen staff, accustomed to preparing fried chicken, had trouble remembering complicated drink recipes. Sales are improving since Prox created detailed instructions that appear with drink orders on kitchen displays.
As technology evolves, Wu believes restaurants will discover new ways to use digital applications. In the next two to three years, he envisions kiosks replacing touchscreen menus with voice-enabled chatbots powered by generative AI systems, like Open AI's Chat GPT or Google's Vertex AI.
"Customers won't need to use a screen. They can just ask, '"What is the spice level of the curry? What are the ingredients?"' Wu says. As innovations like these draw customers, he believes restaurants' appetite for digital and self-service systems is bound to grow. "This is a large market with enormous opportunities."

Edited by Georganne Benesch, Associate Editorial Director for insight.tech.