Retail Digital Marketing in 4 Steps and 5 Minutes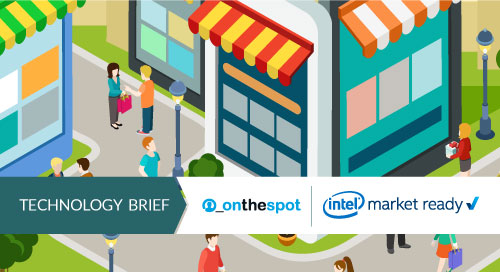 As street-side retailers aim to attract customers, many look to digital signage to create an immersive shopping experience, and influence purchasing decisions.
Personalization is now more important than ever in retail, and in-store digital marketing offers a flexible and interactive medium to engage shoppers with information and media that they like the most.
The complexities of traditional video display solutions have put these opportunities out of reach for small- and medium-size retailers. They typically lack the skills and time to create compelling content, keep it current, and manage their displays. Standard PC platforms, software, and cloud-based technologies now make it easier than ever before.
A recent report found 94 percent of retailers now use some sort of digital signage to enhance the in-store experience. Eighty percent of those said their digital signage was either important or essential to creating a compelling and engaging shopping environment. Read Find the Perfect Fit with Real-Time Analytics to learn more about interactive video displays in retail.
Despite the benefits, small businesses face several challenges when it comes to adopting displays in their stores. It can be a time-consuming hassle to write copy, find images, and create campaigns. Many also rely on outdated setups with DVD players to display their content, making it difficult to change or update media, especially when multiple displays and stores are involved.
As a result, many businesses that do attempt to use digital signage often run the same campaigns for months or years, and have no means to determine if the system actually works without visiting the store.
"It's a huge opportunity for small businesses, but creating the content is a challenge for many. They either don't have content, play the same stuff for years, or just turn their screens off," said Esther Cardenal Regueiro, Product Manager at Telefónica On the Spot Services.
Plug-and-Play Digital Displays
Fortunately, new technologies now offer options to more easily create and manage customized digital signage content. Wi-Fi, streaming devices, and cloud-based management eliminate the need for DVD players and manual updates. Drag-and-drop functionality and access to images and video clips also make it easier than ever to create engaging campaigns.
spotsign, an all-in-one, plug-and-play solution from Telefónica On the Spot Services, offers retailers a means to deploy digital marketing systems across multiple displays and multiple stores. The solution comes with everything needed to get the system up and running in just five minutes: a small media player based on Intel® technology, cables, wireless keyboard, video display (optional), templates, images, and access to Telefónica cloud services as shown in Figure 1.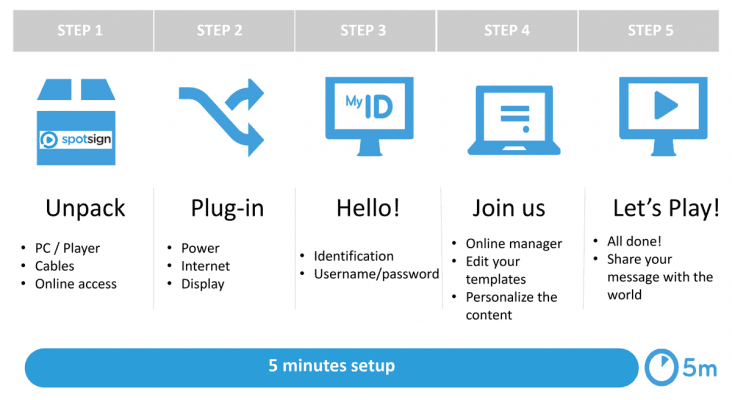 Business owners can create meaningful content in just four steps, without agencies or marketing personnel. After the initial hardware purchase, customers pay a monthly fee that includes customizable templates, phone support, and 2GB storage space on the Telefónica cloud.
One of the top benefits for small businesses is how the solution takes the hassle out of content creation. A drag-and-drop editor offers more than 160 templates tailored to meet the needs of almost every business sector. Also included is access to 1,500 high-quality images, and 25 video clips. Users can easily customize them and create playlists in minutes.
"The templates offer a way to create new, professional content," Cardenal said. "You can have a playlist in four easy steps: choose the content, edit it, create playlists, and set when you want them to be active." (Figure 2)

Anyone who can set up and operate a basic home network, television, and streaming services can have digital signage up and running in minutes. Users simply connect the media player to the display, connect to the Internet, edit the content, create the playlist, and send it to the screen.
Digital Signage Campaigns in Action
One customer benefitting from the solution is Pinturas Briz, a paint retailer in Spain. It was seeking a better way to engage customers and communicate that its stores offer more than just paint. While it previously had a DVD player running a digital campaign, the inability to easily change and update left Pinturas Briz to play the same outdated content for years.
The retailer's adoption of spotsign has enabled it to breathe more life and engagement into its signage. Pinturas Briz can now use cloud-based management to change offers and media anytime, combine it with its own video feeds, then instantly distribute those campaigns to multiple stores. José Manuel Vera, Head of Innovation at Pinturas Briz, said the ability to schedule and change content also enables it to cater to both its professional and private clients during different times of day.
To build loyalty, the retailer has also invited customers to send a picture of their products to upload to the screens for discounts on their next purchase.
The solution offers businesses the opportunity to engage customers in the store with their own branded content. spotsign users typically have anywhere from 4 to 10 stores with up to two screens in each store.
The timetable and flexibility enable retailers to customize playlists for different times of day and different stores, depending on location. The ability to quickly and easily change content anytime enables businesses to try new messages and find the right ones for their audience.
"It's an efficient solution because if you're doing something you realize doesn't work, you can try something else. You can't do that with traditional advertising," Cardenal said.
Solutions like spotsign enable retailers to grow brand awareness, dynamically promote their products and services, and even entertain customers. When shoppers are engaged, they spend more time in the store, leading to further sales.