Fill form to unlock content
Error - something went wrong!
Get the latest updates on IoT for retail.
You are following this topic.
Retail Analytics Transforms Data to Insights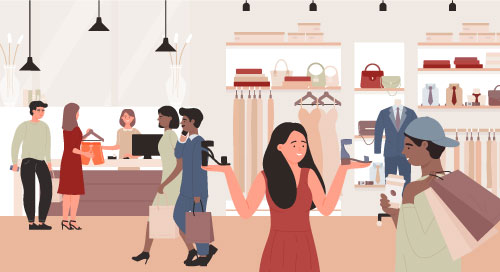 The competition in retail is cutthroat, and data-driven businesses have an advantage. Store analytics are becoming an indispensable part of a retailer's operating strategy—providing insights that help develop smarter tactics and increase revenue. The right tech stack can mean the difference between surviving and thriving. At the center is the consumer.
Retail is all about satisfying customer needs and wants. It's never been easier for them to vote with their feet and take their business somewhere else. It's impossible to fulfill those needs and wants without gathering and analyzing data and having a better understanding of what makes shoppers tick.
While large retailers like Apple and Amazon can tap into advanced business intelligence, the majority of stores and the systems integrators that serve them are behind when it comes to deploying and leveraging technology.
"Retailers tend to believe they know their business better than they actually do," says Styrbjörn Torbacke, Head of iCity Services Europe with Advantech Co., Ltd., a global leader in IoT technology. "What's missing is what I call the democratization of data. This is when data analysis doesn't just reside at headquarters but is immediately deployed to the operational teams who can act on the information."
Breaking Down Retail Data Silos
Using technology to collect data isn't enough; retailers need to combine, compare, and correlate the data to move from information to insights that can improve operations.
"With just one set of data, your understanding is at risk," says Torbacke. "It is when you start gathering data from multiple sources that you're able to compare data sets, combine insights into meaningful clusters, and correlate events to get a deeper understanding."
Take, for example, a store near a bus stop that doesn't have a shelter. The retailer may get an influx of traffic when it rains, but the people may not buy anything. In this case, foot traffic data doesn't provide enough information. A complete picture requires multiple data points from edge-to-cloud systems such as the Advantech UShop+ Store Business Intelligence Solution (Video 1).
If you sell just #hardware, it's: "What's your price and how fast can you deliver?" But offering #data insights puts SIs at the helm of value-generating activities. @AdvantechEurope via @insightdottech
IoT Devices Hold the Key to Retail Insights
UShop+ integrates 2D and 3D video technology with POS transaction data. A variety of sensors gather information into a central repository that can be deployed on-premises or as an Azure cloud-based solution (Figure 1).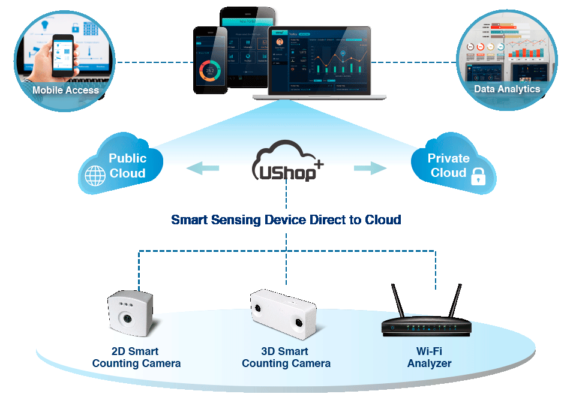 Running on Intel® processor-based devices throughout the store, the system connects and extracts information from these and other data sources to provide a more complete picture. And to comply with privacy regulations, UShop+ can detect shopper characteristics but doesn't capture personal information.
The software stack includes traffic analytics and heatmap technology that can provide retailers with an in-depth knowledge of consumer movement, shopping, and purchasing trends during periods of high or low traffic. This information and POS sales data can be combined to evaluate the store's KPI performance in real time.
For example, key insights include zoning or dwelling. "Zoning shows the parts of the store where customers spend time," says Torbacke. "Dwelling reveals how long people stay in a particular area before moving on to the next, and where they just walk through without stopping. This information can be used to optimize the display of goods or adjust pricing strategies."
Putting Insights into Action
A major European food retailer put UShop+ into place to help drive sales and improve operations. The solution uses a private cloud with edge servers in each of the stores and leverages the people-counting features of Advantech cameras.
The stores have also incorporated environmental monitoring sensors into the platform. "Air quality is a major concern in the area," says Torbacke. "We've integrated Ushop+ into the building management systems and can rev up ventilation and fans when needed."
The solution is also connected to interactive digital signage. "Based on the data gathered, signs can give specific messaging to customers to enhance the shopping experience," says Torbacke. "And it can market certain promotions or products."
Retail Data Analytics Opens Opportunities for SIs
Solutions like UShop+ provides systems integrators with opportunities to better serve their clients. While an SI's business model is typically project based, the solution has the potential to provide a new stream of revenue with data analysis.
As a result, the discussion with the client becomes a different one. If you sell just hardware, it's: "What's your price and how fast can you deliver?" But offering data insights puts SIs at the helm of value-generating activities.
"The ability to drive insights positions the SI higher up the value chain than if they were simply installing digital shelf edge labels, for example," says Torbacke. "Integrators who understand the value that software drives have an advantage."
While shoppers vote with their feet, retailers aim for operational results. SIs that can guide clients on a transformational journey not only help them respond to customers' needs. They set themselves a seat at the table where technology helps everyone thrive in the new retail landscape.