Retail Analytics Keep Customers Safe—and Shopping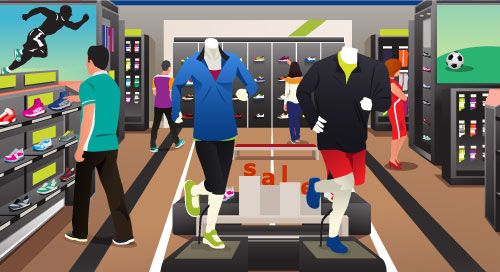 All retailers face pressure in today's ever-changing landscape: Margins are thin, competition is fierce, and consumer expectations are constantly evolving. Brick-and-mortar retail stores are still favored by customers for product discovery and inspiration, but these retailers face an increasing demand to provide the same seamless shopping experience delivered online.
Multi-location retailers have an even bigger challenge. They've always needed to be nimble enough to quickly adapt promotions, products, and offers based on shifting local preferences. Now, they also need to add safety features to meet the requirements of their different locales. The retail environment was altered practically overnight, changing the shopping habits of millions. And now store owners are looking for ways to keep their customers safe and comfortable while shopping—and for ways to recover and grow.
This all starts with collecting, analyzing, and taking action on customer data. Now, AI and machine learning are offering opportunities for physical retailers to gather and use the metrics their online competitors have long enjoyed.
Retail Analytics for Recovery and Beyond
Gorilla Smart Retail is a comprehensive, real-time retail analytics tool from Gorilla Technology. Designed for single and multi-store retailers, it offers real-time insights into each location—from shopper paths and merchandise activity to customer demographics.
The solution combines cameras, IoT devices, and machine learning to give store operators top-level overviews of high-performing traffic areas, shopper actions, conversion rates, and more. This retail data enhances advertising strategy, improves staffing management, and drives better business outcomes.
Retail Decisions Made Easy at Planet Sports
Planet Sports sells athletic wear in 28 stores across Indonesia. As a multi-location retailer, it faces the challenges of serving different customer bases and managing unique store layouts.
Planet Sports needed specific data on each store's customer demands to deliver personalized experiences, all with the aim of increasing sportswear sales. And since it planned to open new locations, the company also wanted an efficient way to manage all of its stores.
The Smart Retail tool provided real-time data—like customer demographics, traffic peaks and lulls, transaction data, and conversion rates—to management. Heat maps and dwell time analytics helped identify in-demand brands and popular areas of the stores via both real-time and historical performance reports.
"The client knew that major brands like Nike, New Balance, and Adidas generated a lot of revenue," says Caroline Chan, Gorilla's Marketing Director. "Each brand had its area, so they wanted to test if revenue was influenced by how much time a customer spent in the brand's area."
The results were surprising: Customers spent significantly more time in one specific brand area than in others. After two months, Planet Sports decided to reconfigure its store to accommodate this trend. "We were expecting people to look at different areas and pick the styles they liked, but it turns out they were keener on starting and staying with one brand," Chan says. "So we recommended increasing its shelf space to generate more income."
Planet Sports also used the data to provide individual stores with promotions targeted to their local customers, plus campaigns designed to increase traffic during downtime. Shopper analytics from each location helped the company identify underperforming stores, and the ability to remotely monitor customer data helped management make informed decisions on resource allocation during busy times and slow periods.
The result? Smart Retail helped Planet Sports increase revenue and gave the company an edge in the highly competitive sportswear market.
Smart Retail @GorillaTechGrp offers store owners the ability to reopen safely after shutdowns, while still driving growth with
real-time insights.
Short-Term Safety, Long-Term Growth
Solutions like Gorilla Smart Retail offer store owners the ability to reopen safely after shutdowns, while still driving growth with real-time insights into what's happening. "The technology retailers are already using for marketing is now able to help with their recovery needs," says Chan (Figure 1).

For example, it's difficult for humans to count every person entering a shop and to monitor every shopper already there. Smart Retail minimizes the need for staff to count customers as they enter the store or even check for masks. "Our tool can monitor door entrances for people counting, analyze crowd detection, and keep an eye on when lines form at a checkout station," Chan explains. "Today, those tools are helpful for social distancing, but in the future, they can be used to manage staffing resources."
The Gorilla solution can even incorporate thermal cameras to check the temperature of customers entering the store. Although the data is anonymous, customers may feel more comfortable knowing that temperatures are being monitored.
Smart Retail accommodates country-specific privacy requirements as well. "Computer vision uses vary from country to country, depending on regulations," says Chan. "For example, one country may use facial recognition to register its VIP guests. But in a country where that's not allowed, they can use the same software to do people counting and track store traffic patterns and dwell times."
Easy to Configure, Easy to Use
"Systems Integrators tell us they need a tool that can be easily customized to a shop's needs, whether it's a chain of bubble tea shops or a big-box retailer," says Glade Norman, a senior marketing specialist at Gorilla. "Our developments in video analytics, combined with the scalability of the Intel® OpenVINO™ Toolkit, have made that customization and flexibility a lot more accessible to both SIs and retailers."
Once an SI works out a long-range plan, the Smart Retail tool makes it easy to add functionality over time. Gorilla's partnership with Intel® also helps SIs expand their retail base. "If an SI has a deal or partnership with makers that use Intel technology, there's a very high chance the Gorilla tool is going to work fantastic with it," says Chan.
Retailers are examining ways to recover after emergencies, ensure shopper safety, and grow their businesses—and they're looking to technology solutions to help. Gorilla stands ready to deliver Smart Retail to smart retailers.