Fill form to unlock content
Error - something went wrong!
Get the latest updates on IoT for retail.
You are following this topic.
Predictive Maintenance: The Recipe for Commercial Kitchens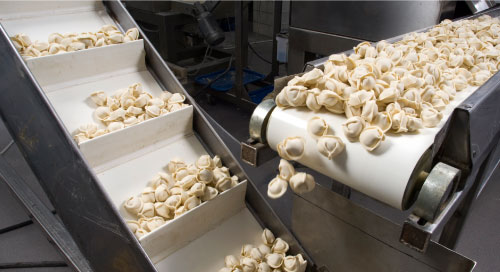 Despite the shift to modern machinery, commercial food companies are still being held back by maintenance or machine failure issues.
In an industry where competition is strong and margins are thin, producers often push these machines to their limits. Instead of optimizing operations, this practice increases the likelihood of unexpected equipment downtime, excessive material waste, and the inability to measure true production numbers.
On a mass scale, food production operations run like a factory, where keeping machines up and running while reducing material waste are must-haves. Even more critical is food quality—for health, safety, and regulatory compliance. The good news is that the same innovative technologies enabling the smart factory can also create a smart commercial kitchen.
A Machine Maker's Digital Transformation
One company that's making this possible is ANKO Food Machine Company, known for its high-quality, multipurpose filling and forming dumpling machines. Serving restaurants and commercial food producers around the world, ANKO needed a better way to understand its customers' equipment wear-and-tear conditions, reduce the number of repair visits, establish maintenance records, and service overseas customers no matter what time zone they're in.
And by doing so it could also better support its customers and help solve their business challenges:
Managing material waste. The faster the machines run, the more items they can produce, but that in turn also produces more material waste. ANKO customers needed to determine the best operational speeds to balance food production and waste.
Minimizing unplanned downtime. When operators detect potential problems by noise, vibration, or visual means, they may not find glitches until it's too late. Predictive maintenance can catch problems before they happen.
Extending machine lifecycle: If producers overrun their machines, mechanical parts and motor failures require costly repairs and reduce the equipment lifetime. Optimizing production processes can help.
The Recipe for Automated Machine Control
To tackle these problems, ANKO worked with NexAIoT, a subsidiary of global IoT solutions provider NEXCOM International. And the path to achieving its primary objectives—predictive maintenance and improved production yields—was digitalizing its machines.
ANKO's multipurpose filling and forming machines have five functions that perform dough extrusion, auxiliary dough extrusion, filling extrusion, auxiliary filling extrusion, and dumpling formation—each determined by motor speed. This complexity requires determining the best operational combination for each recipe.
Next time you're out for some Chinese dumplings, Italian ravioli, or Polish pierogi, there's a good chance that delicious meal was due in some part to the #IoT of dumpling #machines. @NEXCOMUSA via @insightdottech
For ANKO and its customers, monitoring these functions and machine health required experienced technicians to regularly observe equipment operations. Too often, problems were discovered after they happened, leading to line stoppages and even damage to the dumpling machines.
This is where the NexAIoT CPS-200 IoT Edge Gateway and NEXCOM IoT Studio came in. Connecting the gateway to the ANKO machine, the solution automatically enables I/O modules to collect machine vibration amplitudes and data regarding operations, abnormalities, and maintenance (Figure 1).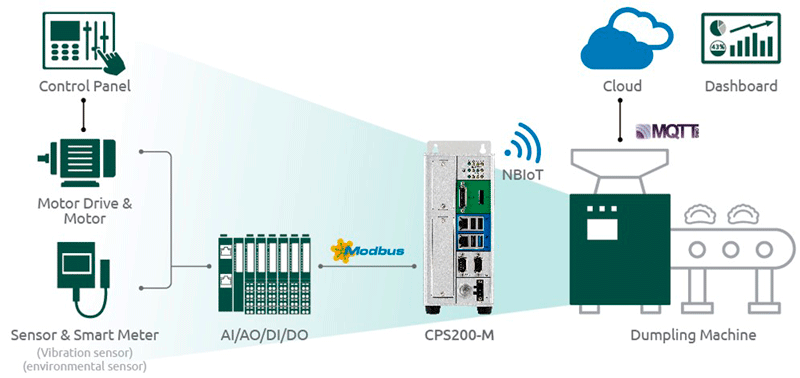 "With our solution, the dumpling machine can get the production rate, the rotational speed of the motor, and monitor the whole machine's health status," says Eric Lo, director of strategic marketing at NexAIoT. "So ANKO can actually know how the machine is running and current status like production stability or if there are material waste issues—without the expense of going on-site."
The built-in IoT Studio software handles the edge data collection and publishes that information back to a cloud service like AWS for remote monitoring and support. The software also provides a no-code tool to customize the parameters for each of their customers' specific needs.
Based on Intel® technology, the CPS-200 is designed for a wide range of industrial IoT applications. For example, one NexAIoT customer uses the system for water treatment monitoring, while another monitors production process for PCB manufacturing to optimize predictive maintenance.
"Intel offers industrial-grade solutions with the performance and product longevity our customers need," Lo says. "And customers also benefit with the ease of upgrading their systems to next-generation Intel platforms."
Proof-in-Point
The results of deploying the CPS-200 with the ANKO machine can be remarkable. A more stable production process helped one customer reduce its material scrap rate from 5% to 4%. And with an output rate of 7,000 dumplings per hour, per machine, the company eliminated eight tons of wasted raw materials per year.
Since installing the CPS-200, ANKO has been able to establish maintenance records, reduce repair visits, and service overseas customers no matter what time zone they're in.
Attaining its end goal of a complete conversion to smart machinery created even more opportunities for ANKO. "Now ANKO can have a more profitable 'as-a-service' business model—enabled by our edge-to-cloud solution," says Lo. "And we think this is the future for machine makers from commercial kitchens to the factory floor."
So the next time you're out for some Chinese dumplings, Italian ravioli, or Polish pierogi, there's a good chance that delicious meal was due in some part to the IoT of dumpling machines.