Fill form to unlock content
Error - something went wrong!
Your content is just a step away. Please submit below.
New Retail POS Solutions Transform the Checkout Journey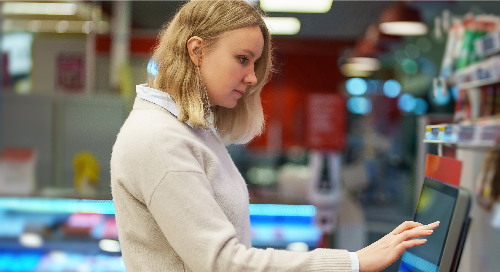 Seeing checkout lanes shut or malfunctioning in stores understandably frustrates Matt Redwood, Vice President of Retail Technology Solutions at Diebold Nixdorf, a provider of retail and banking technology systems.
But it doesn't have to be this way, Redwood maintains: "In-store POS solutions have evolved beyond basic point-of-sale cash registers. And retail stores can—and should—update their in-store technology to better serve customers."
This is especially true post-pandemic as customer shopping behaviors have changed. Consumer shopping habits have converged, moving between online and in-person shopping. What has not changed is the customer's sky-high expectations. And since online shopping is just a click away, physical stores have had to invest in a major technology refresh and revolutionize their in-store experience to give consumers a reason to visit.
A seamless and prompt checkout process is part of that shopping experience. Today's consumers are adopting self-service because they recognize that it gives them more control over the transaction. It also gives them other benefits like shorter queues because the throughput is much quicker. Retail businesses are reciprocating by offering a range of flexible and hybrid kiosks and checkout stations.
Sophisticated #AI-powered #technology options help retailers tackle the biggest pain points at the checkout. @DieboldNixdorf via @insightdottech
Flexible Retail POS Systems
Diebold Nixdorf offers retailers a variety of checkout solutions for transactions—from traditional POS systems to self-checkouts. Self-Ordering Kiosks, too, are migrating from the quick-service restaurant (QSR) and hospitality space to traditional retail such as in-store ordering of individual bakery items or selection of paint color in DIY.
The company also offers a modular checkout system that is especially attractive because retailers can choose to convert a station to self-serve depending on demand forecasting like in-store rush or labor availability. Rather than having checkout lanes shut because retailers don't have staff, they can open them in self-service mode.
In addition, sophisticated AI-powered technology options help retailers tackle the biggest pain points at the checkout. For example, they reduce friction points like purchasing age-restricted products at self-checkouts or buying produce and/or using a menu to find produce for scanning.
Placing more of the transactional process in the hands of the customer frees up staff to attend to other ways in which they can deliver a better consumer experience. Task-switching between attendant and consumer also can lead to faster checkouts. In clothing, for example, an attendant can remove security tags and bag clothes while customers pay for them.
Open Platform for POS Innovation
The BEETLE platform is the foundational element of Diebold Nixdorf's portfolio and underpins every retail touchpoint. "Once a retailer invests in the solution, they have the full flexibility of not only all our traditional POS systems but all our self-service and kiosks running off that same platform," Redwood says.
The company's retail technology solutions are flexible, support multiple operating systems, and are compatible with new components or parts as others get phased out. Retailers are putting their focus on having the highest availability possible on POS systems. Diebold Nixdorf offers 99.8% availability when used with the services platform plays into that.
Diebold Nixdorf's open software platform enables retailers to connect to various legacy solutions and quickly implement new scenarios. The Intel processor-powered BEETLE solution enables the software and hardware to be dissociated from each other so each can be upgraded as needed without affecting the other. "Ongoing management costs of running one of our products in the field is lower than a lot of our competitors because there's less software work that needs to be done when migrating to a new component," Redwood points out.
Retail Technology at Work
Implementation of BEETLE has helped retailers provide more seamless service across verticals while making operations easier to manage.
For example, one European retailer wanted to implement a complete store transformation to ensure all aspects of its business—grocery, clothing, and home—would work together. The company chose the BEETLE line to ensure a common hardware platform across all three parts of the business with different form factors, an easier architecture to maintain.
Similarly, a grocery retailer developed its proprietary software benefits from the modularity of the BEETLE platform and its compatibility with software.
For now, thanks to systems like BEETLE, retailers don't have to be wedded to their outdated POS systems. "Retail development cycles are much quicker today, and the BEETLE platform evolves with them," Redwood says. "You don't have to suffer with out-of-date technology anymore. You can upgrade it to always make sure you're providing the latest and greatest technology for your customers."
If Redwood and the DN team have their way, no longer will he (or we) have to wait in endless lines at any store.

Edited by Georganne Benesch, Associate Editorial Director for insight.tech.