Fill form to unlock content
Error - something went wrong!
Get the latest updates on IoT for retail.
You are following this topic.
New Dimensions for Digital Signage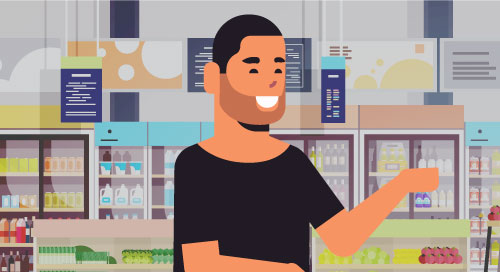 Digital signs are everywhere, but they communicate in only one direction. Imagine the new opportunities when signage becomes smart enough to deliver personalized, targeted content, which is interactive and highly relevant to its viewers. To keep evolving, digital signage needs to harness the power of audience measurement—enabling brands and marketers to optimize their content and campaigns based on performance data.
Achieving such two-way communication requires deep integration between computer vision-based insights and viewer engagement. But combining these complex technologies can pose a significant challenge for systems integrators and their end-customers.
But with innovative, no-code solutions, creating tailored digital experiences that respond to a target audience can be accomplished more easily.
Intuiface, provider of a no-code digital content analytic platform, and Sightcorp, an AI-based audience intelligence specialist, partnered to make this a reality. The outcome of this collaboration is the Audience Analytics Bundle, a comprehensive solution that runs on Intel® processor-based hardware.
Sightcorp delivers audience insights while Intuiface provides data capture and visualization capabilities for analytics. Combined, it's a straightforward platform enabling SIs to build an interactive UI without having to learn to code, as shown in Video 1.
"In many #DigitalSignage environments, there's value in understanding who is interacting with the content, and for how long. From there, we can gauge its effectiveness." @geoffbessin @Intuiface
Targeted Messaging and Insightful Analytics
The solution measures impressions, views, and attention time on a per-content play basis. Screen engagement time also can be used for future data-driven decision-making. Real-time information about the audience is used to tailor content according to predefined rules based on demographics like age and gender. Plus, the technology supports a diverse set of use cases, from digital communication in retail, hospitality, and airports to corporate signage and education.
"In many digital signage environments, there's value in understanding who is interacting with the content, and for how long," says Geoffrey Bessin, CMO at Intuiface. "From there, we can gauge its effectiveness."
Digital-signage network operators traditionally locate their displays in high-traffic areas like shopping malls, transit venues, museums, and other locations. But until now, there was very limited measurement happening around the number of actual viewers and passersby. Adding CV and real-time analytics to their existing digital-signage assets offers new opportunities for maximizing and monetizing audience reach and new revenue streams via impression-based sales models.
On the end-user side, brands and retailers can formulate KPI-driven project goals. The solution anonymously tracks the number of people that have been reached and how long they have engaged with the content.
"Advertisers benefit because they get accurate and reliable feedback on how their ads performed," says Joyce Caradonna, CEO at Sightcorp. "They can use this information to optimize content to maximize impression counts within their target audience group for each campaign."
Streamlined Integration With Digital Display Software
To take advantage of these new business opportunities, systems integrators (SIs) face new challenges. They need to integrate AI with an analytics-enabled content management system and incorporate them within their digital signs, which can be time-consuming.
"With our solution, we're making it accessible for anybody," says Bessin. "You don't need a degree, write code, or access a complicated content distribution platform."
The Audience Analytics Bundle allows operators, retailers, and the SIs who serve them to provision devices with everything needed to run interactive digital content on physical displays. Sightcorp's DeepSight software gathers all data on the edge and sends the anonymized raw data to Intuiface to control the onscreen content. No personal data is stored—respecting and protecting an individual's privacy.
Unlike traditional digital-signage platforms, creators are not constrained to a zoned approach. "Usually you have playlists for zones and you need to map it out that way," Bessin explains. "With our solution, you control every single pixel, so the possibilities are unlimited."
Once SIs create their content, they can customize the actions and triggers, and set specific data points to be collected. A trigger can be a certain time of day, viewers' actions, or their demographics. This information is fed to the analytics dashboard, where stakeholders can identify trends and garner insights.
"The criteria could be very specific or very broad," says Bessin. "Our system makes it easy for businesses to implement their own ideas, but they can also build templates to create a more prepackaged approach."
Before adopting an analytics-based approach, SIs should work with customers to define their goals. Intuiface provides consulting services to help them evaluate their needs before they make the leap. "Determine the KPIs and whether they can be measured directly," says Bessin. "If not, look for secondary elements that imply the key ones."
Smart Signage at Grocery Stores
One example of the bundle in action is a supermarket chain in the U.S. that has deployed the solution in its stores to remind people to wear a mask before entering the store. The kiosks are also being used to display advertising content from local brands selling their items in the store. They can measure how many people are looking at an ad and directly correlate the impression data with sales of the displayed products.
"The supermarkets are seeing really good results from this, along with a new impression-based revenue stream from the advertising," says Caradonna.
With a simplified implementation solution, Intuiface and Sightcorp customers stand to benefit from a host of new opportunities—from ROI reports for advertisers to analytics that track audience engagement for optimization. Smart signage changes the game in out-of-home digital advertising, which makes it a real moneymaker for operators, retailers, and integrators.