Fill form to unlock content
Error - something went wrong!
Get the latest updates on IoT for retail.
You are following this topic.
Malaysia's 21st-Century Smart Classroom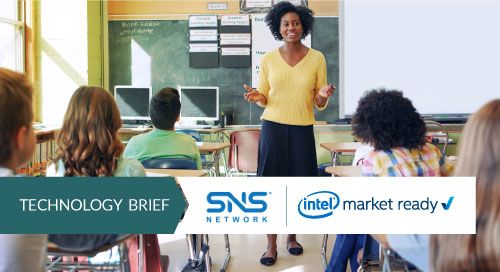 Digital transformation in Malaysian education was well underway before the global COVID-19 pandemic hit. And with new momentum and innovation in education technology, parents and educators are eager to see smarter schools and classrooms become an essential part of the new normal.
After all, a 21st-century education—with digital whiteboards, smart notebooks, interactive instruction, and even remote learning—is the best way to prepare students for the future.
But in Malaysia, the full transition won't be without bumps. Internet infrastructure and connectivity are inconsistent. Schools typically have a mix of old and new devices with varying functionality, and staff with different degrees of IT literacy, which makes linking and managing devices—critical in a smart classroom—a real challenge.
What's more, even with new technologies, modern teaching practices aren't a guarantee. For example, many teachers and families didn't know where to begin when the pandemic forced us all to consider new ways to keep students learning. For some, it was a matter of not having access to the right computing devices, or enough of them. For others, it was not knowing how to use virtual teaching tools.
Fortunately, the government and telecom companies are helping to solve these persistent challenges by investing in tax incentive and subsidy programs to give students access to new devices. And they're steadily making improvements to internet infrastructure, which means connectivity across the country.
But in the meantime, technology solution provider SNS Network is leveraging advances in CV and AI to make Malaysian schools smart today. Students and parents don't have to wait for their 21st-century education—even if their school is at the very beginning of their digital transformation journey.
Students and parents now don't have to wait for their modern education—even if their school is just beginning of their digital transformation.
The Fastest Route to Smart Schools
With the SNS JOI Smart Classroom solution, the company can meet schools wherever they are on the road to digitization. The system includes a flexible mix of interactive whiteboards powered by Intel®, cutting-edge devices for students, a content media server, charging stations, and CV and AI tech at the edge for automated attendance-taking and measuring student engagement over time.
Schools can choose one or many components—for one classroom or several—depending on their needs. And because the solution is sold on a device-as-a-service, monthly subscription basis, there's no heavy upfront investment for schools that are just starting out. "This way, they can access new devices in the most affordable way, and benefit from warranties and ongoing service," says Ko Yun Hung, Managing Director at SNS Network (M) SDN BHD.
Many schools start by installing a JOI smart whiteboard at the front of a classroom. But once they transform the teaching aid to digital, schools can focus on upgrading student devices, connect them to the whiteboard and the JOI Connect content media server. Further down the line, they can look at adding smart cameras and real-time analytics, powered by the Intel® OpenVINO™ Toolkit to measure and improve teaching effectiveness (Figure 1).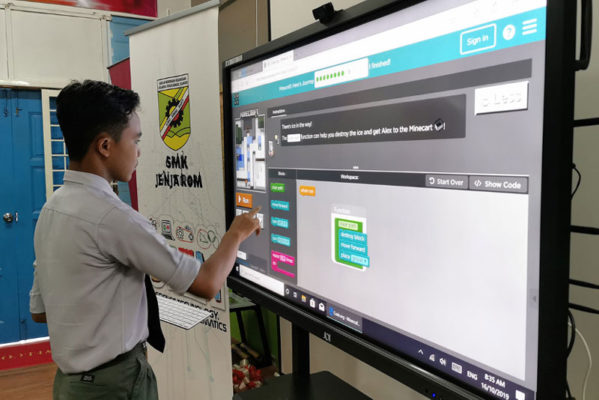 A Smart Classroom in Practice
One SNS customer uses the JOI Smart Classroom to reduce teachers' administrative burdens and improve students' learning at the same time. First, smart cameras automate attendance-taking. "It's not a mission-critical task, but it does take time that's better spent on lessons," explains Yun Hung.
And to create a more engaging learning experience, the school uses a variety of computing devices for the students, all connected to a new smart whiteboard. "Now it's very much like a mini client server environment. And the teacher can easily share content—either live from the internet or from stored files—with all the student devices," says Yun Hung.
Yun Hung points out that this kind of interactive experience isn't meant to replace the fundamental tools of learning like books and pencils, but to make them even more effective. Some subjects, like geometry, are just easier and more fun to learn with technology aids.
And if the subject is more complicated, like calculus? It's nothing like the old days when students had to jog their memories and page through their notebooks to find an old proof. Instead, the 21st-century smart classroom records all lessons, giving students access to every important detail at the touch of a button.