Fill form to unlock content
Error - something went wrong!
Your content is just a step away. Please submit below.
Interactive Digital Signage Changes the Face of Retail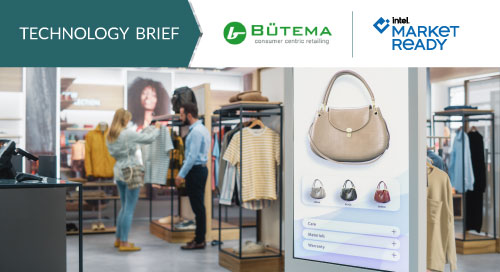 We know that retailers love to delight their customers with personalized experiences, from digital signage to self-service solutions when they're shopping at brick-and-mortar stores. But moving images, kiosk checkouts, and barcode price checkers scratch only the surface of what's possible. Case in point: a major German department store chain using interactive digital signage to rethink retail.
As soon as consumers enter the store, they become immersed in an unobtrusive retail technology experience. More than 200 digital screens are placed throughout the store, including double-sided LCD and LED walls and floor signposts that display images and videos.
Touchscreen solutions near products provide helpful information so customers don't need to track down an associate to ask questions. A shopper who's interested in a smartwatch, for example, can scroll a tablet screen to learn about its features or view informational videos for guided selling. But if all their questions aren't answered, they can simply press a button and a delegated associate will answer them.
In some locations, the department store's capabilities aren't limited to its own business. The retailer is becoming an integral part of the community by allowing local government to use sections of its store as a citizens' office. Visitors can sign up for utility services, get a new passport, or have a contact person for all local government concerns.
"The store has done a fundamental shift of how to define retail," says Christian Brand, Head of Marketing for Bütema, a digital-signage software and hardware solution provider. "They're not only implementing digital touchpoints; they see themselves as a major part of the local community. By creating a mix of several things, they're rethinking retail in a different and modern way."
Interactive Digital Signage Drives the Future of Retail
In addition to creating an experience for shoppers, digital signage, like those made by Bütema, improves operations and marketing by taking merchants from static, outdated messaging to dynamic reactive campaigns that meet the moment. Tools that online retailers have, such as real-time analytics, help level the playing field.
"For instance, if you buy something on Amazon, you will get personalized newsletters that include items similar to those you've bought in the past," says Anja Hermann, Bütema Marketing Manager. "How can physical retailers do that? That is where our middleware integration of Ecommerce, ERP System, recommendation engines, or IoT data comes in. We have a lot of cool ways within our software that can tailor the content to the people who are in the store."
For example, broadcast-specific relevant digital-signage content—like that of a local or regional sport event—to any location in the country can be done in real time without interfering with other screens. Or retailers can run fully automated local product and pricing campaigns on any screen and play videos of clothing that is relevant for the day.
Retailers can apply rules to the digital signage, marrying the enterprise resource planning (ERP) software with its solution. Instead of relying on playlist loops, screens display only images, videos, or templates of items that are in stock, so customers aren't disappointed to find out the product they want isn't available.
Bütema digital-signage solutions run on Intel® processors that offer the reliability and high frame rates needed to power engaging displays. "The partnership with Intel brings us to the next level, both on the technical side and with connections to other retail technology," says Brand.
Good #DigitalSignage campaigns require the right content and the right look at the right location and the right time. It's part visual merchandising, part marketing, and part #IT." – Christian Brand, Bütema via @insightdottech
Maximizing Retail Technology Requires New Approaches
Proper usage of interactive digital signage takes more than just deploying digital screens. New solutions need to be part of the overall visual merchandising mix, which requires new thinking and skills to gain the most advantage of what the tech has to offer.
"Good digital-signage campaigns require the right content and the right look at the right location and the right time," adds Brand. "It's part visual merchandising, part marketing, and part IT."
With 20 years of experience as process specialists for fashion and lifestyle retailers, Bütema offers an array of consulting and support services that maximize the medium with content and connected devices. The company offers consultations, project management, customer software development, hardware staging, and installation solutions for mass rollouts.
"During the onboarding period we offer front-end software training, agency services like media adaptions, and management of back-store CMS," says Brand.
And for companies that want to start digitalizing their retail environment, Bütema's signage is available in a Retail as a Service model, bringing stores of all sizes into the 21st century of omnichannel shopping with digital signage, marketing, and sales support. Instead of making a big investment in retail technology, stores lease the equipment monthly, with full scalability for future expansion.
The goal is to create a store that is customer-centric. "Interactive digital signs don't just replace paper posters," says Brand. "It's about leveling up and creating a brand customers want to be a part of."
This article was edited by Georganne Benesch, Associate Editorial Director for insight.tech.