Fill form to unlock content
Error - something went wrong!
Get the latest updates on IoT for retail.
You are following this topic.
Interactive Digital Displays Transform Retail Banking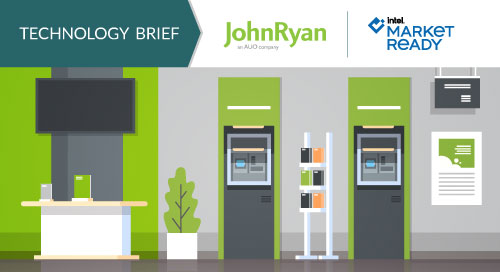 If you're like most people, you probably do the bulk of your banking on your phone or online. But what if you want to refinance your home, open an account, or apply for a student loan? In that case, personal service is a must. And like any retail experience, when we walk into a bank, we hope to speak to someone who's friendly, knowledgeable, and can solve our problems fast.
In many ways, this model is the one many retail banks have been targeting for years. With routine transactions offloaded onto technology, networks can be streamlined and the branch itself can be reconceived as a professional services firm focused on helping customers the way only humans can.
But fewer physical locations and a new staffing model are just the beginning. Just like retailers, banks all over the world are experimenting as they search for the ideal omnichannel strategy.
What do we know already? That many people, even younger demographics, still rely on brick-and-mortar banks. In fact, "according to one study, nearly 40% of bank customers believe they need more advice now," says Nancy Radermecher, President of JohnRyan, Inc.—a full-service marketing communications firm that specializes in retail banking.
The best strategy, then, is one that not only improves the bottom line but also takes advantage of all the ways technology can improve the customer experience—both online and in-store.
The Many Faces of Digital Signage in Banks
More and more, digital signage is an important part of that equation. Picture a 24/7 interactive bank branch with heat sensors on the façade to detect when a person is close—and QR codes that deliver personalized brochures from the sidewalk.
Inside, a range of interactive displays could play targeted marketing messages based on how many customers are there, the logged reasons for their visit, or which staff are in the office. But they might also help waiting customers pass the time. Some banks are using digital displays for games like trivia, which can be played after downloading the bank's app.
Clearly, the more targeted the messaging, and the more app downloads, the greater value to banks. "The more you know about your customers—where they are, what they're doing, how long they're dwelling here and there—the better you can optimize the placement, duration, and content of the messaging," explains Radermecher. And the increasing number of visual analytics tools on the market, including ones that detect sentiment, are helping banks perfect their messaging even further.
With increasingly powerful #IoT, #AI, and #DigitalSignage technology—and with partners like @JohnRyanInc—we can expect an ultra-efficient, personalized banking experience. via @insightdottech
Innovating with the Innovators
Innovation in retail bank marketing didn't start with technology. It started in 1985, when JohnRyan first thought to use point of sale, printed marketing materials in banks (which wasn't done at the time). Since then, the company has continued to be a pioneer in the space by offering technical solutions to their bank customers in addition to communications strategy.
"It just became obvious that the better way to message to consumers in the bank branch would be through digital displays," explains Radermecher. And not least because people who take bank brochures tend to flip them over right away and use them as scratch paper.
But in-branch digital marketing messages are also superior because they're easier to produce, can vary by location based on the customers served, and most important—can be updated in real time. "So if there's movement in the market, you can respond to it immediately," adds Radermecher.
Which is why, when it became clear the industry was moving in this direction, JohnRyan developed the Digital Communications Network for Financial Services—a platform that allows banks to create more effective marketing messages. The idea behind it was to make in-branch marketing more akin to an immersive website, which can be easily updated on the fly.
Banking Interactive Displays in Action
This model is a big departure from the traditional route of hiring agencies to produce expensive, static A/V media to play on loop—and it's an important differentiator for JohnRyan. Another is its emphasis on integrating digital signage with other systems, such as appointment check-in, that make retail banking more enjoyable for customers.
For example, one client used to rely on the "clipboard mechanism," where visiting customers signed in on paper and then waited, hoping someone would notice them. After installing JohnRyan's digital signage with integrated check-in, customers could check the display to see their place in line instead of wondering how long they'd have to wait.
Knowing why they were there also allowed bankers to better prepare to receive them—so they could address them by name and have a more productive discussion. Customer satisfaction improved, sales increased, and the bank benefitted from having access to data they could never gather before: average wait time and length of sales sessions, for example, or foot traffic by day and time.
Technology Is the Key to Better Banking
Intel vPro® technology is vital for keeping branch systems up and running. "It maximizes the level of remote control we have over these devices, which allows us to avoid the kinds of technical outages that often plague banks," says Radermecher. "And having access to their engineers has helped us achieve a level of mastery we wouldn't have otherwise."
Despite its industry-specific challenges, retail banking is well on its way to digital transformation. And while we don't know exactly what that will look like in five or 10 years, one thing is certain: It will only get better, for banks and their customers. With increasingly powerful IoT, AI, and digital signage technology—and with partners like JohnRyan—we can expect an ultra-efficient, personalized banking experience the likes of which we haven't even imagined.