How System Integrators Find New Opportunities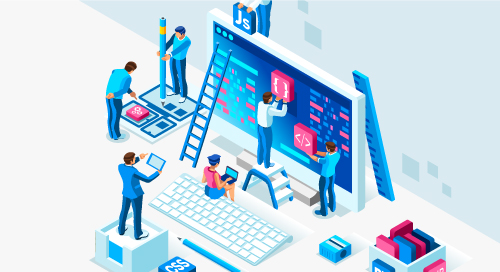 Editor's Note: insight.tech stands in support of ending acts of racism, inequity, and social injustice. We do not tolerate our sponsors' products being used to violate human rights, including but not limited to the abuse of visualization technologies by governments. Products, technologies, and solutions are featured on insight.tech under the presumption of responsible and ethical use of artificial intelligence and computer vision tools, technologies, and methods.
---
Selecting an IIoT solution that addresses a specific need without unnecessary and costly features can be a challenge. Even within a single domain (e.g., smart manufacturing), the ideal solution for one end-customer may not resemble that for another.
Naturally, the differences between domains—smart retail, smart cities, smart manufacturing, etc.—necessitate distinct approaches to IIoT hardware, software, and functionality. This higher level of specificity increases the challenge faced by system integrators (SIs).
An aggregator can help SIs choose the solution that best fits an end-customer's needs. In some cases, that may mean cherry-picking elements from multiple solutions and forming a customized one that fits the end-customer's requirements and budget.
Dennis Niu, Vice President, IoT Solutions Department, Asia Pacific, WPI Group explained how they use their deep knowledge of Intel Market Ready Solutions and Intel RFP Ready Kits to help SIs identify their options—including those not readily apparent.
"We help them understand that they can deconstruct various solutions. They can work with suppliers—be they ODMs, OEMs, or even ISVs—and take a modular approach," Niu said.
Educating members of the Intel Market Ready Solution community enhances its value (Figure 1).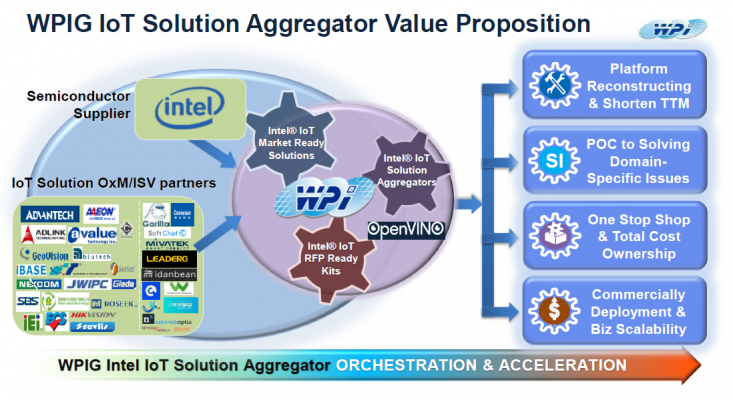 The IIoT One Needs, Not More
Giada, also known as Shenzhen ASL Intelligent Systems Ltd., is a WPI customer and also an Intel Market Ready Solution company. The company sought out an artificial intelligence (AI) solution that would add facial recognition to its Giada Digital Signage Management System.
"We considered a number of possibilities and proposed that Giada work with Gorilla Technology, another Intel Market Ready Solution company, by using certain components of that latter's Intelligent Video Analytics Recorder (IVAR) solution," said Niu.
IVAR provides many features, including facial detection and recognition, vehicle detection and recognition, behavior analysis, and business intelligence. But the modified solution that WPI recommended contained only facial recognition, which also includes gender and age identification.
"Giada had no need for vehicle detection or behavior analysis," Niu said. "And companies often assume that an off-the-shelf solution can't be tailored to fit their needs. But by working with Giada and Gorilla, we helped both companies benefit through a just-right solution."
As part of its efforts, WPI made sure that Gorilla received Giada's IPC media player and that Giada received Gorilla's software. "That enabled both companies to thoroughly test each other's systems," Niu said, "rather than simply giving them specs and feature requirements and expecting each to figure it out."
In this example, as in many of WPI's other engagements, the Intel OpenVINO Toolkit played a large part. WPI also works with OEMs and ODMs, helping them better understand the Toolkit and how they can use it to improve their solutions.
As more open platforms find their way into IIoT applications, WPI is also helping SIs bring AI and Software-as-a-Service (SaaS) to the edge for analysis and real-time response. "By decoupling features and making them available a la carte, we can increase the size of SI's customer pool," Niu said. "We're helping SIs discover more options for a solution tailored to the end-customer's needs."