Fill form to unlock content
Error - something went wrong!
Your content is just a step away. Please submit below.
Autonomous Vehicle Technology Drives AI Delivery Robots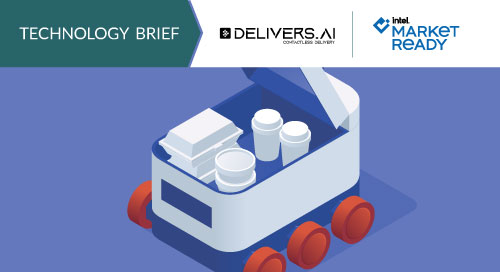 Imagine getting robotic deliveries of hot food, groceries, clothing and even your next iPhone right to your doorstep. As a consumer, it's the height of convenience. For retailers, it solves the last-mile challenge.
One delivery robotic solution is already a reality at eight locations across Europe and the Middle East. Shoppers in Istanbul, Madrid, Dubai, and London can have their purchases delivered by an autonomous, stylish robot resembling a cooler on wheels.
Developed by DELIVERS.AI, an autonomous mobility platform company based in the UK, Autonomous Delivery Robots are eco-friendly, zero-emissions vehicles. The technology that propels the robot opens a world of possibilities beyond making shopping convenient or solving retailer's challenges in finding and paying enough delivery people.
The idea for the robot surfaced during Covid lockdowns. "We observed that online orders boomed in terms of food, grocery, e-commerce and parcel deliveries because while we were at the home, we were ordering through the online channels," says DELIVERS.AI Founder and CEO Ali Yarali. "That's why we came up with the idea to create an autonomous mobility platform."
The DELIVERS.AI sidewalk technology is the first product and service for the company. But in the future, it may include autonomous vans, autonomous trucks, autonomous drones, in the platform as well.
DELIVERS.AI technology is device-agnostic. This means the artificial intelligence, 3D mapping, and smart cameras that guide the stylish robots through sidewalks and pedestrian crossings—at safe pedestrian speeds—can be used in other vehicles, including scooters for people with mobility issues.
The Future of Sustainable Delivery Robots is Today
Today, DELIVERS.AI robots have been seen by more than 10 million people, in places such as Zaragoza, Spain; Brussels; and Gdansk, Poland. To get a robotic delivery, customers simply choose it on the ordering app.
For some shoppers, it's a curiosity. People have been known to pose with the robot and post pictures on social media, a form of advertising for retailers. "During Covid lockdowns, shoppers liked the robot as a hygienic, contactless option," Yarali says.
It first went into service at the Istanbul Technical University in Turkey, homebase of the DELIVERS.AI technical team. There, it conveyed high-value items such as smartphones and laptops around campus. Then it started delivering restaurant takeout as well (Video 1).
Using a campus as a testing ground brought the advantage of a controlled environment where designers and developers could observe the vehicle in action to make improvements. The team had to satisfy a number or requirements. For one thing, the robot had to be environmentally friendly. It runs on electric batteries, generating no direct carbon emissions. And the vehicle's outer shell is made of recyclable plastics.
To maximize cargo, designers and engineers kept the vehicle electronics as confined as possible. The robot has enough diameter for a large pizza box, says Yarali. It can carry 40 kilograms (88 pounds) in its 90-liter (24 U.S. gallons) payload.
DELIVERS.AI developed its own 3D mapping technology so it wouldn't have to depend on third-party suppliers for the robot's specific needs. "Robot navigation and path planning are not new problems. However, solving these problems in a dynamic urban environment, with densely populated public areas and where autonomous robots must navigate through sidewalks, is quite challenging," says Yarali. "But we solved the problem, and we are improving day by day"
Built on a chassis of aluminum compound, the vehicle navigates different terrains in dry, wet and snowy conditions with its 12-inch wheels. When developing vehicle versions for clients, the engineering team takes into account factors such sidewalk width and height—and potential obstacles. Sensors and 360-degree intelligent cameras help get around crowds. The vehicle also can ask people to let it through, greet customers, and ask for assistance if it falls.
Weather was another consideration. In hot climates such as Dubai and Zaragoza, the robot has a special cooling system to help preserve its contents and prevent overheating of sensors and electronics. A tele-assistance team can remotely take over the robot if it needs assistance crossing the street or something else. Plus, field technicians are available to change the robot's batteries or provide on-site assistance.
#Retailers are looking for new ways to solve their last-mile delivery problem. #Robotic deliveries provide an efficient, #sustainable, affordable approach. @AiDelivers via @insightdottech
Retail Last Mile Delivery and Beyond
Whether they are a supermarket offering home delivery, a click-and-collect dark store, or a local shop trying to compete with large online outlets, retailers are looking for new ways to solve their last-mile delivery problem. Robotic deliveries provide an efficient, sustainable, affordable approach.
"No big capital outlay is required," says Yarali. "Clients pay for use of the robot with monthly fees through a mobility-as-a-service model or per delivery. "These kinds of models make their financials much better and more attractive."
As the technology matures, Yarali envisions plenty of applications for the autonomous delivery platform. It could be used for delivery vehicles of all types, including drones. It could power e-scooters, both for personal deliveries and to move people with disabilities. Currently, DELIVERS.AI is working with a U.S. auto manufacturer on autonomous minivans.
Intel technology is fundamental to the vehicle's operation. The robot uses Intel® processors, three Intel® RealSense™ D455 depth cameras, and five fisheye cameras. "We are really happy to be a member of the Intel community. They enable us to connect with potential collaborators and provides the support we need."
Intel support will remain key as DELIVERS.AI finds new paths for its vehicle technology. Along the way, the company is providing value, he says.
Despite general fears that robots may replace humans, Yarali says that is not his intent. "We are not replacing human delivery jobs. We are creating new jobs—skilled jobs like tele operators, tele assistant people, and on-field personnel." If anything, he says, DELIVERS.AI is adding value to the economy by helping create a whole new category of jobs as life becomes more digital.
Edited by Georganne Benesch, Associate Editorial Director for insight.tech.