Fill form to unlock content
Error - something went wrong!
Your content is just a step away. Please submit below.
AP Automation Speeds Payments and Digital Transformations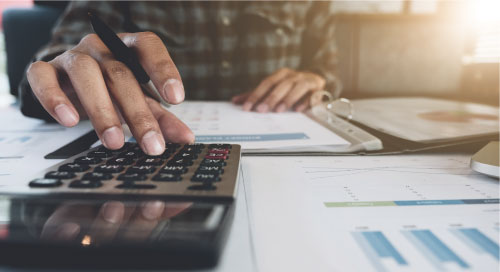 Data processing automation has seen numerous advancements in recent years—in applications as diverse as autonomous vehicles, eldercare nutrition, smart self-checkout, and factory automation. But certain data management workflows remain stubbornly manual.
A prime example is accounts payable (AP) invoice processing. The AP department is responsible for several critical, time-sensitive businesss functions such as receiving and reviewing incoming invoices, validating invoices and scheduling payments, and entering financial data into the enterprise resource planning (ERP) system. Yet in enterprises all over the world, AP teams still do much of this work by hand.
For businesses committed to digital transformation, it's a frustrating situation—and a costly one.
"If you're processing AP invoices manually, you're not only spending a lot of time and effort on the work itself, but you're also making mistakes," says Anil Nair, Founder and CEO of GIBots, a provider of AI data processing automation solutions. "That gets expensive, in particular when you factor in penalties for past-due payments."
In addition to the direct costs of processing invoices manually, there is a business intelligence cost as well.
"Without control over AP data, organizations don't have a real-time picture of their finances. That makes it difficult for leadership to make fully informed, data-based decisions," Nair explains.
Enterprises are aware of these problems, of course. But AP automation is easier said than done. Optical character recognition (OCR) technologies have historically been far too inaccurate for automated invoice processing. Modern GPU-based OCR systems offer one possible option, but they tend to be slow and expensive.
But advancements in AI and ML, along with next-generation CPUs built for computer vision tasks, enable a new breed of data processing automation solutions. These efficient, cost-effective systems promise to bring AP invoice processing into the 21st century—and deliver a host of benefits to companies and their suppliers.
The Key to No-Code AP Automation
Effective AP automation is the result of combining AI/ML-based OCR and CPUs designed to handle visual processing workloads. GIBots' DigiDoc AP automation solution, for example, uses proprietary OCR algorithms that run on Intel® CPUs, which can optimize computer vision inferencing.
The resulting solution is faster, more accurate, and more cost-effective than older versions of OCR or current GPU-based systems—and is reliable enough to enable no-code deployments for end users, according to Nair.
Advancements in #AI and #ML, along with next-generation CPUs built for #ComputerVision tasks, enable a new breed of data processing automation solutions. @Gi_Bots via @insightdottech
In practice, the system is also very easy for AP teams to use. It captures a photo of an invoice or extracts invoice data from an email attachment, and then sends the data to a secure cloud environment for validation and processing. End users can access the results via a web portal or their organization's own ERP system.
The seamlessness of the workflow is the result of extensive development and testing. Nair cites GIBots' technology partnership with Intel as a major factor in their success.
"We spent months with Intel's technical teams fine-tuning the algorithms and optimizing the platform's performance. Intel has very high standards for efficiency, and set ambitious targets duing this process. That was the biggest factor in the success of our initial development work," he explains.
The resulting solution has proven to be highly accurate in deployment—even when faced with complex data processing tasks.
Government Achieves 90% Straight-Through Processing
GIBots' experience with a government in Europe is a case in point.
The government's AP team needed to process a steady stream of invoices coming in from mulitple vendors in different countries. Due to oversight and compliance requirements, invoice validation was complicated. Nearly 60 business rules needed to be applied to each invoice entering the system. Adding to the difficulty was the international nature of the work: The invoices were arriving in different languages, currencies, exchange rates, and even data formats.
GIBots implemented its AP automation solution and integrated it with the government's IT infrastructure and ERP system. The system was set up to identify invoices sent to specific email inboxes, extract information from the attached invoice, validate it using the government's extensive business rules, and push the data to the ERP system.
The result was automated invoice processing that surpassed expectations for speed and accuracy. "As soon as a vendor's email comes in with an invoice, the ERP system is ready for payment in a couple of minutes," says Nair, adding, "Over 90% of new invoices are now handled via straight-through processing."
The Future of AP Automation
The benefits of AP automation are quantifiable—and impressive. Switching from manual to automated invoice processing can result in cost savings of 78% and can shorten the average invoice processing time from 8.3 days to 2.9 days.
Vendors, of course, appreciate faster payment; and everyone benefits from improved trust, better business relationships, and an increased speed of doing business. More efficient invoice processing also reduces the risk of costly overdue payments, while automation ensures traceability, which helps to combat fraud.
But the most important benefits of automated invoice processing are yet to come, says Nair: "When AP teams are freed up from doing repetive, manual processing work, they can turn their energy to solving bigger problems. And when decision-makers have a clearer picture of their organization's finances, they can make smarter choices and reduce risk around cash-flow—which is especially important during turbulent economic times."
Perhaps most tantalizingly, Nair sees AP automation as something that will help businesses of all sizes. "Large enterprises have already moved toward data processing automation. But as affordable, no-code solutions come online, we're going to see smaller, growing enterprises benefit from AP automation as well," he says.
This article was edited by Christina Cardoza, Associate Editorial Director for insight.tech.