Fill form to unlock content
Error - something went wrong!
Your content is just a step away. Please submit below.
All-in-One Platforms: Simplify Edge AI Product Development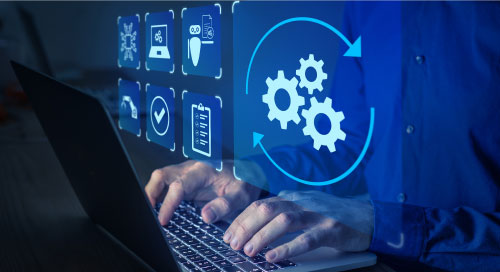 Edge AI can be used to solve problems across a diverse range of verticals. In manufacturing, it offers process optimization, real-time data visualization, and supply chain management benefits. In medicine, it can power better diagnostic tools and patient management systems that relieve overstretched healthcare workers. And for smart cities, AI at the edge can help to address everything from traffic congestion and energy efficiency to public health and safety issues.
But ironically, despite the general usefulness and benefits of edge AI, it is often very difficult to get these solutions onto factory floors, into hospitals, and out on city streets. To put it simply, few systems integrators (SIs) and organizations in these sectors have the internal resources to build an end-to-end edge solution.
"Experience with edge AI is growing, but it's still rare to find a business or SI with all of the pieces of the puzzle," says Tiana Shao, Product Marketing Manager at AEWIN, a provider of smart networking and edge AI solutions for digital transformation. "They may understand the hardware, but not how to build a suitable AI application. Or they might be AI software specialists, but are unsure of how to select hardware that will meet their end users' specifications."
But all-in-one edge AI platforms may be the answer to this digital transformation skills gap. These comprehensive platforms enable flexible, high-performance edge AI solutions that run on secure, reliable hardware—streamlining product development work and speeding time to market.
Meeting the Challenges of Edge AI Solution Development
The key to simplifying edge AI product engineering is to build on a platform that gives you a head start on the hardest parts of the process: AI software development, device optimization, performance enhancement, and flexible design.
All-in-one platforms accomplish this by drawing on the strengths of both hardware experts and AI specialists. While AEWIN, for example, has expertise in edge hardware, AI software development was more difficult for the company. As a result, it partnered with AI specialist InfinitiesSoft to incorporate its AI software stack into its solution. Because of this, AEWIN is able to provide a platform that addresses hardware as well as software challenges—speeding up the development work and offering device optimization for a wide range of processors and servers.
By removing many of the traditional #edge #AI implementation barriers, all-in-one platforms will help to increase AI adoption and drive #DigitalTransformation in multiple industries. @IPC_aewin via @insightdottech
On the hardware side, the solution also leverages the capabilities of Intel® processors. Shao says that this brings several benefits:
"Computational speed is extremely important for AI at the edge, and Intel processors help us build a high-performance computing platform that is ideal for edge applications. In addition, these processors offer important security features such as Intel® Software Guard Extensions (Intel® SGX), Intel® Platform Firmware Resilience (Intel® PFR), and execution controls."
Last, all-in-one platforms are built with flexibility in mind, since they must be adaptable to a variety of use cases. For instance, AEWIN's platform is installable in almost any edge environment, and comes with expansion slots for network interface cards and hardware-based accelerators.
"This is meant to be one platform with lots of options," says Shao. "Different end users, of course, will have different needs. We designed the solution so that it can be customized according to our customers' requirements."
The end result is a platform that can be used in many scenarios—even if a relatively sophisticated solution is called for.
Smarter Cities on a Shorter Timeline
An example of how this works in practice is AEWIN's smart traffic management use case.
Cities all over the world are under pressure to solve urban traffic issues, alleviate commuter congestion, improve quality of life, and cut down on carbon emissions to meet sustainability targets. Edge AI-enabled traffic management systems present a promising approach to the challenge, but they are technically demanding to design and implement. And unfortunately, this makes systems integrators and city managers shy away from what might otherwise be an effective way to address these problems.
But using an all-in-one edge AI platform like AEWIN's, SIs and cities can work together to develop customized traffic management solutions in a far shorter time frame.
The platform enables real-time computer vision processing of traffic camera video at the edge—removing the need to send large amounts of raw data to the cloud for processing. The AI software stack, meanwhile, can be used to create a tailored solution without a lengthy development process, offering capabilities like data visualization, traffic flow optimization, integration with traffic control signals, and automatic alerting when traffic violations are detected.
"Traffic management for smart cities is just one possible use case," says Shao, "but it's a good example of how an all-in-one platform can help SIs shorten time to market when complex solutions are needed, and build scalable, repeatable products that they can then sell to other customers."
A Multitool for Digital Transformation
The versatility of AI at the edge means that it can be used to solve business problems in nearly any setting. By removing many of the traditional edge AI implementation barriers, all-in-one platforms will help to increase AI adoption and drive digital transformation in multiple industries—and will present lucrative opportunities for both SIs and solutions providers.
In the long term, by making edge AI so accessible, these platforms will also help to power the next wave of digital transformation. AEWIN sees its edge AI appliances supporting next-generation technologies like digital twins, which are virtual representations of physical devices. Digital twins enable real-time simulations, precise predictive analytics, and more effective automation, offering tremendous benefits in medicine, automotive engineering, manufacturing, and smart cities, Shao explains.
"Digital twin technology requires a powerful, reliable edge AI server to handle that volume of real-time data processing, and some fairly sophisticated AI software development as well," remarks Shao. "Until now, that made digital twins a nonstarter for most organizations, but in the future, all-in-one edge AI solutions will bring this exciting technology within reach."
This article was edited by Christina Cardoza, Associate Editorial Director for insight.tech.