Fill form to unlock content
Error - something went wrong!
Get the latest updates on IoT for retail.
You are following this topic.
AI Robots Cut the Cord on the Warehouse Floor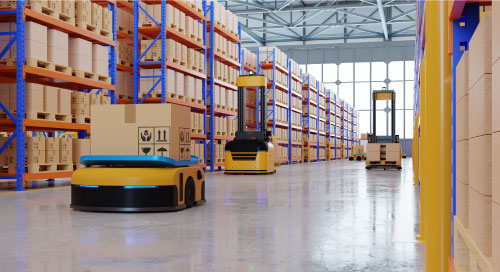 Online shopping has been on a steep growth curve for years, but the COVID-19 pandemic radically accelerated that growth. In 2020 ecommerce sales grew 44% over 2019. And while retail warehouse operations have been highly automated, the demand for autonomous mobile robots (AMRs) and autonomous guided vehicles (AGVs) is also on the rise.
AMRs and AGVs operate around the clock, performing hazardous activities and repetitive tasks previously done by human workers. Online retail will continue to grow, driving the need for more intelligent and powerful AMRs.
To meet these new demands, a European mobile robot manufacturer worked with industrial computer manufacturer DFI, Inc. to develop a next-gen, lithium-ion-powered AMR capable of:
Carrying loads of up to 1,000 kilograms
Operating for 8 to 10 hours or traveling up to 20 kilometers on a single charge
Traveling at speeds of up to two meters per second
These features were designed into a compact system that helped improve productivity and efficiency without having to make structural changes to the customer facility like adding wires to the floor or sensors in the walls or ceiling.
How? Through the use of an advanced vision system driven by a powerful-yet-power-efficient platform controller.
Through the Lens of Machine Vision
Today's warehouse and distribution center AMRs and AGVs require technologies that enable operation without external cables or floor sensors. This starts with machine vision and navigation.
As shown in Figure 1, imaging systems on modern AMRs often consist of a stereo camera setup that produces real-time video feeds of the surrounding environment. Some level of preprocessing is then performed on the two image streams to produce a disparity map that calculates the location and depth of objects in the physical space. Afterward, mathematical mapping algorithms (like random sample consensus [RANSAC]) are applied to reconstruct a 3D map of the environment, which is used for path planning/navigation, obstacle recognition, avoidance, etc.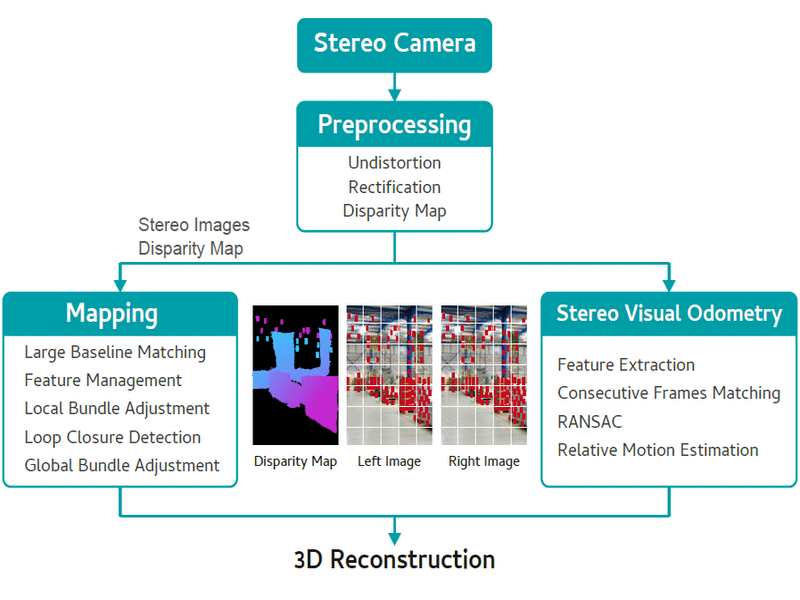 The outcomes produced by this vision system are tightly integrated with the rest of the AMR/AGV platform. They are used to inform the platform's primary control of when and how to manipulate the motors and actuators responsible for acceleration/deceleration, steering, and so on. This information can also be transmitted off-device for use cases that include remote control over a wireless interface, data monitoring and predictive maintenance, path planning model refinement, and the like.
In short, a modern AMR's embedded PC must be able to perform complex image and video processing tasks, execute mapping algorithms, and perform real-time control functions, all while staying within a power budget that enables extended range and battery life.
A modern AMR's embedded PC must be able to perform complex image and video processing tasks, execute mapping algorithms, and perform real-time control functions, all while staying within a power budget that enables extended range and battery life. @DFI_Embedded via @insightdottech
Embedded PC Power, Performance, and Reliability
When embarking on the AMR project, the mobile robot manufacturer considered multiple options for the central platform control hub design. It needed a controller that supported high reliability and a long lifecycle, multiple sensor interfaces, including uncommon industrial ones like RS-422, and zero performance loss in the face of high vibration and signal interference.
The manufacturer considered the Intel® NUC for its performance and compact design. But in the end, it selected the industry-hardened and I/O-rich DFI EC70A-SU/KU series fanless embedded system (Figure 2).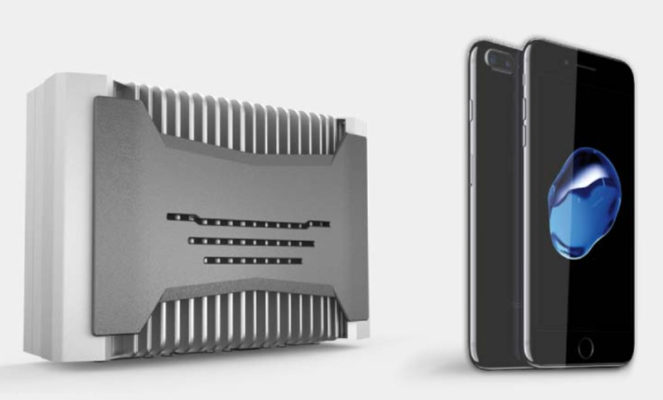 "We based the EC70A series on 6th and 7th generation Intel® Core™ processors, which allow our controllers to deliver performance increases of more than 50% compared to previous generations," says Waterball Liu, Marketing Manager at DFI.
Multiple CPU cores, an integrated Intel® HD Graphics 520 core, and new media capabilities of the Core processors effectively:
Manage an array of 2D and 3D cameras and scanners
Execute the imaging, neural network, and mapping workloads required for vision and navigation
Facilitate the control tasks needed for steering
Run the AMR's primary operating system
Meanwhile, the power efficiency of the processors—which feature a thermal design power (TDP) of as little as 15 W configurable down to 7.5 W—also has significant design advantages that benefit system size and reliability.
"The low power consumption has a direct impact on battery life, but it also means that less heat needs to be dissipated from the platform," says Liu. "And the box is up to 70% smaller than traditional IPCs, while still able to operate over a wide -20ºC to 60ºC temperature range."
Off-the-Shelf Lowers Cost
Perhaps one of the best characteristics of the EC70A series is that the systems are ready-made. This means that AMR end users like DFI's European customer benefit from per-unit costs that come with larger-scale production while also being able to focus on adding value to the platform via software, services, and mechanisms other than the underlying hardware.
But that's not to say it doesn't enable the flexibility or cutting-edge capabilities of a custom design. On the contrary, in addition to ample industrial connectivity like RS-232, RS-422, RS-485, the platform offers Bluetooth, Wi-Fi, and 5G wireless via two Mini PCIe sockets. As it turns out, DFI's European customer is leveraging Wi-Fi chipsets in those sockets to remotely control the robots using a smartphone or tablet.
Who knew so much innovation was available off-the-shelf?