Fill form to unlock content
Error - something went wrong!
Get the latest updates on IoT for retail.
You are following this topic.
AI and Computer Vision Serve Smart Restaurants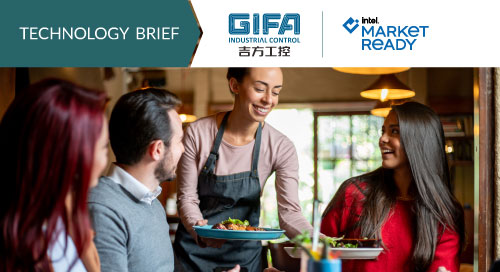 Whether your customers are eating in or taking out, there are so many little details that go into creating a great dining experience. Systems like self-serve kiosks and Point of Sale (PoS) must be connected and work reliably to ensure all orders and payments go through. It's essential that you have enough restaurant staff to fulfill orders—an extra challenge with today's worker shortages. The right inventory must be stocked at the right time to properly serve customers.
On top of all this, there are the security, energy control, sanitation, and safety measures required to operate a successful business in the hospitality industry. But it can be difficult to manage a business when multiple systems don't communicate with one another. This can make it feel like an impossible task to carry out all the different functions of the business, from ordering to payments to staffing.
Ultimately, dine-in and quick-serve restaurants (QSR) are under pressure to speed up operations and keep costs down to remain competitive.
That's why Shenzhen GIFA Industrial Control Co., Ltd, a smart manufacturing, retail, and healthcare solution provider, created its Retail Integrated POS Solution.
"We want to help restaurants, restaurant management, fast-food operators, and other business-oriented retail stores unlock valuable data, operate more smoothly, and keep up with the demands of a retail smart store," says Li Hongming, Founder and CEO of GIFA.
End-to-End Smart Restaurant Operations
One of the biggest challenges restaurants and retail stores face is how to manage all the data coming from multiple devices such as cashier systems, security cameras, online ordering, and even thermostats. Often, restaurants struggle to support these multiple workloads, causing network availability, stability, and cost issues.
With GIFA's Retail Integrated POS System, everything from surveillance cameras to digital-signage solutions and even checkout machines are all integrated. The management system acts as a service gateway, collecting, analyzing, and requesting data from devices, and uploading that information from the edge to the cloud for deeper insights.
The platform provides real-time #analytics that can help users improve #operations and guest dining experiences. Shenzhen GIFA Industrial Control Co.,Ltd via @insightdottech
"Traditionally, each technical module with a retail store is relatively independent, and each manufacturer develops their own module. In addition, the software and hardware between enterprises and the cloud platform are often not compatible," says Hongming. "We want to bridge these connections and help businesses connect the dots of their operations."
GIFA teams up with Intel® and network infrastructure operator Exands to give its solution even more power and dig deeper into the data. Together, the companies' platforms provide real-time analytics that can help users improve operations and guest dining experiences. For chain restaurants, the management software can compare the data between different locations to make improvements in underperforming stores.
This results in timely discovery of anomalies such as abnormal objects or theft, streamlined operations and management, and in some cases, energy conservation with smart control of air conditioners, lights, and exhaust fans.
"The solution helps businesses reduce investments in cloud services and networks, and consolidate loads into an integrated edge computing device," according to Hongming. "Cloud applications enable an enterprise to manage businesses from its multiple chains with more flexibility and agility while edge computing provides them with more cost-effective, stable, and smart options in digital transformation."
Powering Smart Restaurants
To make it all possible, the combined intelligent retail solution is based on the Intel® Edge Gateway Architecture and 11th Gen Intel® Core™ Processors. This enables the system to instantly process data, reduce latency, and enhance service stability.
"Intel processors bring dedicated improvements to rugged environments where IoT devices are running. Users can choose to equip with Intel AI accelerator cards according to configuration requirements for different scenarios," Hongming says. "With the help of Intel processors and accelerators, plug-in boards can deliver edge computing support with high performance, endurance, and stability."
The Intel® Distribution of OpenVINO™ toolkit is leveraged to accelerate deep-learning inferencing and uncover insights from operations and customer behavior. Since OpenVINO is based on convolutional neural networks, it can scale workloads and maximize performance on Intel hardware platforms.
The integrated Intel solution is also equipped with the Data Plane Development Kit (DPDK), an open-source kit designed to improve network performance.
As an infrastructure operator, Exands adds to the solution by providing a secure network connection, centralized IoT management, security authentication, and other infrastructure operation services. Since it leverages containerized architectures and open-source components based on x86 platforms, the company can simplify development, consolidate workloads, and speed up R&D.
"Intel's innovative software and hardware products provide a solid foundation for edge-based digital-transformation food service. Cooperation between partners such as Intel and GIFA can speed up the introduction of this solution to the market and help catering chain companies deploy edge computing boxes and smart gateways in a one-stop manner," says Lu Guoming, Founder and CEO of Exands. "The load integration of restaurants helps to solve the pain points of chain restaurants in terms of digital cost, operations and maintenance capabilities, etc., and accelerate the transformation of smart catering."
The Future of Smart Restaurants
As the world becomes more digital, GIFA and Exands hope their technology can be a one-stop solution for the retailers and restaurants and improve the overall experience and competitiveness in the industry.
"Catering chain enterprises will become more competitive, owing to more real-time and smart management by processing and analyzing data at the edge, and integrating that data in the cloud," Hongming explains.
This article was edited by Georganne Benesch, Associate Editorial Director for insight.tech.