Fill form to unlock content
Error - something went wrong!
Get the latest updates on IoT for retail.
You are following this topic.
Accelerate IoT Analytics at the Retail Edge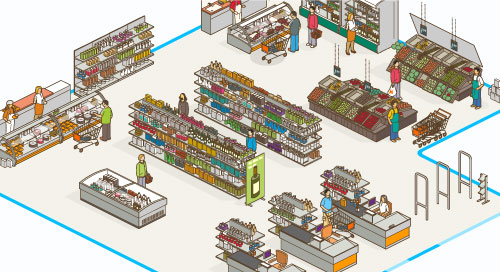 From tracking inventory to measuring customer engagement, innovative edge technology is transforming the retail industry. There's just one challenge: The different platforms used to run daily operations live in silos.
Currently, retail solution builders must create custom implementations for their solutions, but multiple devices and sensors limit cohesive, actionable insights due to system data fragmentation. Individual use cases, such as inventory management, loss prevention, and customer engagement, create data that resides in multiple cloud or edge platforms. But that information is locked inside the solutions, with no unified dashboard to view them as a whole and combine insights.
The answer lies in ready-to-deploy, in an open data ingestion framework that unites disparate sensor protocols and corresponding data streams to create scalable end-to-end solutions. By combining powerful edge compute technologies, systems can generate new use cases with insightful real-time analytics. As a result, retailers now have new business opportunities that were previously impossible or difficult to execute and scale.
An Open Platform for Retail Analytics
HP Engage Edge—powered by Intel® processor-based gateways and the open-source EdgeX Foundry platform—are making these new opportunities possible. Out of the box, the HP gateway comes preloaded with a sensor and cloud-agnostic software stack so ISVs and solution builders can avoid time-consuming custom hardware and software integration.
"This is the first retail product that commercializes the EdgeX framework, where purpose-built hardware is preloaded with data ingestion software," says Sandip Kamat, Global Strategist for HP's Advanced Compute Solutions.
ISVs can use any sensor or any cloud API to remotely manage their containers and apps. It's simply a matter of picking the use case and picking the sensor(s), such as cameras, Bluetooth beacons, or RFID. The box will talk to them all, so a solution builder can focus on their core competency—analyzing the data streams to create actionable insights (Video 1).
"This is the first retail product that commercializes the EdgeX framework, where purpose-built hardware is preloaded with data ingestion software." @sankam, @HP
New Possibilities for ISVs
IoT has been a fragmented space, but open-platform systems can invigorate and expand innovations. For example, a fast-food restaurant that uses sensors to track inventory from delivery to kitchen can leverage the information to improve profitability by reducing waste. "Traditionally, this industry has a very young workforce with a high level of churn, and a need for extensive training," says Kamat. "When mistakes happen, perishable goods need to be tossed out."
HP Engage Edge can be connected to RFID readers that monitor the flow of fresh foods, from boxes being unloaded to the end product being sold. It creates a digitized picture of what is coming in and how long it's been open. It can also create an alert if an associate opens a box out of order of the expiration date, which could potentially waste inventory. Hooking up this data stream to ordering systems can also automate the entire replenishment process.
Another use case is loss prevention at self-checkouts. Kiosks have grown in popularity since COVID-19, but they open an opportunity for theft. For example, a customer might scan a cheaper bottle of wine while they place a more expensive one in the bag.
"How do you catch that?" asks Kamat. "If you are a theft detection ISV, you typically need to integrate your solution with kiosks and camera sensors: The point of sale is one sensor, catching what is scanned. Then there are two weight scales for pre- and post-purchase. The ISV can install a fourth sensor—a camera—to make sure all of the sensors agree for a correct transaction. And if something doesn't match up, the analytics software can flag a store manager or associate."
In the past, ISVs would need to integrate their solution with all kinds of kiosks and sensors. Now, they just need to integrate with HP Engage Edge, which handles all the orchestration.
Growing Opportunities for Retail Analytics
The deployment of edge technologies and analytics is not slowing down. COVID-19 has accelerated the need to address new marketplace norms, such as social distancing, temperature scans, and more.
Many retailers are innovating by offering virtual experiences for customer safety and convenience. For example, ULTA Beauty has an app with virtual augmented reality that allows shoppers to try products before they go to the store. And the home improvement chain Lowe's launched an app that allows professionals like plumbers or electricians to take measurements and choose the right products via virtual trips to their customers' homes.
"The tools have improved so much that it's like placing yourself in the store and trying things on," says Kamat. "All of this together gives a good sense of how the future could look, deploying resources in a different way when technology can handle these use cases. If you have all these sensors, somebody needs to bring them all together to create a canvas of the data streams happening in your store. Retail experts will have all this information at their fingertips and can use the insights in new ways. HP is playing a beneficial role in that future."