Fill form to unlock content
Error - something went wrong!
Your content is just a step away. Please submit below.
3D Tech Drives the Immersive In-Store Experience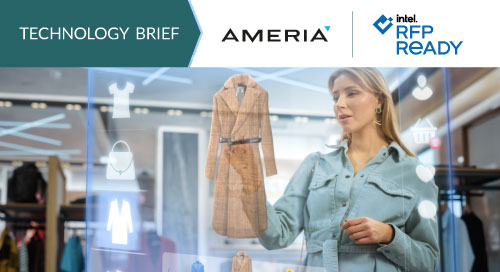 Imagine walking into a showroom and "test driving" a Porsche without actually slipping behind the wheel. Or what if you could participate in a virtual cooking tutorial, maneuvering ingredients by waving your hands in front of a screen? Companies looking to add that wow factor are bypassing 2D technologies like self-serve kiosks that suddenly feel a little flat. Instead, they're gravitating toward new solutions that take content and make it 3D, leveraging the metaverse to create unique and memorable immersive experiences.
"The worlds of the metaverse are already being used in business for conferences and homes for gaming," says Dr. Johannes Troeger, Senior Vice President of Strategy and Business Development for Ameria AG, a touch-free customer experience solution provider. "We believe that there is a great value to also use it in public spaces like stores as part of a hybrid virtual and real world."
With a futuristic feel, solutions like the Ameria Touchfree Interaction Kit invite consumers into an experience that's part digital and part physical. Just like traditional touchscreens, they can interact with text and graphics using clicking or scrolling gestures without ever touching the surface of the screen. But unlike flat-screen capabilities, they can also grab and rotate things for 3D engagement (Video 1). It feels just like a science fiction movie that has become real.
"A touchscreen is a wasted 2D surface," says Troeger. "You touch it and interact with it, but that's all you can do. With touch-free control, you can project a large image that's much more immersive than a standard 43-inch or 55-inch screen. Any kind of visual content can be made interactive."
The solution provides benefits beyond the wow factor. Cameras detect what's happening in front of the virtual screen and can trigger the technology to react to people passing by, inviting them to interact. And because the system is touch-free, the tool is more hygienic. Customers don't have to touch surfaces that a lot of other people have touched.
Fusing physical and #digital experiences creates a unique experience that boosts #CustomerEngagement. @ameriapioneers via @insightdottech
A New Kind of Retail Kiosk
The Ameria Touchfree Interaction Kit can be used on any device, which allows retailers to easily scale the solution to any kind of visual medium for flexibility with use cases. For example, the technology is installed a few meters in front of an LED wall, or it can be completely independent of screens. The solution is connected to a cloud platform, which allows content management, data collection, and analysis.
Ameria Touchfree Interaction Kit uses multiple Intel® RealSense™ cameras to create 3D interaction spaces and optical sensors to detect motion. The software, developed using the Intel® OpenVINO™ Toolkit, displays the content and interprets what's happening in front of the screen. "OpenVINO makes our solution a lot more intuitive and helps us install deep-learning models," says Troeger.
The solution can gather business intelligence, such as traffic and product data. It also has QR code scanning capabilities for continued connection after shoppers leave the store. "There's value in just tracking how many people walk in certain areas of a store, but because we create engagement, it also entices people to leave personalized data," says Troeger.
The retailer's IT team or systems integrator will upload and calibrate the software, and then it's ready to run, says Troeger. Once it's installed, Ameria offers consulting services as well as full-service support.
Enhancing the In-Store Experience
Using the Ameria technology can feel like play. So it's no surprise that a toy store is using the solution to promote new products. In the past, the retailer would create a shelf display and maybe include a video that showed a demo of the product. But fusing physical and digital experiences creates a unique experience that boosts customer engagement.
"Our solution is especially relevant in the case of new lines of products that also have a digital aspect to them," says Troeger. "It can be difficult to convey features and capabilities in classical retail settings."
While toys are a natural fit, the use cases for this technology are virtually endless. Troeger says the Ameria solution is especially good for items that are complex, like consumer electronics, where you need more advice and consulting than the staff in the store may be able to give. Grocery stores can also leverage the platform to provide customers with recipes and direct links to the online store for ordering the ingredients.
Troeger believes the future of retail is moving into the metaverse. "We are creating hybrid worlds where people are still in the real world but are also partly immersed in virtual worlds," he says. "They get the best of both with an interesting entry point. I think in 10 or 15 years when you go into a store, it's going to be completely normal that part of your experience with physical products will be digital."
Edited by Georganne Benesch, Associate Editorial Director for insight.tech.