Fill form to unlock content
Error - something went wrong!
Your content is just a step away. Please submit below.
Video Security as a Service Streamlines Deployments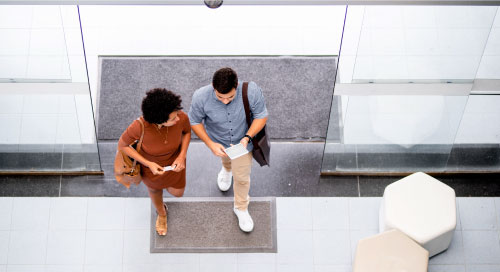 Traditional on-premises video monitoring solutions require substantial computing power and local infrastructure, making them a heavy lift for SMBs and companies managing multiple sites. Cost-efficient and easy to manage, open cloud Video Security as a Service (VSaaS) solutions offer an alternative.
With its technology leadership in on-premises video monitoring, Milestone—a global provider of open IP video monitoring software—does exactly this. Milestone Kite, launched in January 2023, is a scalable open-cloud VSaaS solution that leverages the company's XProtect video management software (VMS) product family.
"The value of a cloud-based service is that it's simple, easy to use, and easy to live with," says Jan Lindeberg, Senior Product Manager at Milestone. "Organizations that don't have the on-site IT muscle to invest in the effort, care, and cost in maintaining an on-premises system will find that investment to be much less with Kite."
Focus on What's Important with Cloud-Based VSaaS
A low-cost VSaaS that's easy to install, Kite provides the flexibility that small and multi-site companies often need. Many smaller to midsize organizations have a challenge attracting the skilled IT personnel required to run and administer on-premises applications and systems in a professional and secure way. Kite, and other cloud-based SaaS offerings, speak directly to these types of users, who prefer to focus on the day-to-day core business, rather than administering different applications and complex IT infrastructure.
As an open platform that supports thousands of different cameras and IoT devices, Kite provides a safe path for end users to move to the cloud without replacing their existing cameras or camera network. This not only makes the cloud journey instant and risk-free but also saves the cost of purchasing and installing new cameras.
Hybrid Cloud Approach
Aside from cameras, the Milestone Kite Gateway, a small form factor internet appliance, is the only hardware needed on-site. The Intel-powered gateway has the performance needed to also run real-time analytics at the edge—offering a hybrid solution. The gateway connects all devices together, making it simple to expand as needs change.
"The solution allows you to take a hybrid approach, with intelligence and storage distributed across edge devices, appliances, and the cloud itself," Lindeberg says. "You can extract metadata at the edge and pass it on to the cloud for processing."
Customers have the option to either store video data at the edge or in the cloud, depending on their preferences and the availability of stable cloud connectivity and bandwidth at the deployment site. Kite can also be combined with Milestone's on-premises solution for companies wanting to expand coverage to other sites with minimal effort and costs.
Unlike some other video security solutions, Kite has an open environment—meaning it's compatible with more than 6,000 different cameras from various brands. Cameras can be virtually connected directly to the cloud using drivers, or connect via the edge gateway. Users access a customizable dashboard via web or mobile app, where they can centrally review video feeds and recordings, manage settings, and apply AI functions.
Based on Google Cloud, the solution benefits from access to Google data centers around the world and a security framework, which handles physical security and data security. Personal privacy is also an essential part of the Kite platform. "We have paid a lot of attention to how we treat personal data, everything from the end customer signing into our business systems to how we actually manage video data in the system itself," says Lindeberg.
And with its ease of implementation—the system can be up and running in half an hour or less—Kite also creates new opportunities for Milestone's global channel of systems integrators. SIs benefit from the speed and ease of implementation and the freedom for their end customers to easily manage the solution on their own.
Emerging #technologies such as #cloud connectivity, more powerful #EdgeComputing, and #AI are expanding the value of #security video. @milestonesys via @insightdottech
The Future of Video Security
Emerging technologies such as cloud connectivity, more powerful edge computing, and AI are expanding the value of security video. The faster companies can interpret their video security feeds, the more decision-making power they gain. "You can glean insights about buyer behavior, find ways to automate manual tasks, and proactively act on video data to take instant action in a security situation," says Lindeberg.
The VSaaS model is only beginning to leverage the power of cloud-based AI and enable new use cases. For example, the built-in Forensic Search capability reduces the effort and time required to find video recordings covering a specific incident. AI-generated metadata makes it easy to find specific types of objects, with the possibility to refine searches using color filters.
"Until recently, building AI applications was very exclusive because everything had to be constructed from the ground up," Lindeberg says. "But now, AI applications are making their way into the industry big time—being deployed both on the server edge and device edge. That removes friction while bringing additional value for the end-user. And at the same time, the compute platforms needed are becoming more affordable, creating a perfect environment for AI video innovation."

Edited by Georganne Benesch, Associate Editorial Director for insight.tech.