Fill form to unlock content
Error - something went wrong!
Your content is just a step away. Please submit below.
AI and CV Power Up the EV Charging Station Boom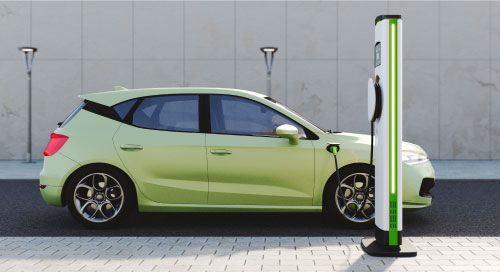 As electric vehicle adoption grows, owners clamor for more charging stations, and governments across North America and Europe—eager to fulfill sustainability goals—race to provide them. The U.S. alone will spend $5 billion to create a national network of over 500,000 public chargers by 2030.
Charging station solution providers are also gearing up for the coming expansion, incorporating technology to make management easier and operations more profitable for the EV station owners they serve.
Though it may be hard to imagine now, charging stations may soon compete for customers as fiercely as gas stations do today. Those with glitchy, unreliable technology could lose market share to others with better service and appealing deals. By incorporating features such as modernized payments, fast equipment repairs, and targeted advertising, charging station solution providers can help station owners draw more business and develop new sources of revenue. And they can ensure stations continue to thrive by providing technology that's easy to use, allowing owners to develop other innovative services to suit future needs.
Tailor-Made EV Charging Station Management
For a complete charging station solution, providers need two basic types of technology: infrastructure—including chargers, inverters, and energy storage systems—and technology to run customer-facing systems and perform analytics. Because solution providers sell to a variety of station owners in different regions, they must be flexible when assembling their charging station packages.
"Companies entering this market want a ready solution, but they also need to adapt to the needs of their customers," says Maurizio Caporali, Chief Product Officer at SECO, a developer of leading-edge solutions—from miniaturized computers and fully integrated systems, to AI/IoT software for many industries.
Providers can offer customers a broad menu of customer-related services with SECO's CLEA EV Charging Station solution, which contains customizable modules for everything from managing payments and repairing charging equipment to analyzing sales and setting up advertising.
SECO also partners with charging infrastructure producer Imagen Energy. This provides an option for solution providers to purchase an entire "white label" charging station solution from SECO and Imagen, rebranding it as their own. Alternatively, they can use any or all of the CLEA AI EV Charging Station modules with the infrastructure partner of their choice.
For #EV station owners, providing a user-friendly charging experience is critical. Solution providers can help by enabling remote, edge #AI-based charger maintenance to keep chargers up and running. @SECO_spa via @insightdottech
Enhancing the Customer Experience With Edge AI
For EV station owners, providing a user-friendly charging experience is critical. Solution providers can help by enabling remote, edge AI-based charger maintenance to keep chargers up and running. The CLEA platform can collect data from the inverter's controller, sending a warning to control room technicians if a serious problem occurs—for example, if an overheated inverter threatens to shut down charging. Technicians can then implement a quick remote fix, allowing customers to avoid frustrating malfunctions.
By analyzing performance data over time, station owners can predict when equipment is likely to fail and schedule maintenance or part replacements in advance to avoid downtime. They can also automate software updates across stations, saving hours of time.
Solution providers can also help station owners select the right payment options for their markets. For example, the CLEA mobile app allows customers to reserve a charging time, and make payments. Alternatively, CLEA works with other mobile payments systems, such as Apple Pay, Google Pay, or Venmo. Providers can also implement contactless payments, which allow customers to hold a credit or debit card next to a card reader to complete transactions, saving time and avoiding the errors that can occur with swiping.
Growing Revenue Through Digital Displays
Solution providers can give station owners a competitive edge with digital advertising, which creates a new source of income. Station owners can then expand revenue options by developing their own partner networks.
On the CLEA solution's eye-catching 32-inch digital screen, station owners can either display traditional ads or use computer vision cameras to capture anonymized demographic information about customers, including their approximate age and mood. This information is sent to CLEA's cloud-based analytical platform, where station owners can create and manage real-time promotional campaigns on digital-display dashboards.
"From one platform, owners can create multiple campaigns for different locations," Caporali says.
For example, one station might flash a promotion for breakfast doughnuts at an adjacent coffee shop, while another might offer a deal on fries at a quick-serve restaurant down the road, or a discount on a carton of milk at a local grocery store.
Station owners can also analyze charging sales data on the platform and optimize prices at different locations, offering discounts on-the-fly to boost demand.
The electronics of the CLEA platform charging kit are powered by Intel processors for high performance and low power consumption. And the computer vision system uses the Intel® OpenVINO™ toolkit, which speeds up the development of additional AI capabilities.
The Future of EV Charging
As EVs multiply, solution providers may find more ways to help station owners. One possibility is selling data about electricity use to city administrators, who could use it to optimize energy planning and consumption. Cities could also use charging stations' digital screens to issue warnings about traffic congestion and emergencies.
"Charging stations could become an information hub for creating smart roads and smart cities. We are still in early stages, and the potential is enormous," Caporali says.

Edited by Georganne Benesch, Associate Editorial Director for insight.tech.