Fill form to unlock content
Error - something went wrong!
Get the latest updates on IoT for smart cities.
You are following this topic.
SOCs Go Virtual With Distributed AI Video Analytics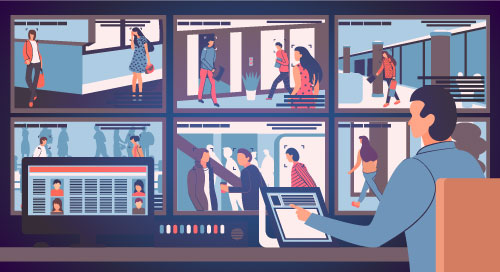 When the pandemic sent droves of employees home, many organizations faced a huge problem. How can facilities and critical infrastructure be secured, when there's no one there to secure them?
Almost overnight, the security operations centers (SOCs) that house security technology, and where employees monitor video, became a risk to people's health. Many companies that rely on them had to work on decentralizing their safety and security technology fast, to keep up with their suddenly decentralized workforce.
Remarkably, forward looking companies shifted to virtualized security infrastructure in 30 days—an incredible feat, given all the new challenges it presents. But companies with traditional SOC designs faced a big challenge. How can security personnel monitor video from home, when all of the video is stored and processed at the SOC?
AJ Frazer, Vice President of Business Development at Agent Video Intelligence (Agent Vi), an AI video analytics solutions provider, says this is the main reason some still resist virtual security operations: "They need their operators to work remotely but have no easy way to give them access to the video in the SOC."
The company addresses this challenge with its innoVi AI-Powered Video Analytics Software, a distributed analytics engine, using the same technology it deploys for citywide security.
"We run a very sophisticated algorithm on a low-powered edge gateway on the camera network, connected to a centralized core in the cloud," says Frazer. "We need only a kilobyte or two of data going back to a cloud, because all of the heavy lifting is done out at the edge. Operators who have login credentials can monitor video and respond to events from anywhere, be at home or a corporate office."
When AI-powered video analytics are available in configurations suited to low- or high-data environments, effective video surveillance is accessible to all. @AgentVI via @insightdottech
The Secret Sauce: Edge-to-Cloud AI
Humans are excellent at watching video and detecting anomalies—for a minute or two. After that, boredom sets in and we struggle to pay attention. On the other hand, AI can watch endless reams of video without getting tired. So why should security personnel spend time trying to parse meaningful data from video footage when software can do it for them?
Agent Vi's hybrid edge-to-cloud architecture manages video data in the most efficient way possible. Edge software runs at the customer's local camera network and does most of the processing there, after which events that need review are sent to the cloud. From there on, the SOC or it's operators can be located practically anywhere (Figure 1).

innoVi Edge—an Agent Vi preloaded appliance or software running on existing hardware—collects camera data, stores images locally, and extracts metadata. This information flows via the internet or a local network to innoVi Core Middleware (cloud-based SaaS or on-premises private cloud) for central management, advanced analysis, alarm generation, health monitoring, and metadata storage. And finally, operators use the browser-based innoVi Portal to monitor alerts, investigate video, and generate reports.
Thanks to the Intel® OpenVINO™ Toolkit, innoVi AI models and algorithms are flexible and scalable across Intel® processor platforms. The software can run on low-power embedded edge appliances, or high-end servers connected to hundreds of cameras. So a customer's hardware environment is never a limiting factor.
Securing Critical Infrastructure
innoVi's architecture is a boon for businesses dealing with a newly remote workforce. And Frazer says such a distributed video analytics engine is also ideally suited to provide security for roadway transit, utilities, and the energy sector. Disruptions to bridges or to the power supply, for example, could be disastrous for cities. But until now it's been challenging to use AI there because their asset are geographically dispersed with limited data networks.
No longer, because innoVi doesn't need much bandwidth. Network constraints aren't an issue.
So whether it's a utility spread across three states, roadways across California, or a company with employees all over the country—organizations can keep their people and their structures safe. When AI-powered video analytics are available in configurations suited to low- or high-data environments, effective video surveillance is accessible to all.