Fill form to unlock content
Error - something went wrong!
Get the latest updates on IoT for smart cities.
You are following this topic.
Free-to-Install EV Charging Stations Power Up Retail Sales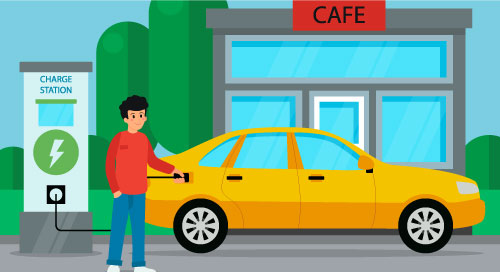 Retailers will do just about anything to engage customers, but sometimes sticking a giant inflatable gorilla atop their building just doesn't cut it. That's when they look for technological solutions—and electric vehicle (EV) charging stations are a great way to pull customers in. After all, drivers might as well do a bit of shopping while they wait for their batteries to fill.
But there's a catch: EV charging stations can be expensive to install. That's why start-up EOS Linx decided to take a new approach by combining an EV charging station with a customizable digital display. The result? A free-to-install charger that funds itself through advertising.
A New Citizen in the Smart City
The business model of EOS Linx's free-to-install digital out-of-home (DOOH) advertising and EV charging station appeals to a wide variety of public and private entities, including municipalities, retailers, hotels, and utilities.
Recently, the Atlanta Retailers Association—a group of nearly 1,000 independent stores—entered into an agreement to deploy these new-generation EV charging stations throughout the Atlanta area. Also in place is an affiliation with the EV Make-Ready Program, providing communities with incentives for development of EV infrastructure and equipment in conjunction with local utilities.
"Aligning with overarching strategies accommodates balance in the power grid," notes Jeff Hutchins, Chief Information Officer at EOS Linx. "By working with utilities and associations, the company is ensuring that this platform is part of those predetermined and validated integrated solutions."
Flexible Platform Architecture
The EOS Linx EV Charger is an excellent example of smart-city technology at its finest. It begins with a platform offering flexible infrastructure that allows operators to layer additional services and features in a modular way, one of the major tenets of smart-city design.
The underlying digital-signage platform for the EOS Linx EV Charging Station is LG-MRI BoldVu® Smart Point. This "data center on the sidewalk" allows retailers to optimize their investment with advertising messages.
Normally it's challenging to collect metrics in #DOOH #advertising, but the EOS Linx #EV charging station and display enables brands to see who's looking at the screen and for how long" via @insightdottech
The solution also relies on Intel® technology, such as the Intel® OpenVINO™ Toolkit, which contributes to easy deployment in the market. "We're able to use Intel's reference architectures rather than reinventing the wheel," Hutchins says.
Stores can use the free EV charger to help drive foot traffic, with the option to add applications over time. For example, they can choose to add advanced AI-powered security features that vary according to property owners' needs (e.g., the ability to deter loiterers) and are designed to comply with regional guidelines.
"Having a converged infrastructure platform allows for multiple starting points to catalyze deployment, and then the municipality or customer is able to build on that baseline platform architecture," explains Hutchins.
Plus, the platform offers connectivity through 5G mesh technology, which EOS Linx expects to be an important telecom service in the near future.
"The EOS Linx EV Charging Station offers a practical approach for retailers because they receive the benefit of a host of attractive technologies in one package that provide necessary and useful services to their clientele," says Hutchins.
A Turnkey Solution
When a retailer requests an EV charging station, the EOS Linx recon team will conduct a site visit to ensure there's ample sunshine and good visibility. Then the team will work with the city for approval before beginning the installation process.
By optimizing the power of edge computing and converged network connectivity, EOS Linx is working across the DOOH and smart-city IoT ecosystem. "In this way, EOS Linx's EV Charging Station provides different revenue streams, and we also see that aligning government and private-sector-funded associations and grants on the same endpoint creates incredible momentum," says Hutchins.
While EOS Linx does not charge for installation or maintenance, it requests a commitment to a partnership term of approximately six years. And while retailers might normally be wary of evolving technology that renders it obsolete, the EOS Linx system is designed to be upgraded as new technologies emerge.
"Location partners have asked what happens if EV charger technology advances and faster charges are available," says Hutchins. "We ease their concerns by confirming we can swap it out when needed. We anticipate these advancements happening and are effectively positioned to evolve with them and upgrade as needed."
It's also advantageous for the advertisers, who not only receive prime real estate to display their message but can also collect important information through a camera that tracks customer demographics. "Normally it's challenging to collect metrics in DOOH advertising, but the EOS Linx EV charging station and display enables brands to see who's looking at the screen and for how long," says Hutchins.
"The bottom line is that everything is plug and play," says Hutchins. "We position ourselves as a platform and as a service that is poised to meet our partners' needs as they evolve."
The next level of EV charging? No-cost deployment, new marketing opportunities, and renewable energy. An unbeatable combination.