Fill form to unlock content
Error - something went wrong!
Get the latest updates on IoT for smart cities.
You are following this topic.
IoT Security Solutions Offer Far More Than Safety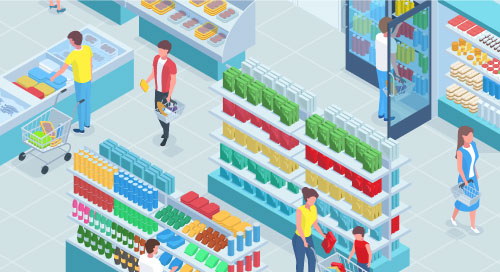 For many small businesses, a video security system is a set-it-and-forget-it tool. Owners are busy juggling the needs of their customers, vendors, and employees. They don't have time to give these platforms much thought until there's an incident that needs investigation.
Part of the issue is that physical and cyber security are critical yet complex challenges. In the past, systems integrators (SIs) who installed security camera systems for clients had to pull cables and rely on camera and recording devices that were often unreliable and cursory. But innovative IoT security solutions safeguard operations and provide benefits for business owners and SIs alike.
"Everyone thinks of a camera as an endpoint; it records the video," says Mitch Mershon, Business Development Manager at Axis Communications, a global leader in network video solutions. "The question then becomes: What else can we do with that? What type of business and operational improvements can we help an end user accomplish?"
With an end-to-end solution like the AXIS Camera Station video management software solution, businesses can leverage analytics and audio to get a greater return on investment.
For example, cameras can compute how many people come in and out of a location every day, which can be helpful for building occupancy and customer count analytics. Or a retailer with a security camera over a high-value area can get an alert if someone is standing there for a long time when no one is on the other side of the counter. The system can even play an audio message, letting that person know someone will be with them shortly.
"The benefits can be twofold," says Mershon. "One is security—letting a potential bad guy know they're on camera—making them think twice about doing anything unlawful. And the other is providing a level of customer service letting customers know that they have been seen and will be helped momentarily."
IP Video in Action: Safety, Security, and Beyond
Kappy's Fine Wine & Spirits is a fourth-generation family business founded in 1940, selling a wide range of wines, craft beers, and boutique spirits. With 14 stores in Massachusetts, it needed to upgrade its existing video security systems.
Working with SI, RGBS/ALSI, Kappy's sought a solution that would provide a safe environment for its customers, employees, and assets, while gathering actionable business data. The Axis surveillance system, with high-resolution Axis network cameras, AXIS Camera Station video management software, and a custom-built Network Video Recorder (NVR) helped Kappy's meet its security goals and more.
The Axis solution goes beyond traditional video surveillance and monitoring. For example, it eased Kappy's ability to stream music for ambience and automate announcements such as when the store closing was closing for the day.
The opportunities for both Kappy's and RGBS/ALSI continued to grow. From promotional announcements to measuring foot traffic to knowing peak shopping times, the Axis solution provides new ways to grow sales and create even better shopping experiences. And the out-of-the-box solution makes it easier for the SI to deploy the system, giving them more time to provide great customer service and grow their business.
IoT Security Solutions Right Out of the Box
Ready-to-deploy tools make it much easier to install an end-to-end system instead of having to piecemeal components together. The solution resides on a secure server that performs the recordings. Multiple lines of recorders are based on the user's needs, and Intel® processors drive the technology (Figure 1).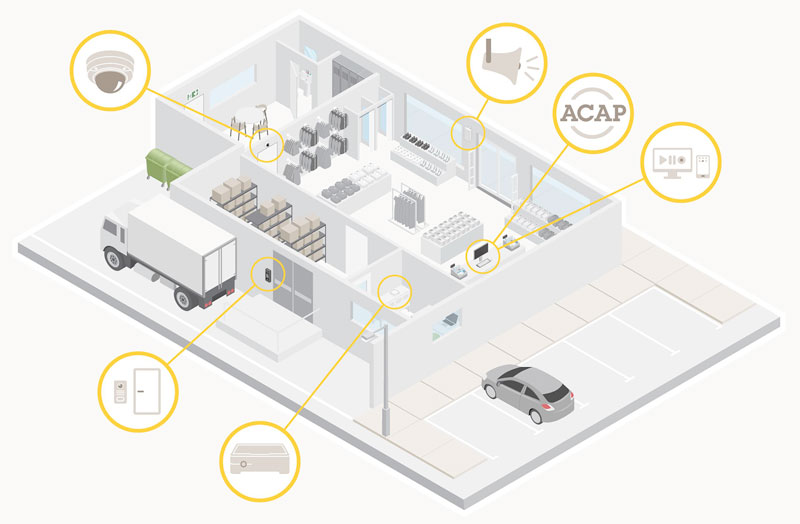 "The software itself has undergone such a revolution over the past three to five years," says Mershon. "The cameras make decisions on what to record, what to send, what to compress, and have the intelligence to run analytics. That all comes back to AXIS Camera Station, which can then do further detailed analysis."
The software also has enhanced searching capabilities. For example, a user could have the system search specifically for red cars or people wearing blue pants that came through the area during a particular time. It also has license plate recognition, which can log vehicle activity and raise an entry gate to pre-approved numbers.
With innovative new systems and connective devices that leverage analytics and #AI, the future of #security is becoming proactive instead of reactive. @AxisIPVideo via @insightdottech
Enhancing SI Business Growth
Innovative technology creates an opportunity for SIs to attract new customers by offering solutions with greater capability and reliability.
"Being able to sell technologies from a company with a legacy of quality and innovative products adds a level of credibility to an integrator," says Mershon. "And working with a one-stop shop that provides an entire solution makes it very easy on an integrator. If something happens with the system, you have one phone number to call."
SIs can also leverage Axis' technical support and the AXIS Camera Station Integrator Suite to help integrators through the entire project lifecycle: from design to implementation and maintenance. And SIs can also generate new revenue streams by providing complementary services, such as system health monitoring.
"If a camera goes down, the integrator knows about it before the end user does," says Mershon. "The worst thing that can happen is an event occurs and a camera's been down for two weeks without anyone realizing it. That's one of the best services an SI can offer as a partner with Axis."
With innovative new systems and connective devices that leverage analytics and AI, the future of security is becoming proactive instead of reactive.
"I think you're going to continue to see more and more investment in analytics, allowing for new scenarios to be identified and handled proactively, as opposed to reactively." says Mershon. "One of the things we hang our hat on is constant innovation, bringing in new technologies that you typically wouldn't think of when you look at physical security. In addition to more specialization, we're also going to see just wider availability of all of these cool new technologies."
This article was edited by Georganne Benesch, Associate Editorial Director for insight.tech.