Fill form to unlock content
Error - something went wrong!
Get the latest updates on IoT for smart cities.
You are following this topic.
The Versatility of Intelligent Cameras and Video Analytics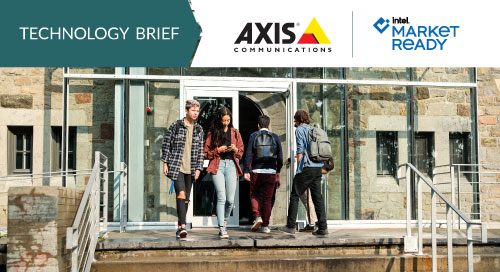 Without a doubt, video systems combined with real-time analytics are essential to security and safety—but you would be surprised at the diverse use cases where this technology can be applied. This versatility not only creates new opportunities for organizations of all types but also for the systems integrators that serve them.
Today's video market demands easy-to-deploy, end-to-end solutions that include both hardware and software elements so integrators don't have to piece together systems from different manufacturers and vendors. And their customers want to do more with their video security than just catching bad actors—using newer technology and analytics to take a proactive approach to security.
These systems are not always easy to design and deploy. Axis Communications, a global leader in network video systems, is addressing that problem.
The AXIS Camera Station S-Series Network Video Recorders provide all the components needed for security and other applications. This includes cameras, recording hardware, and software, with the option to add components such as speakers, access control, or analytics. From sporting venues to campus security to retail, the solution can be tailored for unique applications and customer needs—providing the opportunity for SIs to scale into new markets.
A New Vision for School Safety
Tired of sifting through lengthy videos and dealing with false alarms, leaders at Washington Community High School in Illinois were looking for a modern video security system to upgrade their analog cameras. Together with their SI, they chose to go with Axis due to the ability to design a complete solution from a single manufacturer.
The SI leveraged the AXIS Site Designer tool to lay out what cameras would be installed in each specific location to provide maximum coverage. The school installed 72 cameras along with AXIS Camera Station video management software.
"Now, instead of having to search through hours of analog video, security officers can find what they need quickly and export it easily if needed," says Mershon. "They can also receive alerts and videos on mobile devices, allowing quick evaluation of threats and avoidance of false alarms."
Customers want to do more with their #video #security than just catching bad actors—using newer #technology and analytics to take a proactive approach to security. @AxisIPVideo via @insightdottech
New Use Cases Bring New Opportunities to Security SIs
Ice Hockey is the lifeblood of Canada, and the Ontario Hockey League wanted to try something new. The organization needed a video monitoring solution that was consistent, reliable, and could deliver high-quality video able to track pucks traveling at more than 145 kilometers an hour.
The solution includes two cameras directed toward the nets and one on the game clock at each of the league's 20 rink locations. This configuration provides high-quality video streams in real time for television broadcasting and for officials to review penalties and goals (Video 1).
"Many people don't realize that broadcast video and video surveillance are two very different things," says Mitch Mershon, Business Development Manager for End-to-End Solutions at Axis. "For us to be able to bridge that gap for them was an amazing thing."
Powered by Intel® processor-based recorders, the Axis solution can provide additional possibilities for retail settings. Add-on components such as audio speakers and integrated video management software can provide content from background music to automated warnings and notifications.
For example, the video management software can detect if customers are piling up in a grocery line, and play an announcement in the employee break room to send someone to assist.
"Rather than having a cashier stop what they're doing and ask a manager to make an announcement, it can all be done automatically," says Mershon.
Another useful retail application is the video management software's ability to trigger an alert when someone's behavior is unusual. A speaker can deploy a message saying "You are being surveilled," which in turn will deter them from carrying out bad intentions, such as theft or trespassing." These alerts are termed proactive security and can supplement security guards' efforts to decrease response time.
"A car dealership was having trouble with break-ins, so they installed a video analytics systems with an audio speaker to play alerts when suspect behavior was detected," Mershon says. "As a result, 93% of potential intruders were deterred without calling law enforcement."
Cybersecurity and Privacy
When it comes to capturing video surveillance, personal privacy and cybersecurity concerns are top of mind for many SIs and their customers. The solution incorporates current encryption standards for data transfer and storage, as well as cybersecurity strategies like not requiring port forwarding and static IPs.
"We also work with certificates to ensure that whenever a camera talks to our server, both of them have a shared piece of information—so someone can't unplug a camera, plug in their laptop, and be able to access the entire network," Mershon says.
Personal privacy can be maintained through the use of masking, a setting that blocks part of the image. Security personnel can pre-set masks, apply them in real time, or after the recording is made but before it's exported from AXIS Camera Station.
End-to-End Systems Streamline Deployments
Systems integrators value the solution's ease of deployment and support for applications beyond security, lowering costs and creating new opportunities for end customers.
"At the core, everybody is looking for security, but then we layer on all these other opportunities that contribute to business efficiency and proactive security," says Mershon. "There's a lot of room for creative applications."
Axis also arms SIs with the tools they need to streamline the design and quotation stage of projects. And they can reduce labor time and costs when setting up the video management system by automatically uploading a project right from Axis Site Designer into AXIS Camera Station.
A simple licensing model and two-tiered distribution approach is also advantageous to SIs because they do not need to procure hardware or software until an end customer has paid for it.
"Integrators don't have to sit on stock at a warehouse, and often they negotiate an agreement with their distributor to make sure everything stays up-to-date with the latest firmware and IPs," Mershon says. "All this makes it very easy for an SI to walk in, make a purchase, and be out the door and on their way."
The impressive range of use cases for today's video technologies means this field is wide open for new opportunities and creative applications. So what's your vision for the future?