Cities Demand Street-Tough IoT Performance
Smart cities use the IoT to monitor and improve air and water quality, noise pollution, traffic flow, parking control, street lighting, and public safety. As urban use of the IoT grows, so do the challenges of connecting and securing the thousands of devices that collect sensor data and perform remote and automated control functions (see Figure 1).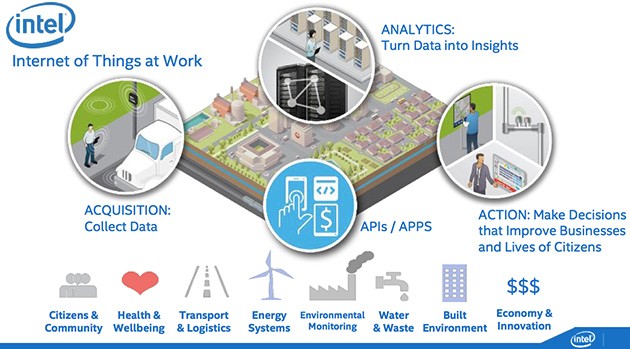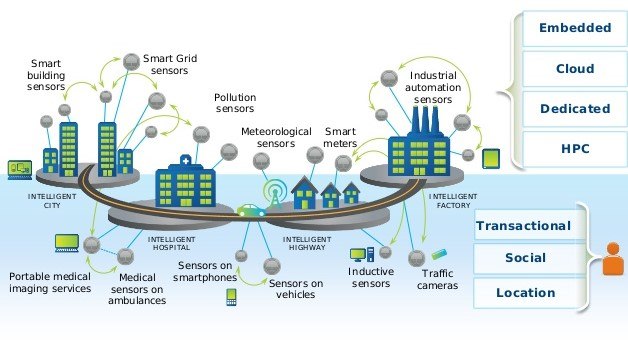 Figure 1. Smart cities have many uses for IoT technology.
The siting of smart city equipment creates additional challenges in terms of power, size, and ruggedization. For example, a device might have to rely on solar cells if grid connections are impractical.
The new Intel® Atom™ processor E3900 series offers several advances that address these challenges, including improved efficiency, security, and reliability. Here are some key features of this family, and the related higher-performance Intel® Celeron and Intel® Pentium® processors:
High performance. The new chips are up to 1.7 times faster than the previous generation, enabling local analytics at the edge of the network. Applications like digital surveillance benefit from graphics engine upgrades, which include enhanced imaging with low-light color and multi-frame technology.
Low power and size. With a TDP starting at 6W and a compact new flip chip ball grid array (FCBGA) package, the processors can take on applications where power and space are at a premium.
Hardened security. The new processors provide more security at nearly every level. Intel® Trusted Execution Engine (Intel® TXE)—which protects data even if the OS is compromised—and updates to the Intel® Boot Guard 2.0 secure boot feature are just two examples.
Enhanced reliability. An optional temperature range of -40 to 110°C suits harsh environments, and optional dual-channel error correction code (ECC) protects against single-bit memory errors.
Smart Boards for Smart Cities
To help developers put these new features to work, the Intel® Internet of Things Solutions Alliance offers a variety of boards and modules based on the new processors. A good example is the LEC-AL SMARC* short-size module from ADLINK. It offers both dual- and quad-core versions of the new Intel Atom processor E3900 series in a compact 82 x 50 mm form factor (see Figure 2). Supporting input voltages from 3.0 V to 5.25 V DC, the module comes in both commercial- and industrial-grade SKUs, with the latter providing an operating range of -40?C to +85?C.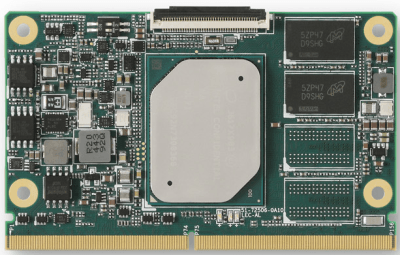 Figure 2. The ADLINK LEC-AL uses the SMARC form factor.
ADLINK makes the LEC-AL rugged enough for placement throughout a city. In terms of shock and vibration, it meets IEC 60068-2-64, IEC-60068-2-27, and MIL-STD-202 F (Method 213B, Table 213-I, Condition A and Method 214A, Table 214-I, Condition D). It also passes the highly accelerated life test (HALT).
The LEC-AL features up to 8 GB DDR3L, triple display support (LVDS/HDMI/DP++), MIPI CSI camera, gigabit Ethernet, SATA 3.0, and onboard eMMC. Other I/O includes PCIe*, USB 2.0/3.0 OTG and USB host, SDIO, GPIO, and a range of serial connections.
If you prefer the COM Express* form factor, take a look at the tq-systems-gmbh TQ-Systems TQMxE39M embedded mini module (see Figure 3). This Type 10 design also features the latest Intel® Atom™, Celeron®, and Pentium® processors and up to 8 GB DDR3L.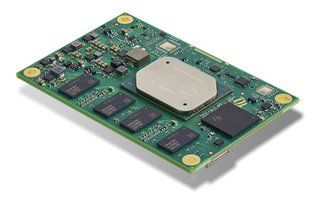 Figure 3. The TQMxE39M from TQ Systems is a low-power module.
The TQMxE39M provides USB 2.0 and 3.0 ports, up to 4 PCIe lanes, onboard eMMC, and the option for LVDS or native eDP. An integrated Tboard controller with TQ's flexiCFG supports thermal management, watchdog timers, and Green ECO-Off to minimize standby power. Combined with options like conformal coating, optimized cooling solutions, and an industrial temperature range, the TQMxE39M fits perfectly into ruggedized applications.
Give Cities Street-smart Edge Intelligence
Many more boards in a variety of form factors are coming out with this latest generation of Intel Atom, Celeron, and Pentium processors. To see them, visit the Intel® Internet of Things Solutions Alliance's Solutions Directory.