Case Study: A Smart City Innovates with Smart Kiosks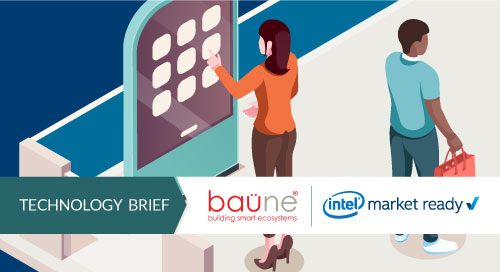 Editor's Note: What do you get when you combine self-service health monitoring with frictionless shopping? A point-of-care kiosk enabled by computer vision, AI, and Healthcare-as-a Service. With today's focus on health and safety, it's just what the doctor ordered.
Based on the technologies described below, this smart kiosk offers a number of touch-free services. From taking temperatures to dispensing personal protection gear, the platform is like a pharmacy in a box. Doctors, nurses, patients, and those simply watching over their health all benefit.
Read on to learn how smart kiosks can help cities and businesses offer tailored experiences in the age of self-service.
---
Nestled in an agricultural area just south of Edmonton is the city of Beaumont, the fifth-fastest-growing community in Canada. Originally a French farming community, Beaumont has a population of just 20,000. But the town is now growing its reputation as a spirited, innovative smart city, actively seeking out and applying new technologies to boost future economic development.
Case in point: In 2019, Beaumont piloted a six-month project for an electric autonomous shuttle in mixed traffic use. The ELA shuttle, capable of carrying up to 12 passengers without an operator, was the first use case in Canada. "It was a calling card to be innovative and to look at solutions or problems differently," said Rob Mackin, Director Economic Development & Communications for the City of Beaumont.
Beaumont is looking to the future again as it begins to deploy next-generation kiosks using AI technology and computer vision to power economic development. The city is working with Baüne Ecosystem Inc. to install a new generation of intelligent kiosks in the city: LIPK, or Learning Intelligent Post-Exchange Kiosk (Figure 1).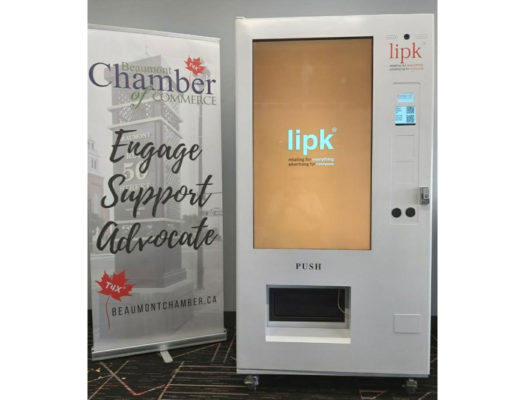 The climate is ripe for solutions like these. Most consumers are already familiar with mobile advertising on electronic billboards and kiosks in airports, retail stores, banks, and more. Out-of-home (OOH) advertising continues to lure market share away from TV, radio, and print. And more and more people are becoming comfortable with retail self-checkout kiosks with integrated point-of-sale capabilities.
Next-Level OOH for Personalized Ads
The LIPK solution takes this familiar interactivity to the next level, using AI technology and computer vision to identify people by demographics such as age and gender as they approach the kiosk. Powerful processing capability—enabled by Intel® technology—takes place at the edge rather than in the cloud, which means retailers can use near-real-time analytics to deliver customized messages. At the same time, valuable data can be stored in the cloud to help brands with predictive analytics for the future.
For brands and advertisers, the opportunity is immense. "Advertisers are no longer interested in spending money on any media that is one-to-many," said Aurélien Balondona, CEO and founder of Baüne. "They want to target the right consumer at the right time with the right message." Smart kiosks combine the ubiquity of OOH with the personal quality of one-to-one marketing.
LIPK uses high-definition displays running rich graphics, plus AI technology that interacts with a customer's smartphone. "Imagine someone who's been looking for sneakers at home approaches the kiosk in a mall," said Balondona. "If they're already part of a sporting goods store's loyalty program, they can be presented with the option to visit the store in the mall and receive 10 percent off today."
"Advertisers are no longer interested in spending money on any media that is one-to-many. They want to target the right consumer at the right time with the right message."
—Aurélien Balondona, Baüne
Kiosks Help Small Business Scale
These state-of-the-art kiosks also serve as vending machines; the LIPK can accommodate multiple brands or be configured for just one. Beaumont's kiosks may house anything from jewelry to artisanal salsas to woodworking crafts.
The city has a very high ratio of home-based businesses and it may be difficult for these businesses to make the leap from home-based to commercial. The kiosks can provide a great opportunity for these small businesses to scale.
Beaumont also plans to use the kiosks to provide a curated experience wherever they're placed. For example, if they put a kiosk in a hockey stadium, they can stock it with products that complement the venue. With the analytics they gather, they'll know which products are doing well and which aren't.
The kiosks are also designed to be managed remotely, reducing kiosk downtime and eliminating unnecessary repair visits. To alleviate privacy concerns in a worldwide market, Baüne created its policies to include key concepts from the strictest privacy laws in multiple locations, including Canada's PIPEDA, California's CCPA, and the EU's GDPR.
"From security to edge computing power, from remote administration to centralized management, our relationship with Intel has been a great asset, said Balondona. "And the relationship goes beyond technology—enabling Baüne to deliver our solution globally."
Focus on the Future
Future use cases for LIPK may include maps and guidance for walking and driving directions, public health and safety initiatives, and Wi-Fi hotspots—all features that make living and working in the city incredibly convenient.
Smart cities like Beaumont will continue to explore advances like LIPK for business development. And as technology continues to expand ways for cities to be smarter, safer, and more convenient for its residents, it's a safe bet that Beaumont will be on the front line for implementation.