AI and Computer Vision Drive Fleet Safety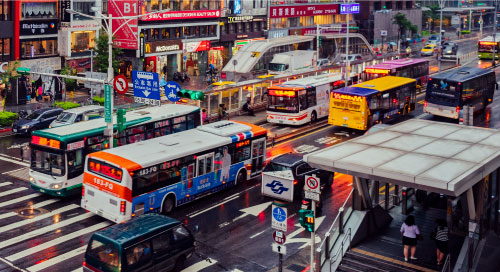 Editor's Note: insight.tech stands in support of ending acts of racism, inequity, and social injustice. We do not tolerate our sponsors' products being used to violate human rights, including but not limited to the abuse of visualization technologies by governments. Products, technologies, and solutions are featured on insight.tech under the presumption of responsible and ethical use of artificial intelligence and computer vision tools, technologies, and methods.
---
When a study in Taipei revealed that up to 82 percent of accidents were caused by negligent drivers, it led the city to launch a smart transportation initiative for its public bus system. In-vehicle computers that process video data at the edge in real time would give bus drivers the equivalent of a second pair of eyes, helping them avoid accidents.
But making this happen in any fleet application—including, transit, first-responder vehicles, and trucks—is not as simple as bolting an industrial PC inside a bus. The hardware must be rugged and reliable to withstand vibration, heat, moisture, and dust, while providing high computing performance. And the software and algorithms needed to be flexible and customizable.
The transportation company in Taipei approached Advantech, which had already developed a modular in-vehicle platform that could be adapted for a variety of use cases. For instance, city bus drivers face much different conditions than those who drive long-haul tractor-trailers or first-responder vehicles.
That's why systems integrators (SIs) consider factors—ranging from the amount of compute power required to the type of cellular communication used in a region—when evaluating a solution for different types of transportation.
Yet vehicle-mounted computer solutions tend to have much in common, which makes a module approach an ideal way to streamline development and reduce costs. Advantech uses this concept in its TREK-676 AI Driving Safety Solution and related components (Figure 1).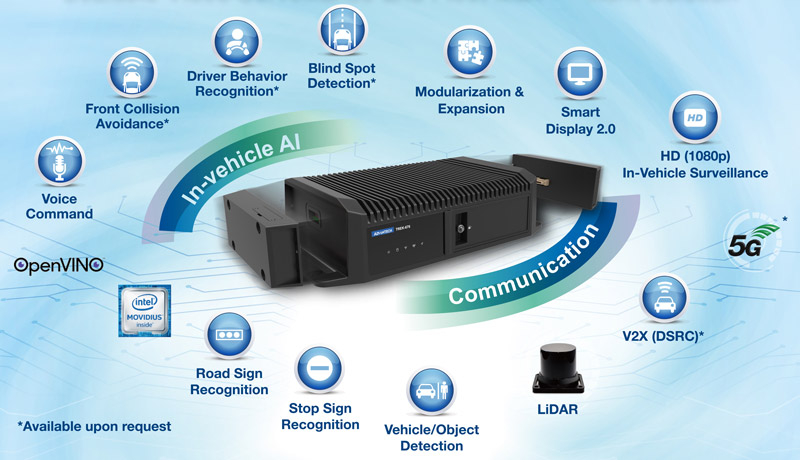 Customizing Scalable Fleet Management via Modular Design
Mark Chen, product manager at Advantech, explained how the solution's flexibility enhances customization: "The modular design enables SIs to select the amount of computing power needed, while maintaining the customer's option to expand the solution in the future and make other changes."
The TREK-676's flexibility allows Intel® Core™ or Intel Atom® processor-based edge compute to take place on the CPU or Intel® Movidius™ VPU. The platform can also accommodate regional LTE band requirements as well as different IP or optional HD CCTV cameras. The latter is critical to process video data at the edge in using artificial intelligence (AI) for object recognition and other types of detection that can increase safety.
The configuration also reduces cost, as the platform can be tailored to a customer's system for specific use cases. For example, 5G, dedicated short range communication (DSRC), and vehicle-to-everything (V2X) communications can be deployed via modular I/O extensions—helping to prolong the lifetime of the platform, further lowering total cost of ownership.
In addition to the TREK-676, Advantech makes a variety of components that can offer additional functionality. This extends its modular approach, giving SIs the freedom to help their customers deploy a rugged and reliable mobile computer vision solution. These qualities are necessary to operate continuously in moving vehicles that experience extreme temperatures and wet conditions.
SIs can use common tools such as the Intel® OpenVINO™ Toolkit to customize algorithms designed to detect driver behavior and objects such as road signs, other vehicles, and pedestrians.
AI Technology in Motion
SIs can use common tools such as the Intel® OpenVINO™ Toolkit to customize algorithms designed to detect driver behavior and objects such as road signs, other vehicles, and pedestrians.
In addition to computer vision cameras, LiDAR (Light Detection and Ranging)—connected via a PoE port—can also capture data. LiDAR uses laser pulses to measure distances between objects—even those in motion. The data collected can be used to compare events taking place in real time with data in machine learning models. LiDAR, paired with a camera, can improve safety in both human-driven and autonomous vehicles.
The Platform on the Road
The Taipei City Public Transportation Office began using Advantech's in-vehicle platform in 2018 to improve public safety in real time. In addition to detecting and alerting illegal maneuvers, such as line straddling or prohibited turns, it also senses distracted-driver behaviors. These include holding and using a cell phone, eating, drinking, and fatigue, as seen in Video 1.
Video 1. Systems integrators have a choice of modules to improve driver and passenger safety.
The platform can also measure instances of abrupt braking, which may indicate a driver who repeatedly comes close to an accident. And with rugged NVRs technology, including license plate recognition, it automates issuing of tickets to drivers of vehicles that park in bus zones.
Beyond improving driver safety, bus operators such as those in Taipei can use the system's in-vehicle computers to collect and transmit data on power management and diagnostics. While much of this information may already be collected, it's often siloed in different systems. The platform enables all of this data to be analyzed in a single pane.
SIs deploying Advantech solutions can help their customers build a smart city transportation system to holistically manage their fleet, their drivers, and even the road. For example, by collecting enough data, it's possible to determine which intersections are most dangerous, helping bus operators shift their focus from post-accident reviews to accident prevention.
"Our system provides real-time guidance to correct driving behavior, reducing the risk of traffic accidents," said Chen. "And it's not just for public transportation. The same Advantech technology can be also used in heavy-duty fleets, emergency services, first-responder vehicles, and more."