Fill form to unlock content
Error - something went wrong!
Your content is just a step away. Please submit below.
Computer Vision Platform Transforms Retail Operations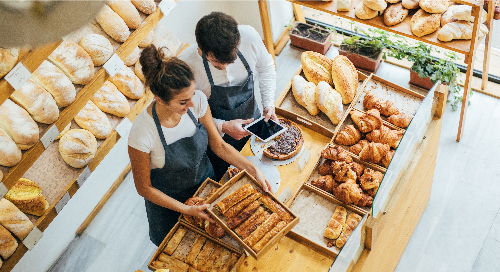 Perhaps the biggest misconception about computer vision technology is that it's only for tech-focused businesses. But the rise of innovative computer vision platforms is rapidly changing that view. Case in point is the bakery. It's hard to imagine a more traditional industry, but at one multinational bakery chain, computer vision technology is transforming the way people get their daily bread.
Global bakery brand Tous Les Jours adheres to a philosophy of artisanal baking in "the classic European style." But despite their commitment to old-fashioned baking, the company is a technological innovator when it comes to marketing and operations.
"Tous Les Jours is a great example of how traditional industries are taking advantage of modern computer vision platforms to solve their business problems, says Xiangxiang Ying, GM of Digital Technology at Shanghai CUE Group, a smart digital marketing and edge AI technology company. "As the AI-enabled product ecosystem develops, the old barriers to entry of cost and technological complexity are coming down very quickly."
#ComputerVision #technology is just one tool among many. These are business solutions that address universal business challenges—they just do it by harnessing the capabilities of #AI." – Xiangxiang Ying, CUE Group via @insightdottech
Computer Vision Platforms Solve Business Problems
One reason people associate AI exclusively with high-tech industries is that they confuse the technology with the way it's being used. "It's a common mistake to think of AI-enabled products as 'AI solutions,'" says Ying. "Computer vision technology is just one tool among many. These are business solutions that address universal business challenges—they just do it by harnessing the capabilities of AI."
Tous Les Jours' challenges will no doubt sound familiar to large food and beverage companies and retailers. The brand has established a sizeable footprint—more than 1,600 locations worldwide—but that success had started to create its own problems.
Due to the diversity of their store locations, management was finding it hard to differentiate operations from site to site. Targeting sales and marketing efforts to store-specific demographics was difficult. And predicting in-store traffic and peak hours was next to impossible—leading to frequent out-of-stock items and staffing issues.
In addition, maintaining consistent standards across locations was labor-intensive and inefficient. The cost of manual inspections was high, and staff compliance with dress, behavior, and hygiene standards was uneven.
To solve these problems, Tous Les Jours China and CUE implemented a comprehensive smart store solution. By combining in-store camera systems, computer vision at the edge, and cloud analytics, the system can:
Monitor on-shelf rates in real time and alert management if a product falls below a set stocking threshold.
Capture and model customer flow rates in different stores to predict peak hours and ensure proper staffing.
Identify hygiene and other issues, such as unclean tables or an employee failing to follow proper sanitary procedures, so that store managers can take corrective action.
Observe and analyze in-store customer behavior and buying habits to optimize product placement and support targeted sales and marketing efforts.
Tous Les Jours China saw dramatic improvements after deployment. There was a rise in overall sales, conversion rates, and consumer experience scores. Labor costs dropped because extensive manual inspections were no longer needed. And in-store operations improved as well: Poorly staffed stores and untidy work areas are a thing of the past and key product on-shelf rates exceed 90%.
The Value of Mature Computer Vision Solutions
The results achieved by Tous Les Jours China and CUE are impressive—but perhaps equally impressive is that the system was implemented using existing in-store camera technology. In combination with the easy-to-deploy computer vision platform provided by CUE, this meant that the company was able to reap the benefits of computer vision technology without heavy capital infrastructure investment or extensive IT development work.
For bakeries and other types of traditional businesses, the rise of mature computer vision solutions is a game changer. These companies don't have huge IT departments or large numbers of software developers at their disposal. But with modern vision platforms and technology partners like CUE, they don't need them.
Ying gives credit to CUE's own technology partnership with Intel for helping to make this type of ready-to-deploy solution a reality: "Intel has done a lot to push AI adoption forward. In our solution, we leveraged Intel® Video AI Box, the Intel® Media SDK, and the Intel® OpenVINO™ toolkit. These robust, well-tested technologies put the power of AI within reach for businesses that don't have extensive technical resources—and help shorten time to market for solution providers and systems integrators (SIs) that serve those businesses."
Computer Vision and the Future of Brands
As retail SIs deliver more end-to-end, AI-enabled solutions to market, other traditional retail businesses will emulate the success of companies like Tous Les Jours: boosting efficiency, reducing costs, improving targeted marketing, and enhancing the customer experience.
But although AI-powered solutions offer tantalizing operational benefits, their long-term potential is even greater. Tous Les Jours, for example, already plans to leverage smart solutions for strategic initiatives like new-store location selection, store layout planning, and new-product research and development.
As Ying says, "Most companies begin their smart retail journey by focusing on what the technology can do for them on a day-to-day level. But once these companies see the full potential of AI, smart retail will actually become the driving force that propels the brand into the future."

Edited by Georganne Benesch, Associate Editorial Director for insight.tech.