Fill form to unlock content
Error - something went wrong!
Your content is just a step away. Please submit below.
Integrated Solutions for More Efficient Airport Operations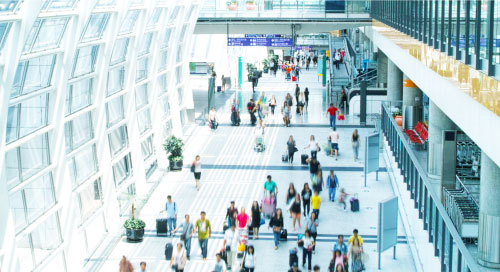 An airplane flight might seem routine, but behind every smooth takeoff and landing is a carefully choreographed dance between passengers and staff.
With the current high volume of passengers, air travel is booming, which can compound challenges. "Passengers and planes are both converging at the airport at the same time, and turning that plane around on time is critical," says Deepak Kashyap, Solution Technologist for the airports vertical at Honeywell International Inc. "It's like orchestrating a wedding—everything has to go well; both parties have to be happy."
A slight hitch in any aspect of the operation, and delays can whiplash into a series of cascading headaches for travelers and airport operators. "One unplanned scenario, or a single four-hour flight delay, can make the entire operation go haywire," Kashyap points out.
Integrated Solutions for Situational Awareness
Technology helps prevent and manage these irregularities and the many moving parts of everyday airport operations.
Digital solutions need to factor in countless challenges that can surface daily. It's vital that airport managers have situational awareness and "a tool that can help enable collaborative decision-making ability for the many
stakeholders," Kashyap says. The passenger and staff experiences are also important, with a greater emphasis on the terminal's indoor air quality as well as a continued prioritization of safety and security. Sustainability and carbon reduction goals are also high on the priority list of most airports.
Despite the list of requirements, the right technology solution can help maximize operational efficiency while also supporting revenue growth.
Through its Enterprise Buildings Integrator (EBI), Honeywell executes a comprehensive solutions approach for airport operations. The EBI integrates airport command-and-control features, safety and security systems, including management of video data from closed-circuit television cameras (CCTV) and building management systems (BMS).
While all data from relevant areas—baggage handling, parking, transfers, and more—connects through a central platform, the system's intelligent design filters insights and funnels the right ones based on the stakeholder's role. A baggage handling manager, for example, might have their operations affected by problems in other zones, but they see only insights specific to the baggage area. Such a holistic process combined with contextual user-focused delivery of insights can help airports run a well-oiled operation.
#Digitalization and #data analysis help operators prioritize greater use of their existing assets before making capital expenditures. @honeywell via @insightdottech
A Modular Fix for Airport Operations
The solutions are modular, allowing airports to pick ones that address their immediate challenges and fuse additional components as needed. "We first try to see the customer's operational philosophy. Every airport has
different ways in which their standard processes are defined," Kashyap says. "We then figure out their pain points and work out solutions to address them." At times, solutions might mean addressing existing inefficiencies.
When Honeywell worked with a large airport in the Middle East, for example, the airport management team was looking to build two additional gates to accommodate traffic. Analysis using collated data from disparate systems showed that existing gates were functioning at only 70% capacity. Digitalization and data analysis helped operators prioritize greater use of their existing assets before making capital expenditures.
Beyond the immediate physical space, airport operations also coordinate with city providers and traffic information feeds to understand how those entities might impact flights and related operations. "If there's a large traffic jam outside the airport, you might not be able to load a 200-passenger plane on time because of those external conditions," Kashyap points out. "We help enable that kind of situational awareness for our clients."
Delivering Data-Driven Situational Awareness
A large airport in India was looking for similar awareness and a BMS that could deliver cohesive insights.
The airport wanted productivity improvements and help enabling smooth take-offs and landings even in dense fog. Honeywell implemented Airfield Ground Lighting (AGL) components to be CAT IIIB compliant, which are high-intensity lights that guide planes through low-visibility conditions to aid the airport in operating flights on time.
Using EBI from Honeywell, the airport charged airlines for actual consumption of services such as pre-cooled air and ground power based on docking at the gate, which was automated by integrating into the Honeywell solution. This delivered accurate meter readings that were billed automatically through vendor billing software.
The servers and hardware for the airport run on Intel. Honeywell also works closely with subcontractors if needed, especially if clients are looking for specific vendors in specific categories (like accounting software).
"Today there might be multiple solutions for multiple parts of the airport, but the top things we focus on are terminal efficiencies, passenger experience, and financial impact," Kashyap says. "Whenever we design a solution to a problem, we make sure that at least one of these is positively impacted."
Flying into the Digital Future
The future of air travel will move beyond the airport to deliver door-to-door frictionless experience. "We're already seeing airlines picking up luggage from your doorstep and collaborating with taxi providers to deliver a better experience," Kashyap says.
No matter what the future looks like—for example, vertiports, where electric air vehicles carry few passengers for shorter distances, are gaining traction—the need for data-driven efficiencies in every aspect of airport operations is not going away. With advanced technologies, the aviation industry can optimize revenue while delivering superior travel experiences. No matter the complexities, the forecast is for clear skies ahead.

Edited by Georganne Benesch, Associate Editorial Director for insight.tech.