Fill form to unlock content
Error - something went wrong!
Your content is just a step away. Please submit below.
Smart Mirrors Reflect the Future of Retail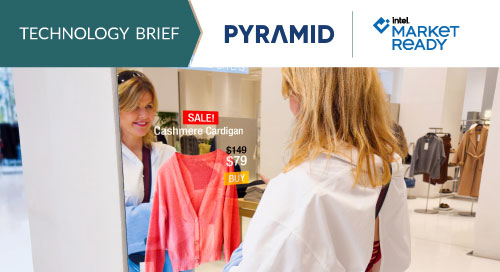 Typically, when your customers walk into a dressing room to try on a new outfit, they end up bringing an armful of options—different styles, colors, and sizes. What if they could avoid the hassle of searching the racks and having to try on all these choices? With a smart, interactive mirror they can. Powered by AI, a smart mirror solution can be another layer of customer service virtually by coordinating items, different sizes, and colors from real-time inventory. And shoppers can find out if the outfits they want are in stock or available online.
This kind of solution—like the Polytouch Magic Mirror from Pyramid Computer, a full-service hardware solutions provider—is available today. The platform helps retailers offer a unique experience for customer engagement with the benefits of online shopping, combined with the ability to see and touch the items up close and personal.
Personalized Experiences for In-Store Retail Goes Virtual
Case in point is a large sport fashion retailer, which created a smart fitting room using the Polytouch Magic Mirror. The retail chain deployed the solution—a mirror equipped with an HD display, 10-point touchscreen, and antenna for RFID-based item recognition—all powered by a small form factor PC—in its fitting rooms.
The solution uses RFID scanning technology rather than a camera, which clearly customers don't want in their dressing room for privacy reasons.
The scanner senses which items are brought into the space, using the data to suggest coordinating accessories and inform the customer if and where alternate options are available. The seamless link between in-store and online stock information provides an "endless aisle" customer experience. At the same time, it allows the retailer to draw more traffic to their stores, gain new insights, overcome staff shortages, and lower operating costs.
"The retailer can optimize tasks given to store clerks, instead of having to send them to the fitting room to consult with customers and find items," says Anthony Hunckler, Head of Marketing & Design at Pyramid Computer.
"The #software and #hardware elements must work together to provide this flexibility and fluidity on UI and #UX." – Anthony Hunckler, @polytouch_de via @insightdottech
The RFID reader communicates with back-end software, providing customers with information—and retailers with valuable data. "The software is the element that gives the final brand engagement with the customer, such as high-quality product pictures and media. The software and hardware elements must work together to provide this flexibility and fluidity on UI and UX," explains Hunckler.
Retailers that already have RFID systems in place for stock management will find it easy to implement the Magic Mirror. In that case, their back end is ready to add this mirror to scan the product. For maintenance, Pyramid includes a warranty with a high level of service. "If you have a problem, we can switch out the system and display very easily. From that perspective, there's almost no risk for our partners," says Hunckler. The solution's Intel-based PC provides rugged 24/7 dependability, important for deployment in a retail setting.
Insights on Sales, Customer Preferences, and Logistics
Because it interacts with customers and collects data about their choices and preferences, the Magic Mirror solution offers a chance to gain valuable in-store retail insights.
Depending on the software retailers choose or develop, they can gather and analyze in-depth sales data, discern customer preferences, optimize logistics and inventory management, and cross-sell related items. "Analytics are very important for retailers to optimize their stock based on real-time data about customer habits," says Hunckler. "For example, if you see that 80% of the t-shirts you sell are white, you'll know that you need more white shirts in stock and fewer of the other colors."
Using that data, traditional retailers can make accurate predictions about how many items they need to have in stock, when, and where, helping to inform logistical decisions and keep up with demand.
Granular-level insights will help retailers prepare for the rapidly changing future of the brick-and-mortar retail industry. "The retail structure we've known in the past is not as relevant today," says Hunckler. Some customers still arrive at a store to browse, try on clothes, and make decisions in the traditional way—but many others come to a physical store only to pick up items they have pre-ordered online. If retailers can foster a link with their online customers through enhancing shopping experiences available only in-person, like special offers and perks, those customers will perceive value in visiting physical stores, and retail stores can gain brand loyalty.
Noting customers' individual preferences and needs is a crucial element to success, Hunckler says. "Customers are unique. Some like to have support from a clerk, while others don't want that attention. Retailers need to concentrate on providing plenty of digital support and personalizing the entire experience."

Edited by Georganne Benesch, Associate Editorial Director for insight.tech.