Fill form to unlock content
Error - something went wrong!
Your content is just a step away. Please submit below.
Harnessing AI for Good to Improve Nutritional Planning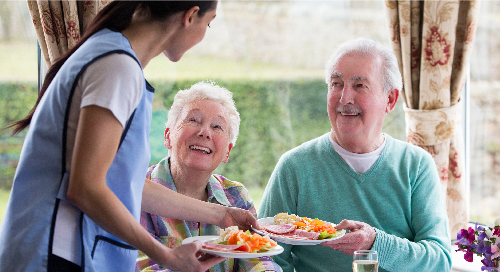 When families can't provide the around-the-clock care and comfort an aging parent or loved one needs, they rely on aged-care facilities for help. But for all the great care these facilities strive to deliver, they've historically faced challenges with nutritional planning.
For example, a recent report found that more than two-thirds of residents in the country's aged-care facilities experience malnutrition. In addition, the report found 80% constantly lose weight from the day they arrive at these facilities. And a separate U.S. study found that up to half of residents in skilled-care facilities, such as nursing and assisted-living facilities, experience malnutrition.
Closing Nutritional Gaps for Seniors
Understanding what seniors eat, how much of it, and the nutritional value of what's on their plates is critical for aged-care facilities to better meet seniors' dietary needs and help them avoid issues like malnutrition and high cholesterol.
A multinational catering company experienced this challenge firsthand when supplying food to aged-care facilities. The company had an individual nutritional plan for every resident, but it occasionally received complaints from residents' family members about food quality. It wanted to not only serve its customers better but put families at ease.
The company turned to AerMeal, a scanning device with machine learning and computer vision capabilities designed to address these challenges by using AI for good. The solution gathers nutritional data and images of what residents are eating and shares it with their loved ones—providing reassurance their loved ones are eating healthy meals.
"AerMeal, which has integrated #IoT capabilities, a WiFi-enabled 4G modem and an #RFID reader, doesn't just scan and take pictures of an individual's plate. In under a second, it also captures volumetric information." – AerVision via @insightdottech
"Just that alone has made a big difference. It's giving comfort to the families," says Abbas Bigdeli, CEO of AerVision Technologies, a company based in New South Wales, Australia that manufactures AerMeal.
AI for Good: How AerMeal Works
AerVision is more commonly known for developing custom biometric, AI, and IoT solutions for the security industry, but today it is applying similar technology to improve nutritional planning. AerMeal uses AI-driven inference and image recognition technology to scan the contents of an individual's plate before and after their meal, gathering nutritional information that supports personalized diets for aged-care residents and other individuals in large food distribution settings, like school cafeterias.
Each plate is outfitted with a dishwasher-safe radio frequency identification (RFID) chip. When staff in an aged-care facility serve residents their meals, they use AerMeal to scan the plate and then assign it to a specific resident. In a cafeteria setting where residents may pick up their food, staff also can put it on the scanner and use a touchscreen to assign it to the resident before that person takes their plate. When the resident is done eating, their plate is scanned again to collect data on how much food they consumed.
Bigdeli says AerMeal, which has integrated IoT capabilities, a WiFi-enabled 4G modem and an RFID reader, doesn't just scan and take pictures of an individual's plate. In under a second, it also captures volumetric information.
"Using that information and doing clever computer vision and AI on the edge, we can then determine what type of ingredients were on there, whether it was a steak, asparagus, or broccoli. All of those are recognized on the plate," he says. "With the volumetric information, we measure the volume. And from that—because we know, for example, it was this many cubic centimeters of broccoli or this many cubic centimeters of steak or chicken breast—we can then calculate the nutritional value with very high accuracy."
It does this with the power of three Intel® technologies—RealSense™, Core™ M processors, and OpenVINO™. RealSense, a computer vision technology, allows AerMeal to capture 3D food images. The Core M processors provide the powerful computing and data processing power AerMeal needs, while OpenVINO provides image inference capabilities on the edge.
Together, these technologies allow AerMeal to deliver deep nutritional insights to its customers.
Supporting Better Health with Better Nutritional Planning
With AerMeal, AerVision hopes to democratize nutritional data and empower individuals with information they can use to improve their health.
While aged-care providers primarily use the solution today, Bigdeli says AerMeal has the potential to be a go-to kitchen appliance for health-conscious consumers.
"This could become an appliance where they—as long as it's connected with the cloud and they have an app on their phone—can monitor what they're eating," he says, adding that this data then could be linked to other health solutions to help individuals better manage chronic conditions like diabetes or high cholesterol.
AerMeal also may advance sustainability and reduce food waste in settings such as buffets, and company and school cafeterias, allowing these facilities to make more data-driven purchasing decisions and better manage their supply chain.
"In any industry where they serve food and they care about waste, but also care about personalized service, this solution could be utilized," Bigdeli says.
This article was edited by Christina Cardoza, Associate Editorial Director for insight.tech.